Okay, so posting this on a seemingly dead blog may not be the smartest tactic that I've taken. But the fact of the matter? I love college football, and every single team has a reason for you to fall in love with it. (Yes, even Ohio State, what with their ease of cheap shots that can be fired betwixt and upon their proverbial nethers). And it is both necessary and proper to post this.
And for the kids? Count how many terrible jokes I make. I guarantee you there will be at least 5.
Atlantic Coast
Atlantic Division
Boston College
: Considering how well their offense was, you can forgive me for going back to the linebacker well. Because for one thing? Luke Kuechly. Still awesome at pretty much everything. And for the other thing? Inspirational linebacker Mark Herzlich wasn't second in tackles. It was Kevin Pierre-Louis. And he's back. The run D will be beastly.
Clemson
: For the better part of the past decade, the Tigers have found themselves at their best when the reigns were handed to a rookie quarterback. From Kyle Parker to Charlie Whitehurst, heck even the immoral Cullen Harper was strong his first year with the reigns. So, if you want to talk about a sleeper all-ACC quarterback? Your list begins and ends with Tajh Boyd.
Florida State
: Do I believe in Florida State? When you have a deep running backs corp that adds high school superman James Wilder into the mix running behind a deep and experienced line, that's a plus. When you have a front four that's anchored by a monster in Brandon Jenkins and a potential new Fairley hotness in Tank Carradine, that's a plus. And when you have a secondary returning everybody that was torched in Norman last year, that's a plus. Do I believe in Florida State? I believe in Florida State like Gotham City believes in Harvey Dent.
Maryland
: I do enjoy the home run threats. And Maryland has themselves a good one? The name. Tony Logan. Yeah, the guy with the website! And on a team where Randy Edsall controls things? Any amount of home run threat is a good home run threat. And Danny O'Neil's going to need to get himself some of that.
North Carolina State
: I will leave my homeristic joy over them giving up on Russell Wilson at home. Why? Because like the guy below, the Wolfpack have a defensive tackle in the name with talent department. See, J.R. Sweezy is a man, a myth, and a very good inside pass rusher. And so long as he breathes, he is awesome.
Wake Forest
: Some of you who look at this post would consider me to only enjoy Nikita Whitlock for his Russian name. Well let me just say, anytime you're a 260 pound nose tackle who is in the middle of a 3-4 defense as a freshman, and you get named a Freshman All-American, you are doing something properly. I just hope he doesn't do a post-college heel turn.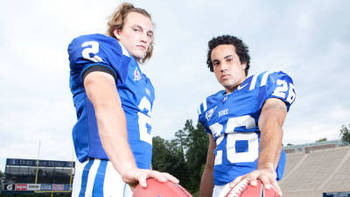 Coastal Division
Duke
: David Cutcliffe is a pass master, and oftentimes, it's a receiver that gets the benefit. Connor Vernon wasn't exactly a touchdown mastermind last year, but he has the implicit trust of QB Sean Renfree. And as such? He will always get looks in clutch situations. And if your hate for Duke extends beyond the basketball court? See above. (He's #2).
Georgia Tech
: Andrew Bernard may deem him a traitor, but the tailback Preston Lyons seems to have the lock on a division one football starting job. All seriousness, the Colgate transfer is going to get a lot of dive play and step one of the option play. And until Paul Johnson wises up and brings in Synjyn Days for every play ever? Lyons gets all the run.
Miami (Fla.)
: In its history, Miami has developed into a school for fast, undersized linebackers. And stepping into the legacy line? Shawn Spence. He stays healthy, and he's absolutely guaranteed for 120 tackles, 15 of them for loss, and 6 or 7 pass break-ups. This will lead him into becoming a third round pick and a special teams superstar and then winning a starting spot.
North Carolina
: It was another offseason where tumult was the watchword. But even with all the off-field issues? They have a tag team of pass rush on the defensive line. Quinton Coples and Donte Paige-Moss will generate sacks despite themselves. Everything else? It'll sort itself out and the Tar Heels will be able to move forward.
Virginia
: I was right about one thing. It was a cornerback that shall lead them. It just wasn't Ras-I Dowling. It was the son of a 4 time pro bowler and Dawg Pound namer. Chase Minnifield was one of many who managed six interceptions last year, and maybe just maybe. He beats Dowling into the first round as well.
Virginia Tech
: As much as I want Logan Thomas to succeed, the pre-camp love for me falls to David Wilson. He's the reason why I'm not nearly as worried as some would be after the early departures of Darren Evans and Ryan Williams. He's a home run threat behind a very experienced line. Wilson's gonna do some sort of Kevin Jones stuff.
Big 12
Baylor
: It's easy and fun to get sufficiently hyped for Robert Griffin. He's good, he's mobile, and he's got a good group to throw to. Kendall Wright and Josh Gordon are good pieces of business. Wright is possession guy. Gordon is home run guy. And Griffin is so much the good dude? He gave each of them seven touchdown catches.
Iowa State
: Apparenly, there's a developing trend this year in college football where there are reasonably talented defensive tackles with awesome names. In Ames, it's Stephen Rumpoelhamer. He's a nose tackle, kind of decent at everything he does. And with a name like Rumpoelhamer, it does include getting his proverbial drink on.
Kansas
: There is one tremendous athlete in Lawrence that looks like he's going to make a strong leap forward at his new position. Toben Oporum was Kansas' leading rusher as a freshman, only to be converted to defensive end last year. He held his own at the position. This year, it's not too much to say that he could lead the team in sacks.
Kansas State
: If you believe in karma. If you believe in rooting for some people because of what they represent? John Hubert is your man. See, the bite-sized running back is the only thing that keeps Kansas State from being represented by the other major representative of the Lane Kiffin UT Wild Boyz. Bryce Brown is most definitely not lovable. Hubert, by definition, is.
Missouri
: There's a quarterback so good and athletic, that he turned Tyler Gabbert from an Eli Manning into a Tate Forcier. James Franklin may have the same name as the Vanderbilt head coach, but he is more agile and mobile. And with the experience everywhere else? James Franklin may bring back the remembrance of Brad Smith when Brad Smith was a bad mamma jamma.
Oklahoma
: If I had to wager on who would be the #1 pick this year? It wouldn't be Andrew Luck. A great rule of thumb is that if a quarterback goes back to school, their game starts to get picked apart. And as such? They lose their luster. The one who stands to benefit? Landry Jones. He still has a tremendous Ryan Broyles led core of receivers and an experienced line to protect him.
Oklahoma State
: When only the SEC had their major wide receivers go early, who became the #1 receiver in America? That's right, Justin Blackmon. I know, I know, it seems kind of obvious right? But the fact of the matter is that outside of the guy who throws to Justin Blackmon and Justin Blackmon, the key players that aren't on the O-line have graduated. If you can score? You can score on them.
Texas
: Lost in the midst of a down season was the emergence of a fabulous defensive tackle with a quality first name. His name is Kheeston Randall. Few centers were able to handle what he was bringing them on a consistent basis. And in an offseason of questions, Kheeston is name that's made of stability. Sorry, that sounds boring.
Texas A&M
: While the offensive side of the ball is rich and varied in skill and power, there is a defensive star that doubles as a return ace with a name evocative of good football and bad puns. Coryell Judie was a shutdown cornerback with quality return skills. Not for nothing, but he's just as big a part of the proceedings as Cyrus Gray and Jeff Fuller.
Texas Tech
: One of the few known knowns in Lubbock this year is that the Red Raiders return everybody on the offensive line. And as they're in year two of switching over to the Tuberville Super System, this is a broad base of talent to build on. The one with the most pro talent? Left Guard Lonnie Edwards. He's gonna be a road grader on the line.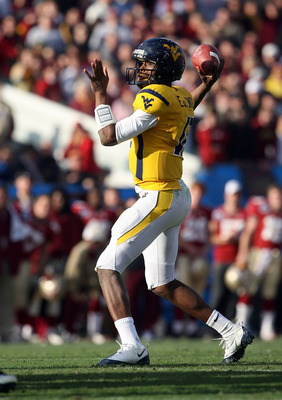 Big East
Cincinnati
: I know you may think this a cop-out, but I'm not going to name a single player. Why? Because the last time the Bearcats had a defensive with this much returning experience, they had seven more sacks, allowed about 0.7 yards less per play, and went from allowing 30 plus to allowing under 20. And if you consider that this defense was better than that one? This is a unit that would give Dana Holgorsen a moment's pause.
Connecticut
: If you have a pass rusher? You have a punchers chance. And in Storrs, there is a strong pass rusher. The name? Jesse Joseph. He led the Huskies in sacks and will be the face of a pretty strong defensive line. It's the best thing they have there not named basketball.
Louisville
: He may not be under center to start the season, but with the obvious health caveats? The new quarterback hotness is in Louisville. Is it Will Stein? Nah. It's Teddy Bridgewater. He would have been the starting quarterback in Miami if Randy Shannon was still alive. And when you consider the fact that the line needs to come together? Mobility will become a watchword.
Pittsburgh
: The most quijibo of players in College Football is Chas Alecxih. Why he's so interesting and so much of a reason to love is because he's one of those with a specific set of skills that does not fit his position perfectly. For Alecxih? It's the fact that he can do a good D'Marco Farr impression and geterate sacks from the inside of the defensive line.
Rutgers
: Now when you consider the way Tom Savage went down and south and west, I could look like a fool with the way this call goes. But that being said? Chas Todd is a patient passer who did some things behind a line that had not all the way jelled yet. And in a conference that was pretty well mashed up last year? You can see them surprise and be like in third this year.
South Florida
: The school that brought the pros George Selvie and Jason Pierre-Paul, just might have a third pro talent in their midst. The name? Ryne Giddens. He had 3.5 sacks in a 2 start season last year, and was athletic enough to get an offer from Florida back when Urban Meyer had its full attention. The slot is open, and I believe he'll step in.
Syracuse
: My favorite receiver who should be yours? Van Chew. Now, he's an obvious all-name teamer. But for Ryan Nassib he may be the sort of guy who can get him to all-conference levels. Doug Marrone's a great coach, and if I'm not dumb enough to pick a guy that Marrone will run off? He can do some things.
West Virginia
: Lost in the midst of Holgogate and the couch burning dreams of Geno Smith, Heisman candidate, is the fact that they kept their defensive coordinator. Jeff Casteel has always provided Morgantown with a defense that hunches back and hits people. With Bruce Irvin and Julian Miller as a very scary pass-rush proposition, and a traditional strength against the run? Casteel will likely remain underrated.
Big Ten
(Note: I know there are two divisions, but their names are a travesty. Minor slacktivist protest. But a protest just the same.)
Illinois
: While Nathan Scheelhaase was kind of dominant as the second half of the year started, I'm here to talk to you about Jason Ford. With Mikel LeShoure graduating, Jason Ford is looking like a breakout candidate. With an experienced offensive line in front of him, and Zook's predilection to matriculate the ball down the field via runners. Ford will break out.
Indiana
: Now there is a question in regards to just who exactly is going to throw him the ball, but there's a big rangy target for them to throw to. Damarlo Belcher couldn't possibly be happier that such a passing game mind like Kevin Wilson got hired. Why? Because He had 73 grabs last year. The leader of Wilson's offense last year almost doubled that.
Iowa
: The last time that a big thumping running back came out of nowhere to start, he grew up to be Shonn Greene. Now, while I admit that is a touch of a false equivalency in comparing him to Marcus Coker, he is a large and powerful running back with an experienced line behind him. Adam Robinson may have been talented, but barring an injury? He won't be missed.
Michigan State
: There's enough offensive triplet power here to have an encore to last season and ruin some peoples lives along the way. Before the big transfer news, it was universally regarded that Kirk Cousins was the best quarterback in the conference, and he comes with an experienced offensive line, two strong running backs, and a senior laden receiving corps. I'm fired up about Russell Wilson, but Cousins isn't just going to turn into a pumpkin because perceprion has shifted.
Michigan
: It's always weird when you seemingly put your top talent out of their element. And that's why Denard Robinson is not necessarily the reason to love the Wolverines. But that being said? When he has a target to throw to the caliber of Roy Roundtree, a more straight up class of class of pro-style offense isn't exactly a bridge too far.
Minnesota
: If you're a team on step one of the rebuilding process? You have a lot of help when you have a mobile quarterback. And as MarQuise Gray is going to be definitely mobile. He was a wide receiver last season, and while that in and of itself doesn't help matters because there's now an opening at wide receiver, a mobile QB will help keep plays alive.
Nebraska: One of the more electrifying parts of their defense was a junior college middle linebacker named Lavonte David. He was the sort of player who not only finished third in tackles nationally last year, but he added 6 sacks, 9 tackles for loss, and 10 pass breakups. He's a major reason why the Big Ten is a little more wide open than one would think.
Northwestern
: When Dan Persa inspirationally tore his achilles tendon to beat Iowa, the year fell off considerably. Persa has that certain amount of mobility that can help make this team a tough out when you cross their path. And he actually finds himself with a quality piece of receiver in regards to a young Jeremy Ebert. His health gives them a chance for a football bowl game win.
Ohio State
: Yeah, yeah, TresseLOL. But in regards to a linebacking corp with quality names? The Buckeye state is three for three. Between Andrew Keith Sweat, Etienne Sabino, and Storm Klein, you have a potential starting three that will go toe to toe with anybody. And they aren't going to miss any time with all of that. I'm not making any more jokes here. Nope. No.
Penn State
: In regards to the whole cool names with a decent amount of talent, Penn State's new starting running back has both in spades. That's right kids, I'm talking about Silas Redd. He's a five star talent who's about to have the head, the tail, and the whole damn majority of the carries that he can handle. It goes good? He could be the record holder for Penn State rushing yardage. By the end of next year.
Purdue
: Purdue's meme last year was weeping and tearing the ACL. But here's the thing, they'll be healthier this year, and with a deeper offensive lineman corp? Ralph Bolden being healthy is very nice for the Boilermakers. And if someone emerges at quarterback? They will turn some of those tough losses back into wins.
Wisconsin
: Oh the hype coming out of Madison is so much. You know the running backs, you know the Russell Wilson. But here's another reason why the Badgers are a team you can believe in. The linebackers are stronger than you think. Mike Taylor is a tackling machine who played slowed up by a 2009 knee injury. And Chris Borland was done by the San Jose State game last year. He had five sacks and 10.5 Tackles for Loss as a Freshman. These two can fill the graduation hole of a J.J. Watt.
Conference USA
East Division
East Carolina
: The story of the Pirates was one of big offense and a broken defense last year. Dominique Davis won the job last year, and he was a beast chucking the ball around the field. He has three senior receivers to throw to, and if I had to bet on the most likely pro? I'll take the safe bet. Lance Lewis. He kept Dwyane Harris from getting too crazy last year.
Memphis
: I'll be honest. Memphis seems as if they're in line for a long season. But that being said? Their defensive tackle tag team is severely underrated. Frank Trotter is the undersized loose cannon with nothing to lose who finds his way into the backfield. Dontari Poe is the space-eating man beast who makes Trotter go. The lucky middle linebacker that wins the spot behind them will get a lot of tackles. A lot.
Marshall
: The star in Huntington? A defensive end named Vinny Curry. I know I mentioned him in passing last year, but this is the C-USA leader in sacks, second in tackles for loss, and 10th in tackles. This may not happen so much because Mario Harvey passed onward, but he's definitely an adorable sort.
UAB
: Considering their recent history, and considering that he didn't actually win the starting job last year? Bryan Ellis was impressive last year. From outshooting Larry Fedora, to nearly taking down Tennessee in Knoxville, Ellis was underrated, and when he took over? UAB had a punchers chance for most of last year. Add in the delightfully last named Pat Shed for running and the occasional swing pass? Ellis has a chance to lead the Blazers into uncharted territory.
UCF
: While there are people who are awesome on the offensive side of the ball, no matter if they drive with a suspended license Jeff Godfrey. But I'm going all name team defense here. The name? Jose Jose, a 360 pound defensive tackle who looks to be all Terrence Cody in the middle of the Knights defense. He will eat space like few others.
Southern Mississippi
: Austin Davis was a whole lot of value last year for the Golden Eagles. 20 touchdowns through the air. Another ten touchdowns on the ground. He doesn't have the three more years eligibility excitement of a Jeff Godfrey, but their toughest game this year? At Virginia. Austin Davis wins that day, all the spoils could be theirs.
West Division
Houston
: Do you want to know how you can stay and play a 6th season of college football? Threaten to wipe Hawaii from the passing records from the books. With only 3487 yards and 25 touchdown passes? Case Keenum will remove Timmy Chang and Colt Brennan from the record books. Frat boys of the world will have the sad, but Keenum will be the new quarterback sincerity with good health.
Rice
: There should be stability at quarterback this year. This is good for their next James Casey. His name? Luke Wilson. He may not be the best for pitching cell phones, or choosing movie roles, or appearing in the new CBS Reality Show Same Name. That's Same Name, Sundays at 9/8 Central. Only on...CBS!
Southern Methodist
: When people look at a white running back? There is an obvious comparison to other running backs of the same race. And when they come from SMU? They get compared to one person. That's right, Craig James. So while I'm not gonna say that Zach Line is in the process of killing five hookers, I am saying that Zach Line needs to kill five hookers if he wants his post football career to be so successful like Craig James.
Tulane
: The Green Wave always seem to cull a good feature back for their express purposes. This year is no different. Now I'm not going to say that Orleans Darkwa is going to be another Mewelde Moore or a Matt Forte, but that being said? He's gonna get as many chances to try as he can handle.
Tulsa
: Tulsa also has a representative for the all-name team. His name, Genesis Cole. A name tailor made for two things, bad biblical jokes, and Phil Collins puns. So the fact of the matter is, yes Jesus he knows him, he knows he's right, and he just knows he's built for special teams. (Nailed it!)
Texas-El Paso
: On the surface, last years stats from Joe Banyard aren't that impressive. But the thing of it is? He was tag teaming with the greatness of Donald Buckram. But Buckram was gimpy. And without Banyard? The Miners weren't going to sneak into a bowl game. And Banyard is going to get all the carries. Not going to say that his stats will be spectacular. But don't deny his skills.
FBS Independents
Army
: Now obviously Trent Steelman is one of the greatest names in the history of ever, but I mentioned it already. And besides he didn't lead the team in rushing last year. It was Jared Hassin. And this thousand yard rusher decided that flying planes in the house of the lord was too good for him. Which is awesome for the other prong of the Commander-in-Chiefs trophy.
BYU
: So remember how there was expectations that Jake Heaps was going to be a quarterback at the level of the LaVell Edwards glory days? It seems as if that came sometime in November. He crush kill destroyed the end of the season (not named Utah). He has four starting linemen coming back. Heaps is gonna throw for double plus good yardage.
Navy
: Usually, I think people who spell out letters as a part of their name is something pretentious. People named Jay are douches...TO A MAN. Then again? There is Gee Gee Greene. The Home Run threat slotback slash Navy man. With the graduation of the brutalizin' Ricky Dobbs, Double Geez Greene is going to make their season.
Notre Dame
: Now I have been want to make a cheap shot or two at Notre Dame in the history of this blog gimmick. But that being said? This year I will not. Why? Because Malcolm Floyd is back. And he's one of the great receivers in college football. And he is SO TRUE TO HIS SCHOOL...that he will fight anyone who will take his keys after a night at the ol' Rathskeller.
Mid American
East Division
Akron
: Even though there really has not been very much for Akron to write home about in recent years, they do have a nice piece at middle linebacker. Brian Wagner was one of two linebackers to garner over 100 tackles last year. Wagner had 130 tackles last year, and with the graduation of Mike Thomas? Good health garners a chance for more.
Bowling Green
: Last season, beloved MACthusiast Matt Sussman's alma mater had one bright spot on offense. Receiver Kamar Jorden rolled up on the MAC offenses with a reasonably strong impression of the graduated Freddie Barnes. He took in 96 passes with an inexperienced line and a freshman quarterback. Their QB is a year older, and their offensive line is promising some big things.
Buffalo
: I'm getting a little esoteric here, but there's a nerd stat that would make you find some appreciation for the Bulls. Pass breakups are usually a stat for the defensive back. Only three linebackers are on the leaderboard. Khalil Mack is one of them.
Kent State
: Roosevelt Nix isn't impressive just because he had 10 sacks last year, though that is impressive. See, last year he started all of one game. And as a bonus? The Golden Flashes run a hybrid 3-4, and the 6'0" 240 pound Nix played on the line. In context? Those 10 sacks were spectacular.
Miami (Ohio)
: Alone, the Redhawk linebackers don't seem spectacular. But combined? C.J. Marck, Evan Harris, and Jerrell Wedge were a trio that anchor one of the best defenses in the conference.Wedge makes with the tackles, Marck has room to grow, as he only started seven games last year. And Evan Harris seriously grabbed 6 interceptions. The encore will be tougher, but don't count them out.
Ohio
: With an offensive line returning everybody, raw talent at quarterback has time to grow. And Ohio has two good prospects. For one? Kyle Russell. Who's more the passer. But for my money? Tyler Tettleton has the dual threat genius power to make something of himself. (And maybe threaten to run the table?)
Temple
: The good doctor Bernard Pierce has a sidekick. And it's of the adorable variety. Matt Brown isn't exactly a name to remember. But he is of the Sprolesian build (5'5", 170) and he has been victimized by the lazy nicknaming of sports media. I mean, he's The Bug? Nobody likes Bugs! And Matt Smith deserves to be treated better! I mean, he is after all, same name with the current Doctor Who Doctor. And you could call their backfield the practice!
West Division
Ball State
: Ball State has a very interesting hunter in the deep third. The name? Sean Baker. He was strong in run support (89 tackles) and he also grabbed 6 interceptions. You think 6 picks isn't a lot, right? But 6 picks is good for a tie for 5th in the country last year. So yeah, bro.
Central Michigan
: The Chip voted most likely to fire up the fanbase? Cody Wilson. In a conference with people like Eric Page and Kamar Jorden? Wilson is the one who generated more yardage with his style than both of the other top returning pass catchers. So yeah. Plus one for Cody Eleven. Especially if you love Frisky Dingo.
Eastern Michigan
: The Eastern Michigan quarterback has never been a position where success is guaranteed. No bowl game since 1987. No winning season since 1995.So long story short? They get hit a lot. But with a quarterback like Alex Gillette? They have a punchers chance. And at this juncture, punching is a good start.
Northern Illinois
: I kind of backed myself in a corner after the last two years here. Chandler Harnish was all like awesome in the last two years. He's a senior now. You know who else is a senior? Jasmin Hopkins. And with the graduation of Craig Spann? The princess of third down backs is finally in line to start.
Toledo
: The second major threat for the Rockets finished with real power toward the end of the season. Adonis Thomas finished with 150 yards plus rushing in three of his final four games. That got him over 1000 yards, and over 6 yards per carry. Not to mention! He gets all the passes that Eric Page doesn't. Big doings.
Western Michigan
: The thing about quarterback Alex Carder that's humorous to me? He came all the way from Kansas. Carder managed 30 touchdown passes last year. And he also managed to lead the Broncos in rushing TD's as well. Why is it so funny? Because Kansas could never throw the ball last year.
Yeah, it's not that funny. But screw it. I smiled.
Mountain West
Air Force
: The key to any good flexbone offense is having a quarterback that while mobile, has just enough of an arm that you can't overload one side of the field and make it almost impossible to option. Beau Morgan had it. And Tim Jefferson has it as well. He's two wins away from being the winningest quarterback in the history of the Air Force.
Boise State: Two words. Muscle Hamster. Rare is the world we live in where an athlete has a legitimately top notch nickname. But Doug Martin? He has a legitimately good nickname. If he was D-Mart? No one would give him a second look. But as he isn't? He rules.
Colorado State
: While he isn't number one on the depth chart, and he isn't #1 on the old all name team draft board, Nordly Capi is #1 in Rams fans hearts. Why? Nordly. Say it. I'll wait. You're smiling right? And now you know why we're talking Nordly up in this business.
New Mexico
: I usually make an effort not to beat a dead horse and go back to the same well year after year, but the thing of it is? New Mexico made a bad decision in hiring Mike Locksley and the team is kind of terrible at a lot. But that being said? Carmen Messina just makes tackles. He only had 115 tackles last year, but that's really impressive considering he was only healthy for 9 games last year.
San Diego State
: Lost in Ryan Lindley's throwery and Vincent Brown's technical proficiency, as well as the SEC getting ahead of the trend? Ronnie Hillman was a bad man. In fact, was one of the best Freshman running backs in the country. And the offensive line promises a good sequel.
TCU
: You want to know the reason why TCU isn't going to fall too far despite the loss of ginger quarterbacking? The best non-AQ class of running backs. For one, you have Ed Wesley., a thousand yard rusher who was the key to beating Oregon State and Baylor last September. And you have Matthew Tucker and Waymon James, who were a strong tag team of running when Wesley broke down. And their big recruit coming into the backfield (UCLA transfer Aundre Brown), still has the skills when he was a big time recruit.
UNLV
: As last season wore on, a running threat began to emerge. Though considering the state of the Rebels last season, the numbers might not show it. Tim Cornett may not be the most SEO optimized of running backs, but with a healthy line? The running game drought of the Rebels (No 100 yard rushing game since 2008, No 1000 rusher since 2004) will end.
Wyoming
: That wingman named Alvester seemed to come into his own in the final four games last year. In first eight games last year? He had 314 yards and 4 td's, with only 2.6 yards per carry. The last four games? 478 yards, 10 td's, and 6.8 yards per carry. He also managed good performances against Air Force and San Diego State as well. He's a bit of a sleeper.
Pacific 12
North Division
California
: It always feels like a subtle trollgaze when I mention a teams special teams as a reason to love them. But with no available superstar and two quality names on the special teams, I need to just man up and go with my instincts. Why? Because Giorgio Tavecchio is on the placekicking and Bryan Anger is on the punting. (Then again? Tavecchio is not exactly the most popular player in Berkeley. U Mad?)
Oregon
: I was going to go with Cliff Harris, but as there is a certain amount of uncertainty as to when he'll make his return to the team? I need to go to the unsung hero and the entity that kept defenses honest in all matters run game. He may not have been the run threat as a Jeremiah Masoli, but Darron Thomas was twice the passer.
Oregon State
: This may be one of the most dangerous teams from October onward. Why? Because the two most important pieces of their offense seem to be on track to start playing at that point. Joe Halahuni is a pretty nice pass-catching tight end, and if James Rodgers rehab is a success? They can sneak up and get this division.
Stanford
: It may not be the most obvious reason to love the Cardinal, but you know what? Junior linebacker assassins Shayne Skov and Chase Thomas are top notch. And in a world where the return of a #1 pick (which almost always leads to disaster) gets all the credit, these two are the glue that will hold the season together.
Washington
: Jake Locker was, shall we say inconsistent last year. But out of that inconsistency, a quality receiver emerged. The name? Jermaine Kearse. He was a thousand yard pass catcher, and only one of nine who return to school from a BCS conference. And with a more consistent passer? He may be making million of dollars next year.
Washington State
: At this point? There is something good in Pullman. The defense is experienced which means improvement is likely, and when you add one of the more underrated passing combinations in the country in Jeff Tuel going to Marquess Wilson and Jared Karstetter? Paul Wulff could double his career win total.
South Division
Arizona State
: No matter what happens this year, Arizona State still seems like a fun team to watch in the grand scheme of things. Because they have one of the best candidates for a running back breakout in the west. Never mind how he got there, but Cameron Marshall showed to be a strong 60% of the carries in a running back tag team last year. And this time? He gets all the pie behind a veteran O-Line.
Arizona
: As I write this, it seems as if Juron Criner is going to get up off the deck and run routes for Nick Foles this year. This news is spectacular. Criner is in the second level of best receivers in the country, and an absolute necessity if the Wildcats are going to have a year worth writing home about. Whether or not Dan Buckner emerges.
Colorado
: In doing the research this year, and interesting thing I found is the fact that bad teams got good running back numbers last year. It may just be something as simple as that this is the only thing that worked. But still, whatever happened to the adorably sized Rodney Stewart last year, it was wonderful. And an encore is not impossible.
Southern California
: Lost in the midst of USC being all easy to be thrown on, that bloodlines and lineage combined to grow a superstar in the back third of USC's defense. T.J. McDonald's father was an all pro in Arizona, and T.J. led the Trojans in tackles. And as I have said before? USC is where safeties
grow to kill
.
UCLA
: Now while some people say that the magical punterbeard of the Troy Punter makes him the best, and others would say that Drew Butler is the best because he's the best in the best conference. They're wrong. All wrong. Why? Because Jeff Locke is a bad man at getting the Bruins out of trouble. I mean, anytime you can net punt for nearly 42 years? That's just quality.
Utah
: Even in the Urban Meyer days, the Utes could not get by without a thumper in the backfield. From Matt Asiata to Chris Fu'amatu Ma'alafala, the Utes loved to run with power. This year? The guy who's threatening to be next in a long line is Thretton Palamo. It's a beautiful name, and from someone who was such a high school rugby star. Padding can only make things better.
Southeastern
East Division
Florida
: Sure, Jeff Demps is going to hit home runs and get hurt. And sure, Chris Rainey is going to be a special touch of offensive talent. But all Trey Burton is going to do is score touchdowns. It's not going to be a Tebow level thing to be certain, but that being said? Touchdowns will occur for him. And that's the only offensive guarantee.
Georgia
: This one may be more by necessity than last years SEC freshmen running sensations, but the fact of the matter is that Isaiah Crowell is going to get a lot of run as the Bulldogs running back this year. And if he has half as much talent as panache he showed during his big recruiting press conference, Crowell has a bright future between the hedges.
Kentucky
: I know this is going to sound completely weird.Most of this has been all skill position guys and pass rushers right? But In Lexington, the best guard tag team on the offensive line makes their bones. Larry Warford and Stuart Hines are stalwarts with a professional future. And for any success in Lexington, these tow are necessities.
South Carolina
: There are three very obvious reasons as to why the Gamecocks should be loved this year. But I'm going to give you Gamecocks defensive end Devin Taylor as my reason to most love this team. Why? Because you already know Alshon Jeffery and Marcus Lattimore, and defenses are going to gameplan for the guy who had 52.5 sacks in his last two years of high school. So yeah. Taylor is gonna get some pass rush onward.
Tennessee
: In one of the more delicious points of irony, when the fallout from Reggie Bush scandal occurred, USC upperclassmen were allowed to transfer without ramifications. Malik Jackson took the NCAA up on their offer, going to his head coach's former home. And as it were, he becomes one of the best defensive tackles in the SEC.
Vanderbilt
: I know something will have to go terribly wrong for him to see the field this year, but the most lyrical name of the all name team? Quarterback Lafonte Thourgood. A 4 star talent at quarterback, and a five star name. All seriousness though? Brandon Barden is a legitimate talent at tight end, and in my dreams, Lafonte is going to throw him a billion td passes.
West Division
Alabama
: If the rumors aren't true and Eddie Lacy isn't going to be hurt for longer than two or three weeks? Then I have to call on him. Saban loves to use two running backs to bring the thunder to defenses. And Eddie Lacy rushed for 7 yards per carry last year when he got himself in the game last year. If he's healthy? He's going to be a breakout candidate.
Arkansas
: It wasn't until Knile Davis stepped in and grew into a real talent in the backfield did Arkansas become a majorly threatening team. His second half of the season was better than plenty of great running backs full years. And he has the triangle numbers that if he has an encore? He'll be a millionaire playing on Sundays before long.
Auburn
: The other thousand yard freshman rusher will definitely get a lot more run this year. Whether or not he was down on the third play before Auburn won the BCS championship last year doesn't matter. Michael Dyer was a beast when he got run. And while the numbers may not show it so much this year, Dyer is a special talent.
LSU
: The Freshman Cornerback who was more weapon than cover corner steps up from manic indie thrill to becoming a popular icon in Death Valley. As nickel cornerback, Tyrann Mathieu was all over the field leading the Tigers in pass breakups and finishing second in sacks, and fifth in tackles for loss. Considering how well LSU has done against the pass in recent years, Mathieu is a true worthy addition.
Mississippi
: I'm not going to call out Ja-Mes Logan for having parents with an irrational love of hyphens. Why? Because Brandon Bolden is a quality running back. I could give him the overly narrow superlative of being the single best third team all-conference running back and would get few arguments. I would get a lot of blank stares, a few head shakes and someone calling me a nerd, but few arguments.
Mississippi State: This just might be the year that Chris Reif breaks out. With a veteran receiving corps that promises to improve on a decent season last year and a deep offensive line? He can become the quarterback that can shock the world. Mullen in year three promises to do something interesting, and right now the Chris Reif bandwagon is not near as full as it should be.
Sun Belt
Arkansas State
: He may not have near the name whimsy of a Phillip Butterfield, but the play of Ryan Aplin is a good base for anyone starting a NCAA Football 2012. He led the Red Wolves in rushing touchdowns and when you consider that Dwyane Frampton has hands of glue, and maybe, just maybe, Josh Jarboe is going to stick on a team this time? Aplin may be all-Sun Belt.
Florida Atlantic
: In one of the more niche viral marketing campaigns of the spring, Your Highness Morgan was something of a holy terror in the spring. The Owls are going to shift to a 3-4 defense this year, and considering the expectations are going, Mr. Morgan has a chance to be Fabious in garnering tackles.
Florida International
: Do you miss the importance of the running game? Do you grow weary of air being raided by passing? The Sun Belt is for you! More on this later, but suffice it to say that when Darriet Perry won the leagues rushing touchdown title last year, he achieved something grand.
La.-Lafayette
: Not to be a man who likes to go to the same well too often. But the Ragin' Cajuns have one player with professional level talent on their roster. The name? LaDarius Green. He's the top tight end in the Sun Belt and arguably one of the five best in the country. The team may struggle, but as long as he's on the field. The ball will move.
Louisiana-Monroe
: Arkansas isn't the only place where a dual-threat mastermind stands under center. Kolton Browning was so good as a true freshman he forced someone on the Johnny Unitas preseason watch list (Trey Revell) to play tight end for his senior season. Now I wouldn't wish his September on anybody (at Florida State, at TCU, and at Iowa), but if he survives that? He's definitely one to watch.
Middle Tennessee
: It's rare to have a running back controversy, but the Blue Raiders seem primed to have one. DD Kyles is the mercurial big play back that seems primed to retake the starting job after Phillip Tanner's graduation. But the three last-named sword of damocles in the form of LSU transfer Drayton Allen-Calhoun resides waiting on the NCAA to make a call. With a less mobile QB taking the helm, the winner will likely rush for 1,000 yards.
North Texas
: It's kind of hard to be the second best at a position in a mid-major. In terms of exposure? Lance Dunbar is little known outside of Von Erich country. And that's a shame. Because Dunbar rushed for over 1500 yards last year. This was good for 8th in the country. And he ended up gashing Kansas State for 270 yards in a losing cause. Don't sleep on him.
Troy
: Now I'm not want to make hyperbolic comparisons, but Troy does have something akin to one of their all time greats. The name? Jonathan Massaquoi. The game? Disruption off the end line. He loses his tag team partner, but that being said, he did garner 76 tackles along with his 13 and a half sacks. He's got a very bright future ahead of him. And besides, we all already know punter beard is gold.
Western Kentucky
: When you have a 2-10 team in a minor conference, it's not very often that you will find that the running game is something to behold. But last year? Bobby Rainey rushed for 1649 yards. It was good for 5th nationally, and he's the third ranked rusher coming back to the FBS this season.
Western Athletic
Fresno State
: With better health, one could say that Robbie Rouse would be the best running back to return to the WAC this year. After all, in a world where Dwayne Wright, Lonyae Miller, and Ryan Matthews were strong runners, it wasn't until Rouse started getting...starts...when we would find a Fresno Statie getting two straight 200 yard games. And fun fact? One of them was against Nevada.
Hawaii
: I wouldn't be one to worry about the state of Bryant Moniz, it's a system here. But the defense has one of the statistically superpowered. The name Corey Paredes. He was 4th nationally in tackles last year. And it's not as if they're going to be able to game plan to stop him either.
Idaho
: When a transfer comes to a big school? There's always a buzz. (Cough cough, Duron Carter, Zach Mettenberger). But when a transfer comes to a smaller school? You don't get the buzz. But the fact is, Ryan Bass has a chance to be an electrifying running back. And he's not of the Deonte' Jackson, Princeton McCarty waterbug mold either.
Louisiana Tech
: After all the hullabaloo regarding the Bulldogs raiding the air last season, it's half funny that Lennon Creer became the pick to click. Between graduations and conference shifts? You could sincerely consider him the best running back returning to the field this year. If they ever get that whole passing game going? Ooh. I just got chills.
Nevada
: Tyler Lantrip is likely the one who has to step into the role of Colin Kaepernick. But that being said? Rishard Matthews was the emerging superstar and a man who helped cost the conference millions with his awesome. He was supposed to go to Oregon. But he will debut his 2011 in Autzen Stadium. And Cliff Harris isn't playing... (I can't do an impression of a dream sequence. Sorry.)
New Mexico State
: If anyone attempts an all-name team and does not have Boyblue Aloeua on their linebacker corps? They are fools. He's a strong linebacker who emerged for the Aggies when they needed help most. Not only that? He was named after an Electric Light Orchestra song. +1 for the game. +2 for the classic rock.
San Jose State
: Travis Johnson had moments of greatness last year as he got to seven and a half sacks. This year? There's promise of greater things. One of the advantages to having a young defense is that it has a chance to grow and jell. Blue Sparty brings every starter back. Travis Johnson could grow and gain genius power.
Utah State
: If you recall last year, I was so excited to make mention of Robert Turbin, I mentioned him despite his ACL going shred in Feburary 2010. This year? He returns. And he'll be 18 months removed from the injury that damaged his All-conference form. He's coming back. And he's coming back ready for war.
So there it is. 120 teams. In all their glory. For the single greatest off-season corrupt sport in the history of our sport.