Rooting for the Milwaukee Brewers used to be so easy. If they won? Spectacular. If they lost? Eh, you knew they sucked.
After all, there have only been two years that they really contended since my post-natal ass got into the World Series in 1982. The Brewers were the drunk cousin who constantly asked you for money. They were unfuckable losers.
But last year changed everything. Last year gave those in the cheeseheads hope. And with hope came the expectation. We were your NL Central Champions on May 1st.
You know how the story turned out. The Cubs played one step beyond expectations to vaporize an 8 game lead and win the division. Ned Yost mismanaged the bullpen. Jimmy Rollins stole the Fresh Prince's MVP Award.
And nothing much beyond that made sense either. The Brewers filled the bullpen with a lot of decency, but Ned Yost doesn't need more choices. Mike Cameron was not the lefthanded power bat the Brewers were hoping for. And then...
And the less said about that, the better.
But as hot last season's start was? This year the Brewers were Cold as Ice. Yost was looking rather inept, even admitting at one point that he feared a triple play. Gagne was as bad as expected. And Yovani? Gallardo Mode was Yovani No Go. Two starts and a torn ACL later?
The Brewers were dead. One of those sorts of deaths that makes friend of blog OMDQ look at it and say, "Come on fucking guy, I'm a Sox fan and I know it's too early!" And you know what? He was right.
Eric Gagne disappears, and the hero of the Badger State Cognoscenti Russell Branyan appears? And suddenly, the Brewers get hot.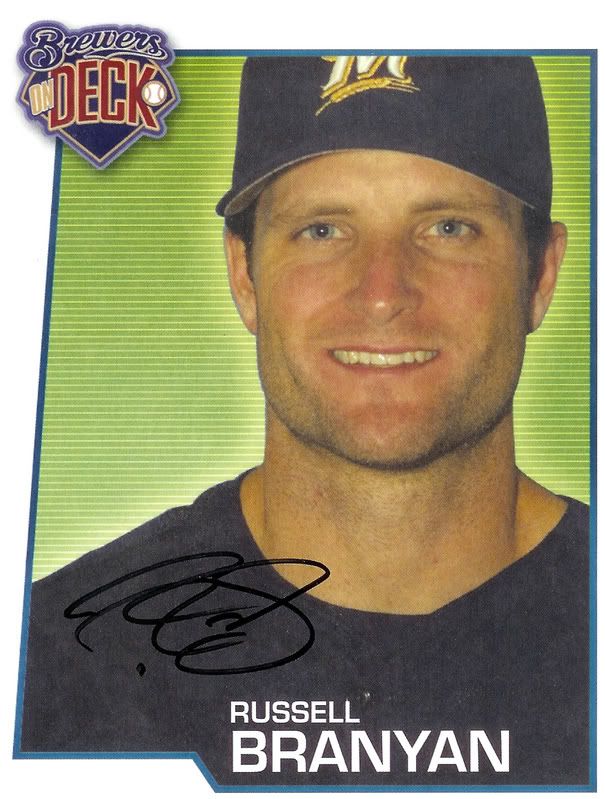 RUSSELL BRANYAN THOUGHT HE TOLD YOU HE WON'T STOP!
But alas, the fun is over. The hope is dead again. There's a shambling corpse readying himself to take the stage, and this is what will keep the Cubs as your NL Central Champions, even without Zam-Bran.
GOOOOOOGLES...I MEAN BRRRRAINS!!!
Yep. Gagne's back by the weekend. Good game hope. I'll get you yet.