That's right. This is one of the two things I bring when I bring the awesome. I list football teams. And I tell you why you should love them. This year becomes a challenge. I will try and bring you different reasons to love teams. You can find last years list. Google Eugene Jarvis. It may help.
Anyway...
Air Force:
WATERGATE BLOODLINES ALERT! #1 receiver on the Depth Chart Kyle Halderman is a distant nephew of Nixon Chief of Staff H.R. Haldeman. See? His family added the R to fool people into thinking that he doesn't have the taint of Watergate on him. But I know better.
Akron:
Chris Jacquemain has a chance to be somebody after three years of being somebody's fool. He now gets to be taught by Walt Harris. Walt has coached 14 quarterbacks to an NFL career. And he could make Chris his 15th if the light turns on. If not? I'm sure the 4 starters at receiver would love to be taught by the guy who helped get Terry Glenn, Antonio Bryant, and Larry Fitzgerald to the pros.
Alabama:
Requisite Saban hate aside, there are two names that you have to like. Terence Cody makes B.J. Raji look positively svelte with his monstrous manning midway through the trenches. And Javier Arenas is on Step 1 of the Tebow scale, but after people find out he's been blogging about how he cheats at Halo and steals jokes from comedians? Heh. Heh. Heh. Seriously, Arenas is shifty at returns and will be a Day 2 bargain.
I am Agent Zero 2.8!
Arizona:
The Zendejas name is to kicking as the name Jeff Robinson is to early-90's mediocrity on the pitchers mound. Arizona has the latest if not the greatest in Alex. He may not be able to launch it from way downtown. But he's deadly from inside 40. There needs to be a reality show about this family.
Arizona State:
The only thing that you really need to like about Arizona State is the fact that their overaged baseball prospect has entirely too much juevos to play a skill position. His name is Mike Nixon. And he is made of heart.
Arkansas:
They're not going to bring the BCS power this year, the skill position guys are either tiny and injury-prone (Michael Smith-RB), inexperienced (every receiver not named London Crawford), or just flat out young. Add to that a defense that struggles to stop the run and an inexperienced backfield? And they are the wino eating grapes of the greatest confluence of talent since the New World Order. That means dude, you have to wait.
Arkansas State:
With a team in the middle of Arkansas that resides in the bottom quarter of all esteem in 1-A football, you need to find the class where you can get it. For the Red Wolves, their touch of class comes from Alex Carrington. He is the Mid-Major rush end for the Trump set. THE MOST LUXURIOUS RUSH END MONEY COULD EVER BY!
Army:
It would be easy to say that Army is hopeless. They've been averaging a coach every two seasons. And they all have been fail since 1997. But new hire Rich Ellerson brought winning to the magnificent vista of San Luis Obispo. He also confounded Wisconsin and really should have taken them down in Madison. I'm not saying he'll bring glory straight away. But they may go into Navy with four or five wins. Baby steps.
Auburn:
Let's try this again, shall we? Can a system that allowed Todd Graham to become something more than a weirdo raper guy work in the big time? Auburn hired Gus Malzahn to find out. It kind of worked at Arkansas, but what happens when all the offensive players failed at this once already? That's just intrigue.
Ball State:
As MiQuale goes? So too the Cardinals. He's not exactly Robotron, but MiQuale Lewis is a tiny running back who kept Ball State afloat after Dante Love's career-ending injury last year. It's his team now, and the Sproles-Jones Drew diaspora gets decided here. Tanner Justice can only administer his orange retribution via clipboard, it belongs to MiQuale.
Baylor:
Here's an obvious choice. Robert Griffin is awesome. He will carry this team upon his back and take Waco to football glory. You all never thought that happened, didn't you? Didn't you!
I know I didn't...
Boise State:
Kellen Moore came out of nowhere last year and nearly (should have) led the Broncos to the Bowl Championship Series. And if the line gells quickly, Kellen Moore has the weapons (Austin Pettis and Titus Young) and the schedule (if they beat Oregon week one, they'll run the table) to get them back into the BCS.
Boston College:
There was some beef in the middle of the defensive line last season. B.J. Raji and Ron Brace were 670 pounds of Ravioli in the middle. They're professionals now. One of the replacements? Either Kaleb Ramsey or Brandon Deska. They're linebacker-sized. In fact, Deska is 241 pounds. It amuses me. I love it.
Bowling Green:
The 115th ranked total offense last season? Tennessee. The offensive coordinator/culprit? Dave Clawson. Bowling Green's new coach? Dave Clawson. The schadenfreude from an inexplicable coaching higher can keep you warm at night. But Tyler Sheehan? He is better than what Tennessee has at quarterback.
Buffalo:
They won't fall off much. A healthy season from James Starks is worth a lot. Naaman Roosevelt has professional talent. It will allow Zach Maynard to grow into the job. But the reason to love them? Alex Pierre! He's the special teams ace who will kill himself to get the experienced defense in position.
BYU:
The skill positional weapons are very much the same as last year. Max Hall is still the quarterback, Harvey Unga is the thumper at running back, Dennis Pitta is the master of Y control. If a receiver (McKay Jacobson?) emerges, they could crash the BCS. It vibes like TCU's schedule last year. Lose to Oklahoma in week one, and possibly run the table the rest of the way. (Granted, Florida State isn't exactly a guaranteed win, but...)
California:
Forget the awesomeness of Jahvid Best. You and know he's most likely to roll-up on the Heisman like boo motherfucker, darkhorse style. I want to talk about the back-up quarterback Brock Mansion. HE'S NAMED AFTER A BUILDING! Or...Brock Sampson. Either way you know you love it.
Central Michigan:
We all know about Dan LeFevour. He's going to be somewhere in the draft next year. We get that. But you need to get hip to the hop about Antonio Brown. The world is falling back in love with the shifty and the versatile receiver. And he's already drawing comparisons to Greg Jennings. You have to love that.
Cincinnati:
I love a good sort of pass-catching combination. I'll mention at least one more down the road. But you know who's going to be the Montana to Rice of this season's 1-A football? It's going to be Tony Pike to Mardy Gilyard. And that will keep them near the level of prestige that they were accustomed to.
Clemson:
Not to crack wise on the most beloved back-up quarterback in the Dabo Swinney era (Willy Korn), but there is still lightning and the hopes and dreams of a good offense with the skill positional talent. "Lightning" a.k.a. C.J. Spiller and "How the hell did Cullen Harper overthrow me again?" a.k.a. Jacoby Ford are still there. And two good triplets can lift up the third.
Colorado:
The last chance to make it work is always something interesting. This is year four of the Dan Hawkins administration. And outside of a classic rant "GO PLAY INTRAMURALS!" and a loss to Nick Saban in the Independence Bowl? There has been little to celebrate. The last chance for Dan Hawkins redemption comes this season.
Or he is going to be the happiest Offensive Coordinator ever.
Colorado State:
Well, any two deep that allows me to drop the line "East-Man! He comes from the east to do battle with the Amazing Rando!" is enjoyable. Thanks to Juco transfer Jon Eastman, there. But I'm here to talk professionalism. And Rashaun Greer? He is going to go the way of Gartrell Johnson.
Connecticut:
There's been a tradition of strong defense and special teams in Randy Edsall football, and this season's linebacking corp will be the linchpin of whatever success the Huskies have. And while Greg Lloyd will be the face of the defense, Scott Lutrus was the most productive part of it.
Duke:
David Cutcliffe is a man whose made of quarterback success. It's not just because he got to teach both Mannings how to quarterback. He coordinated a national championship with Tee Martin for Pete's sake. This means good news for Duke quarterback Thaddeus Lewis. I know they have an awesome defensive tackle, but you know what? I don't want to spell it. So Thaddeus wins.
Eastern Michigan:
It's rare that you can actually find an interesting quarterback on a team with such low expectations. But I mentioned Andy Schmitt last season, yeah? And players like the four returning starters on the line, intriguing big back Terrence Blevins, and possession receiver Jacory Stone mean this is an offense that can threaten to put up forty points on anybody. And that's just fun.
ECU:
The Pirates have Patrick Pinkney back to be the triggerman for a passing game that looks pretty solid. But the thing that allowed people to engage in ESPN logic about a BCS party crasher is back and its deep. The defense is strong. 8 returning starters, and great speed. They have another chance to make the media go all exuberant.
FIU:
The Fighting Neds have an Action Jackson sort of consonance under center. Paul McCall took a team that was supposed to be blatantly awful, and got them five wins. For a sequel? He has five home games. And the inspirational leader that is A'Mod Ned has graduated. Can Paul McCall keep Mario Cristobal enthralled? He has the returning experience to do it.
Florida:
You know what? The internet is bored with Superman too. Truth, Justice, and the American Way is hack. But enough about Tebow. Their defense is spectacular (with all 11 starters returning!) and will carry them through to their one conceivable challenge, October 10th, a road game (off a bye week) at LSU. Look for some New England Patriot styled boring dominance.
Meh.
Florida Atlantic:
Rusty Smith is probably the most underrated quarterback going into 2009. He's 6'5" with a laser, rocket arm. He has skill position talent coming back. If he doesn't get killed in the first weeks of the season? The Boy Adventurer is going to be great.
Florida State:
The hopes and fears of Florida State are always tied to the core competency of their quarterback. The problem? Not since the days from Peter Tom Willis to Danny Kanell have they actually had a quarterback that has been able to bring something to the table. Christian Ponder is the latest in the line of tantalizing prospects. Kid does not have much help at wide receiver, but if somebody emerges? Ponder has the gifts to restore the chant, so to speak.
Fresno State:
Bloodlines are what make the Valley intriguing. The interesting contender to start at quarterback a Freshman named Derek Carr. His brother was the former #1 pick. And apologies for not hyping you to Bear Pascoe last season. But at the very least? I'm giving you brother Vince. Last year he was the lead blocker to the rush'n' attack. This year? He's looking to make a "y" dynasty.
Georgia:
They like Cox to lead them. The fans will utter let's go Cox from Between the Hedges. Get it? Okay, putative new starting quarterback Joe Cox is a lot more David Greene than Matt Stafford. But since he has A.J. Green? He will be a very solid quarterback with a name that makes the 12 year old in me laugh my ass off.
Georgia Tech:
Yes, we all know and love the option. And Jonathan Dwyer is a man who brings lightning and thunder all at once as the Flexbone fullback. But you know what? There's a whisper. You don't want to make this comparison lightly. But with a receiver of such size and physical skills in Demaryius Thomas? There's whispers that he could develop into Megatron. He's professional.
Hawaii:
I could talk about the inherent evil of someone who holds the surname Funaki. But lacking a Michinoku, Hawaii missed a real opportunity. But there's redemption at linebacker. The immortal Blaze Soares still resides in Honolulu. He will be good again.
Houston:
Case Keenum is a gunslinger like no other. He has Bryce Beall running the ball and Tyron Carrier as the leader of a coterie of talent at receiver. And you know the fun part? None of them are seniors. 2009 may be good (and I can see them going 12-1), but 2010 is where the rubber meets the road.
Idaho:
I mentioned Deonte Jackson last year. He's back, but not nearly as interesting as a junior strong safety on the other side of the field. His is a game that makes Shelby Foote get up from his grave and applaud. America? Meet Shiloh Keo.
Illinois:
Jeff Cumberland was a microcosm for the way the Illini broke last season. A physically gifted but underperforming team that was unwilling to change its ways even after shit got real and Jeff Cumberland broke a dude's jaw. But he's a 255-pound wideout. How can the Zooker bench him? Juice needs weapons, baby.
Indiana:
Do you like pass-rushing? I like pass-rushing. Indiana can generate the sack attack. Jammie Kirlew finished strong last season. Greg Middleton was an All-American in 2007. When their powers combine? Indiana may coalesce enough wins to get to a bowl game. Baby steps.
Iowa:
Their defense always amuses me. From the undersized defensive tackles to the lamest superhero ever manning the middle, (Pat Angerer: He likes it when you're angry) the black heart and gold pants is always a delight when they don't have the ball. And with potential parody of a Raffi song in offensive tackle Bryan Bulaga? They will be arrested for another crime. Stealing the heart of a nation.
Iowa State:
I know Iowa State's history. It's not very pretty. But Paul Rhoads has an ample opportunity for a quick turnaround. He has a good passing game in Austen Aurnaud, he's going to throw it to Sedrick Johnson and Darius Darks. And they have two years to build this team back to the bowl level. Why? They don't have to face Oklahoma or Texas. A Kansas run may be a bridge too far, but eight wins by 2010 isn't.
Kansas:
Now I actually have an excuse to break out my most favorite photo of all time. No, it's not a photo of Dezmon Briscoe, who while the second best Dez in the Big 12 does have a professional quality about him as a 6'3" dude with passable wheels. It's not Jonathan Wilson, who's also tall and rangy and a returning starter. Back-up quarterback Kerry Meier developed into Todd Reesing's Wayne Chrebet. He's tall, he has the eye of Reesing on third down, and he has the greatest picture of all-time.
YAY!
Kansas State:
A part of the history of Bill Snyder is the adorably tiny weapon. You've seen Darren Sproles, you've forgotten about David Allen. But as Bill Snyder returns to try and restore some semblance of the roar, there's a new mini cooper. He is Brandon Banks. 5'7" 150 pounds of heart and speed. Gotta love it.
Kent State:
Okay, I'll make with the Eugene Jarvis love again. One, you can give him the nickname Robotron. I would love to be called Robotron. Two, he's positively Sprolesian in terms of weaponized offense in a tiny package. And three? He plays his home games in Dix Stadium. See what I did there? Classy.
Kentucky:
There isn't likely to be quarterback wizardry this year from Big Blue, as if Randall Cobb is your quarterback, there is most definitely a problem. That being said, what returns on defense is really special. Micah Johnson is a solid thumper in the middle, and Trevard Lindley is going to be a 1st round pick next season. If they fill holes? Intrigue!
Louisiana Tech:
Ruston's going to get a major school record broken this season. With 1,123 yards? Daniel Porter becomes a record breaker. And with five returning starters and good health? Porter will get this done. They'll go to a bowl game.
Louisiana-Lafayette:
Orkeys Auriene is a name that is the most ragin' of the Ragin' Cajuns. Undrea Sails is the least Ragin'. Both need to bring it with a sickness if they are to maintain their .500 season. Fenroy and Desormeaux are gone. Consolidation is a good goal.
Louisiana-Monroe:
Do you like wordplay? I don't. But if I pretended I did, I would have to say this. ATTACK A CARDIA! It's in praise of Cardia Jackson. He's a returning all-conference linebacker who looks to explode in a New Mexico styled defense where the linebackers are set loose to attack. Preview for 2010? The Warhawks could have a Shaq Attack in the secondary!
Louisville:
There's a certain uncertainty toward Louisville this season. They have four quarterbacks and no one has emerged to take the job. They have 8 starters returning from a pretty bad defense. If it wasn't for Victor Anderson at running back? They would be in a worse position then they are now.
LSU:
You want to know who may electrify the NFL for a year? Trindon Holliday. Kid's a burner and a half. He's already with two kickoffs returned for touchdowns. And he will bring more quicksilver magic this season. I could talk Brandon LeFell, but Bayou Bengals receivers aren't generally made of senior success.
Marshall:
The Thundering Herd have found themselves with 200th generation bloodline powers. Starting tight end Jack Slate is a part of the Mr. Slate fortune. Really. I mean, what, you're going to tell me that the Flintstones isn't a documentary? Please. That's just you being goofy, hypothetical reader.
Maryland:
Paul Pinegar could never give up football. After he nearly took down the 2005 USC Trojans? He knew he wanted another chance at success. But he washed out of the pros as a quarterback. So he decided he wanted another chance at college success. He gained 45 pounds and now starts at left tackle for the Terps. What?
Memphis:
I mentioned the height of the receivers last year. I mentioned the villainously named Arkelon Hall last year. But this year? It's the run game that also earns love. One, the starter is named Curtis Steele. He came in and won newcomer of the year. But if the back-up can keep his head straight and fly right? Then Lance Smith may supplant him. He was a Badger, and he was better than what we had starting last year.
Miami:
People named Ray Ray always bring that certain Je Nais Se Quoi. I mean, you can be a one-star prospect from Pocatello, Idaho and somebody would want to bring that home to the two-deep. But if he's 6'4" 220 and he's downright rangy? You have to love that. Ray Ray Armstrong, America wants you to be the next great Miami safety. No pressure.
Miami (OH):
It's not as if any team can just roll up and be Buffalo. You have a bad year? Next year you're not going to be great. But there does seem to be hope on the horizon. Peter Vaas has run successful offenses from Holy Cross to introducing America to Brady Quinn. Bull Reese is someone who brings the best 11 on defense to the field and had success at LSU and Texas. The Redhawks act patient? They'll be back.
Michigan:
When is a punter the best part of a team? When your punter is named Zoltan. I mean, come on.
Zoltan!
Michigan State:
Dude, you're getting a Dell! That's what Rick Reilly would say if he took on what to love about Michigan State. Because while they are a team that's not exactly expected to make magic on offense this year, they do have a guy who can remind some of Devin Thomas with his ability to make with the go route in Mark Dell.
Middle Tennessee:
There's a vaguely intriguing shot at redemption in terms of playcalling. Disgraced former Auburn Offensive Coordinator Tony Franklin comes back to the conference that allowed him such an opportunity to hit the epic fail. He has a quarterback who sounds like he would be awesome at the spread option (Dwight Dasher) and residence of the best city name in Division 1 (Murfeesboro). Tony Franklin's redemption song's going to be fun to watch.
Minnesota:
Now seeing as my homeristic tendencies do not allow me to get too amped for the glories of a rival, I will keep this as dispassionate as possible. Adam Weber to Eric Decker is this years most underrated hook-up combination. I fear they may take the axe.
Mississippi State:
Like Ed Orgeron, Dan Mullen's coming off a national championship and bringing a strong recruiting class to Starkville. Year one is the building. Year two is the consolidation. Year three? ??? Year 4? Profit. I know, I know. 2012 as your year may be a sad story, but hey, you're in the greatest confederation of talent since Ocean's 11. No quick turnnarounds here.
Missouri:
I know what you're thinking right? Without Chase Daniel and the Marshall Faulk lookalike Jeremy Maclin, this team can't be as good as they were last year. But you know what? Blaine Gabbert has better physical tools than Chase Daniel, and if Derrick Washington stays healthy, the offense will still make motion down the field. And that may be enough to get them back near the level thyey were accustomed to.
Navy:
He thought that his home was his castle, with no one scrutinizing he. No pigs, no lyin' bitch, no hassle. Y'all are brutalizing-- Wait, Ricky Dobbs? Sorry. I'm supposed to talk about Ricky Dobbs being the most hyped option triggerman in the service academies since the days of Beau Morgan. No brutalizing him, okay?
NC State:
As you've seen, I've gone a little esoteric with my ACC love. But you know what? The Wolfpack love will be obvious. Russell Wilson is a dynamic force at quarterback who may have a more successful season than Phillip Rivers in his future. Or he'll play second base in Appleton, Wisconsin. One of the two.
Nebraska:
Look. I know there are recruits coming in that are awesome. I know that there are awesomely named professionally talented defensive tackles who are forces of nature. I don't care. Their starting running back is Roy Helu Jr. And that's a name that strikes more fear when it's uttered like a dandy fop. That's what I love about Nebraska.
Nevada:
I don't normally like to repeat myself on these things. But Colin Kapernick is just that good. I know a part of the Nevada mythos is the Pistol offense. But Kapernick is Tim Tebow without any hype. Get him a photo with a comely lass and he blows Dan LeFevour out of the water.
New Mexico:
Injury based redemption is the name of the game here. Donovan Porterie is the man who got them their last bowl game win with 3000 yeards passing and a name that goes great with andouille. But he tore his ACL last season. It turned them into a 4-8 team and turned Rocky Long into a defensive coordinator. Now he's back. And he will get redemption.
New Mexico State:
I was thinking of mentioning Timm Rosenbach. Really. Apparently the draft bust from the Arizona Cardinals has found second life as a quarterback whisperer. And he's well-regarded. But you know what? No. Their strength is in their linebackers. New coach DeWayne Walker is a defensive superstar. Nick Paden was a tackling machine last season. Walker makes him all-conference.
North Carolina:
You know what? If you're going to be a quarterback on a top-20 caliber team, what the hell are you doing playing Ultimate Frisbee. You could go Robert Evans with a school that brings out some very attractive coeds. But you know what? That's for my reasons to hate every team post. Never mind.
North Texas:
You want a small school sleeper team? Go see the Fighting Von Erich's. Five returning starters on the offensive line with surprising depth for a mid-major. Cam Montgomery is a hard-charging runner. And the coach has his kid running the offense. If the defense can go from zombified to merely bad? They'll get to a bowl game.
Northern Illinois:
Nobody can hate a dude named Chandler Harnish. One? His name is Chandler Harnish, it's going to be the name of the guy who steals Zac Efron's girlfriend in the remake of Better off Dead. Two? The game brings a touch Colt McCoy to DeKalb.
Northwestern:
The Corey Wooton clan is not anything to fuck with. A big and fast pass-rusher who is going to cause trouble for anybody who would cross his path. And with a defensive that was pretty good last year and returning back seven experience? You may not have as much fun watching this team, but they might actually be better.
Notre Dame:
Charlie Weis has a fun and easy new nickname. Fail Whale.
And watch me get sued by Twitter...
Ohio:
How do you know an offensive revolution has turned hack? When a luddite like Frank Solich has turned to it. Yep. Ohio has gone to the spread based option attack. Not to say that Theo Scott and Boo Jackson's going to simulate Pat White, and Chris Garrett is a potential Noel Devine simalcrum. They'll be fine on offense. Just trying to warn you about the spread backlash.
Ohio State:
You know something? Terrelle Pryor didn't suck last year. But that's not the thing that intrigues me. Brandon Saine is. In a spread option offense, you can find success with a smaller back like Steve Slaton or the aforementioned Michael Smith. But Brandon Saine is 217 pounds of fire and fury. He has a chance to turn pro off of his success this season.
Oklahoma:
You know about the offensive weapons. But what you need to get hip to is Gerald McCoy. There is a history of talent that made Jim Ross exclaim one of his trademark catchphrases from the defensive side of the ball. The next Tommie Harris is here, and his name is Gerald McCoy. But he totally looks like a Jermaine.
Oklahoma State:
You know what? This one's going to be as obvious as a fanboy's drool after seeing the Star Wars MMO trailer at E3. Zac Robinson? Back. His bodyguard, Russell Okung? Back. Kendall Hunter? Back! Dez Bryant? Back! The sickest balance in pro sports? Back! I'm a man, I'm 40? Back! They'll be the most fun 10-2 team you'll see all year.
Ole Miss:
You're a school that lost two first round draft picks in the trenches, you're going to have a sophomore start at left tackle in the single greatest collection of elements that ever existed since the Founding Fathers. But yet? Expectations are high. It's a testament to the Jevan Snead magic. But I like the next Mike Thomas in Dexter McCluster. 5'8" 165, shifty. Look for his name to be uttered by the football cognoscenti this next offseason.
Oregon:
It's not often when you can administer praise and scorn in equal measure in one sentence or less. But LeGarette Blount is about to get the most backhanded complement ever. Why? Because if he keeps on the road that he's on? He's the next Onterrio Smith.
Oregon State:
Corvallis has the greatest brothers since the Mario's. Quizz and James Rodgers are two baby sized men with grown assed talent. They missed the last two games when the Beavers broke badly, but you know what? They are back and better than ever!
Penn State:
Navorro Bowman is another of the too good to sit character issues that have seemed to permeate through Happy Valley in recent years, I mean he racks up the tackles. Sean Lee was great in 2007. He's looking for some injury redemption. Josh Hull rounds out the linebacker corps with general solidity in the middle. It's as if this team should have a nickname or something.
Pittsburgh:
Greg Romeus and Jabaal Sheard are a very nice tag team of defensive ends. In fact, I will bestow upon them a nickname that is at once beautiful in its simplicity. I shall call them the Midnight Express. Also? Jonathan Baldwin is on the journey to becoming the next great Pittsburgh wide receiver. And that's nice.
Purdue:
While some looked at the spread offense as the Boilermaker's stock in trade, they have had 8 rush end-types make play in the NFL in recent seasons. And considering the inexperienced state of affairs that Purdue has running through their offensive skill positions? Love needs to be brought to Ryan Kerrigan. He's the man that would be nine.
Rice:
With Clement, Casey, and Dillard off to the great beyond, there will be some dropoff. John Thomas Shepherd may not be the Clement, and nobody's going to replace Casey. But Toren Dixon is going to give you 90% of Jarrett Dillard. And most of the team will be back for 2010. Patience. The Owls shall return.
Rutgers:
The skill talent is untested. But you know what? With a line like the Scarlet Knights have, they will manage to cull a good offense. Anthony Davis has got the athleticism of a tight end and the road grading skills of a road grader. And Tim Brown is a tiny receiver with Heisman trophy same name, and you know that's just plain good.
San Diego State:
San Diego State has been in the weeds for entirely too long. I mean, 15 years of mediocre to bad just seems unacceptable right? But Brady Hoke is coming out from Ball State as the new savior. I mean, he worked magic in Muncie. And he does have a promising quarterback in Ryan Lindley. A fast turnaround won't happen, but hiring Hoke was a coup.
San Jose State:
It is time to celebrate the return of the White Shadow, Kevin Jurovich. Yay! Kyle Reed and the Spartans were merely average without him. But wait, there's more. The defense may have lost three draft picks to the NFL, but there are brothers. Carl and Duke. They care not for your worries of losing Jarron Gilbert. For they are Ihenachos. And Ihenachos leave it all on the field.
SMU:
They say people with three names are either beauty queens or serial killers. That means there's danger to playing in Dallas, for Bo Levi Mitchell is someone who brings the pain. June Jones is breaking out a run and shoot with a pistol formation. There will be shootous. Glorious shootouts.
South Carolina:
The mercurial Stephen Garcia finally has the reins of the Gamecocks. And that's good and all. But I'm here for a weapons check. If he stays healthy and sees the field? Jarvis Giles is going to be Colbert country's answer to Jahvid Best.
South Florida:
I know you know about George Selvie, and he will be drafted on day one. I know you know about Matt Groethe. He is still a good quarterback. That being said? Good bloodlines are always fun, and if you're wondering if Jessie Hester is the junior of the former Colts receiver? Answer. Yes. Yes he is. And that's just fun as well.
Southern Miss:
The Hat has the offense that he's always wanted. DeAndre Brown lived up to the hype and more as a Freshman. He will catch passes from record-breaking freshman Austin Davis (that means I think Favre lost some records). And add that to Daimon Fletcher's solid run game? You know what you get. Magic. Hattiesburg magic.
Stanford:
Toby Gerhart is a measty powerback. But you know what? He may not be there by draft day, let alone opening day. But with a line led by Chris Marinelli, if baseball calls Toby Gerhart, you will find that there won't be much of a dropoff if Jeremy Stweart has to take the reins.
Syracuse:
You know what? The team that generated three wins on little more than grit and spit is actually going to have a playmaker or two on offense. Delone Carter and Mike Williams missed last season. And with Cameron Dantley, the Cuse actually have a Big East talent level of triplets. It's not enough yet, but it's a start. Or not. Gary Marrone is an absolute madman!
TCU:
Gary Patterson always comes up with a good defense. He has professional talent returning on three levels. Jerry Hughes is a pass-rusher extraordinaire. Rafael Priest is a shutdown cornerback. And Daryl Washington? He's a man whose built on running and hitting. They'll be able to reload on defnse.
Temple:
I'm calling a shot here. Temple breaks through. They have 17 starters returning (6 of 7 on the defensive side of the ball), the variances of luck on their side (2 overtime losses, 3 losses by 4 or less in regulation), and a schedule that's built to start well (5-1 is not out of the question--it took a Hail Mary for Buffalo to win last season). And no matter who wins the quarterback job, both have fun names. I'm going to make you find out for yourself. Google it. You'll be glad you did.
Tennessee:
Eric Berry is the top prospect. Lane Kiffin is the mad genius of recuiting. The weighing of mad and genius is debatable. But hey. Me, I want Montario Hardesty to win the starting job over Bruce Berry. One, for the name. It's infinitely better. And two, because the recruiting process was not so flawed for Hardesty. And the name. Montario Hardesty. COME ON! Soak in that awesomeness.
Texas:
You know reasons to love Texas. But I'm going to give you something different. I have an affinity for tank-sized running backs, see. And looking at your running back depth chart, I see that the Burnt Orange has one. Cody Johnson is 5'11" and 255 pounds. That's downright burly.
Texas A&M:
As a Packer fan, I do have to take a little joy in the failure of Mike Sherman: Season 1. But he does have hope coming in. The offense could throw last year despite that their run game was the suck. That may change and quickly. Beaumont had a running back with a fabulous game decide he wanted to stay close to home. His name is Christine Michael. He's got an opening to win the job. Now if you could just Oregeron Sherman, we'd be perfect.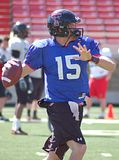 Texas Tech:
Is this a team destined to be the #2 team in the nation? No. Is this a team that could get gashed on defense? Yes. But Mike Leach simply reloads on offense. Taylor Potts will be statistically great. And put it this way, good offenses are simply fun to watch. And T-squared will get this done.
Toledo:
Barry Church was voted most likely to be the next Larry English in Last years MAC notebook. He's a big rangy safety who loves to administer the killshot. Lowered expectations in Toledo will give him ample opportunity to make people pay for catching that nine yard slant.
Troy:
Their defense is what I like. More specifically the likebackers. I smell sitcom in Troy's 4-2-5. Don't believe me? The depth chart for Troy has Boris Lee and Bear Woods as the starters. Boris and the Bear. Yeah, I want to see what kind of wacky hijinx that these two get into every week.
Tulane:
From the people who brought you Matt Forte, it's Andre Anderson. Andre Anderson, who averaged 142 yards rushing per game before his severe injury last season, looks to return healthy this season. And if Matt Forte was an indication? Anderson could be a professional sleeper. Watch him if you get a chance.
Tulsa:
Like many children of the 1980's, I loved the WWF. And the Reverend Slick, the Doctor of Style was always a fun guy to root against. And considering the evil nature of Todd Graham, doesn't it seem appropriate that they have their own Slick in Slick Shelley? They are kind of like the mid-card heels of Division 1-A after all.
UAB:
Do you want to know another strong mid-major candidate to go all Buffalo? Look to the Blazers. Joe Webb is a scary dual-threat quarterback. Rashaud Slaughter is another tiny running back that can work some magic. Frantrell Forest is a pass-catcher with good skills. And if the defense becomes merely bad? This team has a chance at the division championship.
UCF:
Everybody loves the Cosby Show. I know I do. But enough about the Defense Coordinator (and Theo's third cousin) Dave Huxtable. UCF is showing skill in the spread offense. And why is that? Because Rob Calabrese looks like another legit C-USA quarterback. If the rest of the offense comes together, and the secondary doesn't get gashed? It's a return to bowling for the Knights.
UCLA:
I love a good lockdown corner. You can cut the field in half, or only two thirds. Anyway, math aside. The Bruins have a great shutdown corner who will make magic with the press coverage. Alterraun Verner. He's aggressive, and he can make with the shutting down.
UNLV:
I don't want to wish failure on a player. It's not nice to do. But the deadly deep threat that is Ryan Wolfe is someone with a professional future. Good size, great speed, solid hands. He's going to be the next Bernard Berrian. But Chris Berman is going to drop the "Hungry Like The Wolfe" nickname next season like he never got to do with Garrett. And that's no good. You know that it's no good.
USC:
You cannot hate a good KTFO shot. And the men of Troy have had plenty in its history. From Ronnie Lott through Darnell Bing, you have found peril if you traveled over the middle. There hasn't been a good giant safety since the unfortunate demise of Sean Taylor. At least until Taylor Mays made his bones.
Utah:
Is running the table again a bridge too far? Probably, TCU's in Fort Worth and a game at Oregon is always a tough test. But you know what? If the skill positions jell, this is a team that just might go 11-1. They have a very good defense to their name. I mean, your defensive leader has two last names. You have to trust that. You have to trust Stevenson Sylvester.
Utah State:
Dave Baldwin was the OC for New Mexico last season, this year? He's in Logan. It's going to make Diondre Borel a lot more interesting to watch than last year. If he did the Tecmo celebration after throwing for a touchdown? He would be the greatest quarterback ever.
UTEP:
Trevor Vittatoe has a comedically spelled last name. But he has a arm that is as big as Texas. He is not a maybe. He will be good. But in this trend of tiny weapon running backs El Paso has someone who could electrify. Vernon Frazier is 5'7" and 165 pounds of speed and agility. Mike Price will have a running game that will make the offense complete.
Vanderbilt:
You're coming off a bowl victory and you return 19 starters. Considering the distance between football success are more chasm than blip, that's a lot to hang your hat on. You also have all five offensive linemen returning. That means offense. If Casey Heyward can replicate enough of what D.J. Moore did last year? It's another bowl game for the Commodores.
Virginia:
Do you want to talk about Marc Verica? I'm going to say you don't. Cedric Peerman was the one who performed the mearicle. But there's going to be some Cavalier Wildcattery. Vic Hall nearly shocked the Hokies with his option wildstyle. The world comes this year.
Virginia Tech:
I could talk about Tyrod Taylor or Darren Evans. I've mentioned an enjoyment of big safeties, so Kam Chancellor would be an appropriate choice. But there's Joesph Clayton out of Hermitage High School. He's not so much of a scrambler as other Virginia based quarterback, but his skills are real. And you know what? His nickname is golden. Ju-Ju Clayton. He'll do it right.
Wake Forest:
Brandon Pendergrass is not anywhere nearly as cool as Teddy, but you know what? Along with Josh Adams and four returning starters. Jim grobe is going to have a good run game. And that is just going to make Riley Skinner just look that much better.
Washington:
Don't worry Jake Locker. We understand that the Nintendo Fun Club hasn't put enough in the slush fund to get you help. But Steve Sarkisian is made to develop a passing game. D'Andre Goodwin emerged in the mess that was last season. This season? They bring hope for next season.
Washington State:
Put it this way, to love Washington State is like finding a scruffy dog on the street. They kind of smell bad, and they have weird bumps, but if they have someone whose willing to take them in? Good things can happen. James Montgomery, a Cal transfer and Johnny Forzani, fresh off the Calgary Stampeders? That's step one.
West Virginia:
Noel Devine is another part of the trend of the small running back that has seemed to emerge. And like your Jacquizz Rodgers, Devine had success last year. But you know what? In the same way I became a huge fan of Iowa hoopster Cyrus Tate, I find myself a fan of Selvish Capers. Why? He has the name of a Three Stooges Episode!
Western Michigan:
There are always two or three quarterbacks that have some level of professional interest from the Mid-American Conference. The Broncos have Tim Hiller. 228 pounds of twist and steel and laser rocket arm appeal. He advanced as a junior, and if he maintains himself? Westen Michigan goes bowling, and some NFL team has an interesting third rounder.
Western Kentucky:
The Red Drank are a team without much love coming to them for 2009. They have a team that did not beat any 1-A opponent last season. It had an anemic pass attack and no quarterback experience returning. But lo, the best non-Badger mascot in the world looked out amongst his charges and said? You have four offensive linemen returning and chances to win some games last season. You may be last on paper, but you will get some wins on the field.
Wisconsin:
The adamantine nature of the Badgers is at once its strength and its weakness. John Clay is a name evocative of the three yards and a cloud of dust days, and he will run with the power that P.J. Hill always seemed to lack. But this is a team that can bring an aerial attack. You have four receivers who have playing experience last season (and David Gilreath had shown that ol' all-purpose magic last year.) Add in Gerrit Graham's solid all-around tight end play and you have a team that can make a quarterback better than what it really is.
Wyoming:
Dave Christensen is the man who brought the world Missouri as the black and gold fighting Chromeos. Not to say that it means instant success? He is working with a veteran offense that's made of struggle. Dax Crum needs to straighten up and fly right if this team is to have any success.
Yes. This blog is old enough that there are now gimmicks. Well, they'd be gimmicks if I was more successful. But this isn't and I'm not.
But you know what? That's okay. It just means all you all are going to discover this magic for the first time. Sense of discovery.
Enjoy it.