In the defensive backfield. There's Malcolm Jenkins and everybody else at corner. The second corner off the board could be Sean Smith. It could be Darius Butler. There's depth. And a lot of it? The question is, just how quality is this depth?

1. Malcolm Jenkins - Ohio St.
(6'1" 201 4.51)
He's a physical, attacking corner. He jams well on the line and he attacks like a safety on the blitz or in run support. And yes, his 40-time is not great. But look at the film. He stays with the burners, and he has the agility not to get lost on a double move. And if he gets an opportunity? He gets the ball.
The problem? If he's drafted as a safety? His game does not have nearly enough polish. He can get blocked by a receiver in the running game. His tackling is inconsistent. And he hasn't been the guy who gets challenged. He does seem to have a good head on his shoulders, but can his swagger be dented?
But most of this is based on needing a paragraph of weaknesses. He brings a lot to the table and I do think he can overcome the challenges of being on an island. He's not nearly as much of a safe choice as an Aaron Curry. But he's 85% likely to be good.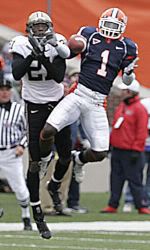 2. Vontae Davis - Illinois
(6'0" 205 4.40)
If the light turns on? Vontae has a shot at closing down one-half of the field. He has the timed speed. He has the necessary loose hips to turn and run. He has the aggression and frame to seperate the ball from the ballcarrier. At his best? He makes big, spectacular plays as a returner and cornerback.
But he is the brother of Vernon. And as such? Vontae has some real problems. One, he gets caught looking into the backfield. This means he can get torched. He will also drop a sure pick or two along the way. And he does have some certain character issues (e.g., last seasons benching by the Zooker)
But you know what? He's got a chance to be good in a primarily zone system. If you get him in a system where he can read the action. He'll be fine. He can use his athleticism to be great. I'm just saying. He would be lucky if he finds himself in a Cover 2 system.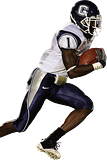 3. Darius Butler - Connecticut
(5'9" 192 4.41)
Darius Butler has a nice set of skills for the team that drafts him. He has the athleticism that will allow him to shut down plenty of receivers. He will kill you if you run slants his way. He can also be a good zone corner, as he has the agility and straight line speed to close.
The weakness? Obviously, size is one of them. A physical receiver is going to have a strong chance to have a good day against Darius. Also, he's willing to get his head in, but he's more of a duck and swipe tackler. He also has an odd problem with giving up yards after the catch.
Darius has an excellent chance to make UConn history. He has good instincts and the heart of a lion. He may not be the one you want versus a big and physical receiver straight away, but he will give his hearts and guts to the game. There's a lot to like here.
4. Sean Smith - Utah
(6'3" 210 4.50)
The triangle is what makes him so intriguing. By far, he is the tallest prospect with wheels that actually make him a viable second cornerback off the board on upside alone. But this is a man with skills. He can keep himself around the ball and close on a route in zone. He can press like a beast as well.
The problem? He's a tweener. He played mostly safety in college. He does have corner skills, it goes without saying. But he is a lot more upside than polish at this point. Another year may have brought him more money.
But that's not to say he can't be Bobby Taylor for the better part of a decade. He's got the size and agression to destroy smaller receivers on the jam and the awareness and hands to play ballhawk. He has all the tools to be great. Even if somebody likes him enough to be a first round pick? They'll get good value.
5. Alphonso Smith - Wake Forest
(5'9" 190 4.47)
He's a tailor-made cornerback. He has balance coming in and out of the breaks. He has an excellent backpedal and smooth hips for him to turn and run with. He trusts his instincts and can stay with receivers anywhere down the field. This allows him to make plays.
That being said? He does not have the tailor made body. He can be posted up as he tries to go up against a big receiver. You will not get a jam out of him by any stretch of the imagination. And never mind the bollocks of run support.
Cut .05 off his 40-time and give him two inches? And he would be the top cornerback. He does have a future as a second corner slash Aaron Glenn type. But he will not be your shut down half the field corner.
6. D.J. Moore - Vanderbilt
(5'10" 185 4.56)
His athleticism is something spectacular. He can atay with many receivers despite the timed speed. His cover techniques are tight and his ability to close is good as well. And he did develop himself in the single greatest football conference in America or the World! Okay, seriously, he has that Leodis McKelvin sort of special teams gift to him.
The problem? Whereas corners like Darius Butler and Alphonso Smith are willing to stick their head in there and make the play? Moore is stricktly a finesse cornerback. He has the frame to get stronger, but the other aspects of defense beyond coverage and ballhawking are foreign.
That's not to say he may not have a long career as a cover corner on the smaller opponent. He has a certain old school Terrell Buckley vibe. A team that expects him to cover the Cardinals may find him lacking. But he has a pro future and he should be able to come correct and come quickly.
7. Coye Francies - San Jose State
(6'0" 185 4.63)
I know after his last pro day, Francies may slip into Day 2. But the fact of the matter is that there is a lot to like about Francies. First off? Never mind the 40-time. He has the agility to stay with most receivers and the awareness and quickness to find himself rarely out of position. Second off? He's a ballhawk. He has long arms and knows how to high point the ball. Third off? He can deliver run support.
He does have a bit of inexperience as a pro, with only a little over a season's worth of starts. He is a little bit skinny in the lower body. That could lead to a problem down the road. And while you have to like his willingness to press, he does have the potential to develop a problem with it in the pros.
Coye reminds me of a player that gets my homer juices flowing. A bad thing? Not by a longshot. He has the physical frame and game that reminds me of Al Harris. Sure, his prime was truncated because he was behind Troy Vincent and Bobby Taylor. But Francies can start quickly. And he has a shot to be great.
8. Jairus Byrd - Oregon
(6'0" 205 4.67)
What he has? He has fearlessness, and a certain physicality. He can stick his head in there and make the play. In zone? He's rangy and can make ballhawking plays. He has the instincts and technique to stay at corner.
I know, if you've been reading up on me, I've been one who said that you don't need to worry about the 40-time. Here? Film and shuttle drills show that his speed is a real problem. If you run a man scheme? He may stuggle. If you ask him to play Steve Smith? He will struggle.
But there are some teams that would love him if they draft him. He is a bit of a tweener, and a move to safety is not something of a guarantee. But any team that would look for a Cover 2 corner? He may be a taller Nathan Vasher. But that 40-time is scary looking.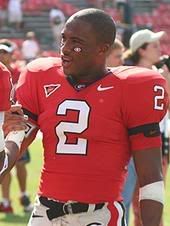 9. Asher Allen - Georgia
(5'10" 194 4.48)
He has a purity of cover corner spirit. He has great technique. His 40-time isn't the only piece of his athleticism pie. He will make good breaks on the ball? And if you're looking for a rookie to burn? Asher Allen will not be toast.
But that being said? For someone who isn't physical, you want someone who's just a little bit bigger. He does have a lot of technique skill, but he still has a bit of inexperience and could use more reps. He's also not a spectacular ballhawk. You won't see very many big plays here.
But that being said? He's not a man who you should look crossly upon if he gets drafted to your team. He's ready to cover from the get go. You won't get the sizzle with Asher Allen, but you sure as heck will get the steak.
And if you want five good Day 2 values?
1. Macho Harris (Jairus Byrd type with a worse 40-time, but better quickness.)
2. Christopher Owens (Plays big and plays aggressive.)
3. Mike Mickens (An experienced ballhawk who closes like he's an ace.)
4. Cary Harris (A solid veteran with power in his instincts and his cover skills.)
5. Joe Burnett (Quickness, return skills, ball skills, and sharp instincts. Never mind his 40-time. The team in the fifth round will get a starter here/)