There's a decent crop of Outside Linebackers here. I'm including those listed as converting to 3-4 rush outside linebackers as defensive ends. That post will be a Homeric Epic in it's own right. But if you need an Outside Linebacker? You have good options here.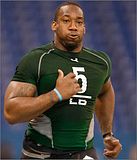 1. Aaron Curry Wake Forest
6'1 7/8" 248 4.56
This is the safest pick in the draft. He brings a little bit of everything to the table. But as a run-stopper? He's simply sublime. He is aggressive and can run chase and tackle better than anybody in this class. He can get off blocks versus many players. And he can hold himself at the point of attack.
He does have weaknesses, but for such a high character player? They are more imperfections than anything. He can be faked out by a good misdirection or play-fake. And on pass defense? He's not all the way there on the blitz or at the coverage.
But that doesn't mean he's not a three-down linebacker. He has worked himself from a walk-on to a potential Top 3 pick. He can refine what he needs to do to get himself into franchise player levels. I can see him having a ten year run of awesome.
2. Brian Cushing USC
6'3" 243 4.74
Don't question Brian Cushing's heart. He is instinctive. He is fearless. He will take down and shed any blocker that would face him. And he does have great body control in coverage and as a former defensive end, Cushing does have real pass-rushing skills.
But as for Cushing, there's aggressive, and there's over aggressive. He's been dinged up all throughout his college career. Not saying there's cause and effect, but it is a worry. He's also not a downhill linebacker, and when he's going for a tackle, he can forget to bring his feet. And while he did move inside when Maualuga went down last year, there were struggles.
But while he may not be a ready-made Mike, he does have a versatile skill set. He brings it on every down. He's going to be a good one if injuries don't bring him down. Some team between 15-20 will love him.
3. Clay Matthews USC
6'3" 246 4.67
For a one year starter? Matthews has shot up the draft boards. And there's justification to this, and it's not just because of the bloodlines. He has a great motor and solid pass rushing skills. He is a speed rusher on the edge for a 3-4. He's a strong tackler as well. And his instincts? Strong despite being inexperienced.
But if you're asking him to cover? His shit is raw. He also doesn't have great skills to take on blocks. And if he's blocked on a pass rush? He doesn't have a move to disengage.
Not for nothing though, Matthews is kind of like Aaron Curry. He's got the desire to work to keep getting better. He's worked for everything he's earned, and those weaknesses aren't such that they cannot be improved upon. Atlanta is praying for him to be there.
4. Clint Sintim Virginia
6'2 1/8" 249 4.78
The third paragraph about Sintim is going to be something interesting. Tease!
Sintim's strength is in his pass rush. He has long arms that will allow for him not to get engaged bodily by offensive blockers. He has great speed rushing and he is developing a good array of moves. He has strong physicality and good instincts against the run.
But he does not take on lead blockers. He runs around people. And if he has to drop into coverage? Bad things happen. He's stiff in coverage, and his instincts in coverage are very weak.
But you know what? If you're in the middle of the second round? You can get Aaron Maybin skills right here. Great pass-rusher, a good motor, bad in coverage? Just like Maybin. But if you get pick #48, you can have Clint Sintim.
5. Marcus Freeman Ohio State
6'1" 239 4.74
He's captain intangibles. You'll hear the term scrappy and gutty thrown around about him. He has the heart to play special teams. But he's also well built with explosive athleticism. He good savvy and his sideline to sideline skills are very good.
He does have problems. He's not strong at the point of attack. You can move him in the run. He also lets the game to come to him. Which as a linebacker isn't such a good thing. He can cover, but he's not a big playmaker.
He's not a sexy player. He will be a solid starter for a few years. He's built to be a Will. But he may never be a pro bowler. But you likely won't be disappointed.
There are two third round picks that are of value. Jonathan Casillias is a sideline to sideline speedster as a Will. And Frantz Joesph is an ex-Boston College player who shone in the Shrine Game. Either one would make you happy.