This year? Tackle has been a position of interest. There have been three tackles that have been threatening to be picked in the Top 10 with another three that would make picks in the first round. And there are two other tackles that could be drafted in round 2. Would they be the tackles that I've mentioned? That comes later.
Here's what comes now.
1. Eugene Monroe Virginia
6'5" 309 5.18
There's one word to describe Eugene Monroe. Solid. Outside of one aspect? He's good at everything. From his initial burst to driving someone off the ball to his ability to mirror and redirect? There is a lot of NFL-ready to his game. I mean, if he has no-upside? He's already better than at least half of the starting left tackles.
He's inconsistent, but that's something that can be fixed right quick. He does have a waist bend tendency. But that's more of a tired thing than a technique thing. But he does have an issue with reaching the second level. But it is what it is. Minor thing.
Monroe is the most NFL-ready of the tackles in this class. He brings a little bit of everything to the table. If he falls out of the Top 5? He instantly becomes a steal. He's not just safe. He's elite. I mean, there is a certain converted left tackle who was picked in the first round last year named Branden Albert. Monroe kept him inside. Trust in him.
2. Jason Smith Baylor
6'5" 309 5.09
Whereas Eugene Monroe has the highest floor in this draft? Jason Smith's ceiling is spectacular. He arguably the best quickness and agility in a lineman who will be drafted on day 1, but with that comes a pass blocking game that grades pretty highly. He slides and kicks like nobody's business. And while his strength needs some work, he does have the temperament to try and pancake people or drive them out of bounds.
He does have some weaknesses. I made mention of his lack of pure strength. He also had the issue of being in a two-point stance throughout his Baylor career. He does need to be more consistent in his pad level and leverage. That's the one that kind of worries me.
But while Jason Smith is a little more raw, there is absolutely no reason he should fall out of the top five. His athleticism is spectacular, and his character and competiveness means that he can hone his weaknesses. If he gets past Cleveland? Something went wrong.
3. Andre Smith Alabama
6'4" 332 5.28
On the field? He's a mauler. As a run blocker? He's a 10. He blows people off the ball with excellent technique, and he gets to the second level with consumate professionalism. And he can bring something to the table as a pass blocker as well. He allowed one sack in the single greatest conference of all time. It has to count for something.
That said? He did coast on his athleticism at times in college. He does have issues keeping his weight in check. And if you've even been casually following the draft? You know Andre Smith has lost millions by his job interview Epic Fail. The intangibles aren't exactly a major problem? But it may be a thing that shortens his career.
But that being said? His skills remind me a great deal of Bryant McKinnie. A massive left tackle with intangible questions and the ability to wear out his defender? Absolutely. Now, he's still not going to be a top 5 pick. But if he falls past 12? Color me stunned.
4. Michael Oher Ole Miss
6'5" 309 5.34
On raw tools alone? Oher would be a potential #1 pick. He's got the agility and frame to be an all-time great left tackle. And power? He has it in spades. He can anchor and be immovable during a bullrush. He can maul in the run blocking. And in space? He can be solid as well.
Howeva! There is one word that makes you worry. Inconsistent. His motor runs hot and cold and he will be inexplicably beaten every so often. He needs to polish the little things like stance and leverage. He's been well-protected. You know his story by now.
A good offensive line coach could be able to get a lot out of Michael Oher. He doesn't have the intangibles just yet. If you can unlock his mind? You will have an all-pro for a decade. But that's the rub.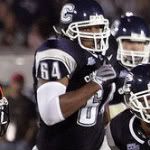 5. William Beatty Connecticut
6'6" 307 5.06
Why he's going to be a stealthy good pick at the end of round 1? He's ready made as a pass blocker. He has great athleticism (from mirroring an edge rusher to walling off on the second level). He plays intelligently with good awareness. Most definitely not a cake-eating chardonnay drinker who does not want to get his fingernails dirty.
He's not a great run blocker. He doesn't have great strength and could stand to add some size. He needs to add strength as well. Poor push and poor hand use mean that you would love him in the old zone blocking scheme. But his run technique needs some work.
I believe that Left Tackles will be something that get great draft value. Beatty has all the tools. He's not a great run blocker, but 2010 1st round pick George Selvie got owned by Beatty. Twice. Few people would have Beatty be the best of the second tier. But he is.
6. Eben Britton Arizona
6'6" 309 5.14
He has an excellent frame with good natural strength to it. He has solid technique and understands that he needs to play to the whistle. He's solid in the run game and can move his opponent at present. He's got football smarts and he can become a leader on the offensive line.
But if you want Britton to play on the left side of the line? There are problems with that logic. A speed rusher can handle him. He has average lateral mobility and a slow kickslide. He struggles to adjust to the inside countermoves as well as getting to the second level. And he does have a problem rising out of his stance.
There is not much sex appeal to Eben. He's a solid run blocker straight away. But he's lacking something in his pass pro skills. I'm not saying a team at the end of Round 1 beginning of Round 2 won't get an instant starter? I am just saying that he may need a new position to be a good pro.
7. Phil Loadholt Oklahoma
6'8" 332 5.49
His size is uncoachable. He has a massive wingspan and great power. And he plays with a mean streak that you want. He can run block you to the ground. He also has decent range and athleticism, especially for a big man. Upside? He has it.
But you are not getting a left tackle here. Speed rushers kill him. And as espected for a man his size, he loses his leverage from time to time. The mental game is something that has eluded him as well (Marginal awareness, tendecy to get false starts, stunts and twists can catch him off guard). There are character concerns for him as well.
The thing about Loadholt? Most of his weaknesses can be honed. A good offensive line coach can get a lot out of him. That being said? He's very likely going to have to flip to the power side of the line to get success as a pro.
8. Jamon Meredith South Carolina
6'5" 304 4.99
Remember when I said Jason Smith arguably had the best quickness and agility of someone who would likely get drafted on Day 1? That's because the Michael Jackson Noise is likely to be a second rounder. And if he goes up against a speed rusher? He wins with smarts, fast feet, and solid range. He can get to the second level, and he can prject inside and use his pull skills to his advantage.
But if you ask him to go big on big? No luck here. Poor hand use and a weak punch lead the way to no initial push. He doesn't have that killer instinct that many great lineman have. He doesn't have great awareness either. If you do not have a zone blocking scheme? He's not going to fit.
There is a lot to like about Meredith. There's also a lot to hate. Is he a good fit for a team that leans on zone running while they have a pass/run balance of something like 58/42? Yes. But that is a very specific fit. You may see him overdrafted, and you may see him slide. He's either going to be a solid left tackle, or the soft label that some teams have on him is going to stick.
Honorable Mention?
1. Troy Kropog Tulane
(Raw skills, but a patient coach could cull a good starter by year 2-year 3.)
2. Gerald Cadogan Penn State
(The big school Troy Kropog.)
3. Fenuki Tenopu Oregon
(A straight mauler.)