The NFL is of a cyclical nature. The 3-4 was a system left for dead not more than five years ago. And now? You are seeing a return of the 3-4 as a mack defense. And who's leading the charge? Boston College.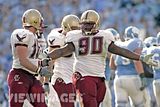 1. B.J. Raji (NT-Boston College)
6'2" 337 5.12
There is only one word you need to know when you talk about B.J. Raji. Power. He has an explosive first step. He has the leverage and balance to be immovable on his best days. He is a top notch run-stuffer.
But he brings nothing to the table as a pass-rusher despite his 2008 sack total. It's simply straight-line power. He is also a big dude, and the motor does wear itself down. And while the character questions seem to have been somewhat answered, someone who misses a year due to academics just might not be the plug and player that his Top-10 status belies.
But that being said? He was great in 2006 and did not miss a beat in 2008. He is a game changer for at least two downs. Mention any Williams surnamed defensive tackle? He will be just as good. Not #1 pick level, but a solid pick in the 6-10 range.
2. Peria Jerry (DT-Ole Miss)
6'2" 298 4.98
There's a lot to like with Peria Jerry. As a one gap defensive tackle? He's gold. He has a great motor and an excellent first step. He has good agility, and he is not easily fooled on the run-pass recognition. Those that call him a Top 15 pick have a strong case here.
There's not much to dislike here. He's not a two-gap defensive tackle. But people know that coming in. He's also an overaged defensive tackle who can get dinged up with the minor injuries. Even if he plays with pain.
Now in a different world, Jerry would be the #1 defensive tackle available. He has a lot of strengths that he brings to the table. And I do declare that one of these years he could be a defensive tackle with 10 sacks. But we're living in a 3-4 world, at least among those who could use a D-Tackle. So he may not make the top half of round 1. If he doesn't? Someone's going to be very happy.
3. Evander "Ziggy" Hood (DT-Missouri)
6'3" 300 4.88
You actually have a good tweener set of skills here. Ziggy has a 10-yard dash time to rival a top prospect like Everette Brown, what does that mean? It means the man is quick. He also has good lateral agility. He also put up 225 35 times at his Pro Day. And you know what? He has the heart of a slow white guy. That means he's gritty.
But why is he a tweener? He lacks power. He's not the guy who can blow up a guard and shove him into the backfield. And the lateral agility is there. But it's inconsistent. He has stiff hips and if he has to turn and run? He loses a step. It's also why he has trouble getting through the line.
You don't know exactly where Ziggy will fall this year. A 3-4 team likely can't use him as a defensive end, so that limits his choices. He would not be a stupid move for the Colts or the Eagles (though the Eagles fan will boo him). But the fact is, he has the heart and motor that he can touch the tools and becomes something more. He's an upside play at this point.
4. Ron Brace (NT-Boston College)
6'3" 330 5.48
Now, everybody knows Raji. Raji is good. But there is a real case that he isn't the top run-stuffer in the draft. Never mind his 40-time which was worse during the pro-day, his first step is great. And with his power? It's enough for him to split a potential double team. If he can't? He will not get moved.
But obviously, Ron Brace is a big dude. This means he will wear down. And considering his back issues? That has to be a concern if he goes Ted Washington. And his quickness is solely straight line. And laterally? He's decent, but not spectacular.
For two downs? A 3-4 team has a chance to get a plug and play starter from the end of the second round on. He has definite cult hero potential of the Gilbert Brown variety. He will not have eye-popping numbers, but I would ask if he would be willing to promote local area fast food concerns. It could make him some good money.
5. Fili Moala (DT-USC)
6'4" 305 5.07
If you get Moala? Keep him motion. He's disruptive in slants and angles. He's a solid one-gapper. He was a man who allowed the linebackers of USC to wreak havoc. And there's a weakness that I will mention that he's strong enough to blunt at present.
And that weakness? He plays upright way too often. He's not an explosive player. He has good hands, but he does not disengage easily. But I'm not saying this as a bad thing. He's a plugger. If you have good linebackers, he's a solid assist man.
Not to say that he doesn't have upside. He has a frame to get 25-30 pounds and not lose a step. He needs to learn more about leverage if he's to become a superstar. If he does? He's a great 2nd rounder. If he doesn't? He's overvalued. But he can be interesting.
That's the defensive tackle list. Sen'Derrick Marks could be drafted in round 2, but I have to say that it would be a mistake. He doesn't have the sum near in comparison to his parts.
Yeah. Moving on.