I've decided that I was going to take on an easy draft report for Day 1 propsects here. I mean, Inside Linebackers are a position that is never deep in Day 1 prospects.
This year? There are two.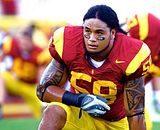 1. Rey Maualuga (USC)
6'2" 248 4.80
What you have with Maualuga is a pure striker. When you get him going downhill? He can be a scary thought for a running back. He has the hand technique to shed blockers and he can hold on the point of attack. He also has good lateral agility and is in no form or fashion a liability if he has to go into coverage.
But he is not a sideline to sideline guy. As a pure Mike? That's an issue. You also can fake him out. He overpuruses on defense. It's a part of his knock you the fuck out mentality. It works against him on other levels as well. There's a certain concern about him becoming a million dollar blogger with bad knees.
That being said? He's still just 22, and maturity comes at different ages for most people. Flaky Maualuga has a lot to like and when he's at his best? He's a match-up nightmare. He's a top-15 pick, and he may get a chip on his shoulder if a team like say Jacksonville decides to reach for him. I like him a lot. He can play on my team anytime.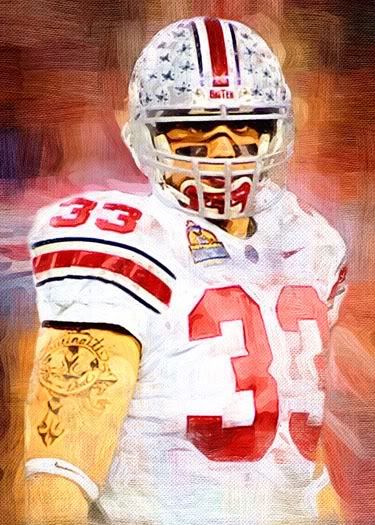 2. James Laurinitas (Ohio State)
6'2" 244 4.76
If you've been paying attention to the Laurinitas trends, his stock has been falling. That just means some team may get a second instant starter in the early 30's. There's still a lot to like about son of Animal. He has great instincts and good athleticism. This means he's a sideline to sideline linebacker who can cover as well as show heart in the run game. And if he gets to you? You will be tackled.
But while son of Animal has a good ability to disengage, it does come at a cost of losing ground at the point of attack. He is also not nearly as strong as Maualuga. And he has never been a game changer. Nothing with the killshot. Nothing with the turnover. Just sort of solid. Just sort of there. Even if he takes a bad angle or two.
Now, anybody worth their salt know that the short sellers attack a prospect or two of experience during their senior year. Often, it's an outside linebacker from a Big 10 school. Usually they go to Penn State. But for a team like New England? A foray into Laurinitas-land would be good medicine.
There are some who would consider Darry Beckwith in this class. He isn't. Frantz Joesph may find his way into a sleeper list. Otherwise? Dollhouse.