I figure something. If I can hammer out the smaller details of the interior offensive linemen and middle linebackers, I can get back to a pace of one point five draftological posts per week. So, after the crazy good analysis of the middle linebackers? It is time for guardplay.
1. Duke Robinson (Oklahoma)
6'5" 338 5.32
He's straight mauler in the run game. You will love running blast plays to his side. He has a jolting punch and he comes with excellent leverage. He will not get engulfed in pass protection. Keep his actions simple and he's a stud.
Second level is where you start getting some form of an issue. His quickness goes out the window when he has to make a move at a linebacker. He also struggles to lock on when he's pulling. He also does have certain character questions in terms of personal fouls and practice habits.
For what he is? He is a safe pick. He is essentially ballast in a zone blocking scheme. But if you're in the market for for a David Dixon site? I say go for it.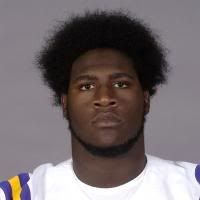 2. Herman Johnson (LSU)
6'7" 364 5.50
Any discussion of Herman Johnson has something to do with his essential freakish nature. He played at about 385 during the year and he played with a surprising agility as well. He has long arms as well as decent power. Add that to a solid set of instincts? And you have a whole lot of upside here.
But even though he's lost 20 pounds since the Senior Bowl, he should lose about ten more pounds if he wants to be an effective professional. Because like Duke, he does have problems with his second level play. Also? When he wears down, he becomes a leaner, and a quick defensive tackle can eat him for lunch.
If he can get down to 340-350? He can turn himself into Stacy Andrews. Carrying a lot of weight as a collegian can shorten your career. You can get a right tackle out of him if you want. But it all comes down to weight. If he can manage it? He's Andrews. If he cannot? Do you remember Max-Jean Gilles?
That's okay. I don't either.
The next draft preview will be center.