It's kind of an interesting thing to break down safeties. You have to match-up the value of the rangy centerfielder free safety and the burly tiny would be linebacker intimidator strong safety. How do you value them? Who would I rather have?
Read on and find out.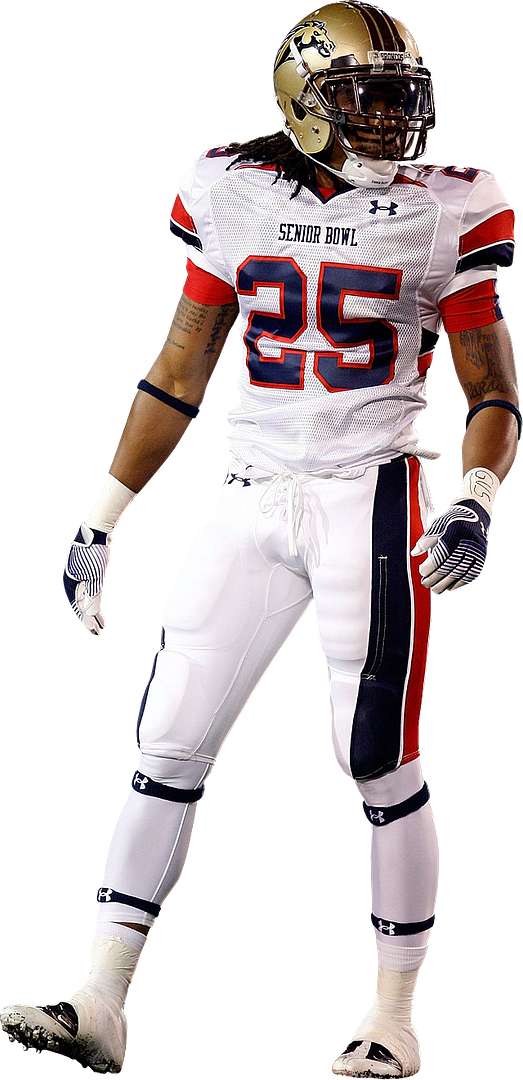 1. Louis Delmas (FS-Western Michigan)
5'11" 202 4.53
There is no potential first round safety this year. Delmas is a slightly undersized free safety who plays downhill and provides excellent run support. He's violent, but not one of those guys who overruns everything. Not to say he won't on occasion? But with great ballhawk skills and great run support? There's a lot to like here.
Why are there worries? He is undersized. Undersized hitters get dinged up. He also isn't stiff, but his pass-coverage instincts are imperfect. And with a mediocre timed speed? It is something that he will need to work on.
But that being said? As a productive free safety/eighth man in the box? He is an excellent player. If you need safety help, he can be a pretty solid instant starter, and you're waiting until Round 2 to get him. He won't get past the Texans round two.
2. William Moore (SS-Missouri)
6'1" 221 4.53
Yes, physically and with the upside? You can trust in William Moore. But he has been a little bit oversized for a safety. He played at 230 last year. It meant fail for his Senior year. He doesn't have the technique to stay with speed receivers. And his instincts are a tad subpar.
But you know what? He's a great cover two safety. You let him roam? And he'll be an intimidator. Great athleticism. Outstanding when he's close enough to close, and if your quarterback starts birddogging? He will make you pay. And he will also killshot your receiver.
William Moore is a tailor-made Cover 2 safety. If your team runs the cover 2? You're golden. If not. Be patient with him. The lightbulb needs to turn on.
3. Patrick Chung (SS-Oregon)
5'11" 212 4.54
He is the safety with nigh impeccable instincts when it comes to in the box play. His angles are imperfect, but that's something that can be worked on. He's an experienced fearless run stuffer who can handle themselves with a good tight end. If by some fluke he doesn't make a roster? You have an instant gunner.
The problem? His athleticism. His timed speed is decent. But if you need him as a last line of defense? His coverage skills need improvment. Also, he's a good physical tackler, but he's not an intimidator.
What you get with Patrick Chung is a ready-made inside the box safety. He does have decent athleticism, but he is out of position often as a back half safety. He can step right in and succeed if you use him right. You just have to understand what he's built for.
4. Sherrod Martin (FS-Troy)
6'1" 198 4.52
Here's your fast-riser into Day 1 potentiality. A great Senior Bowl. A solid combine. He may actually be a cornerback in the pros, but let's cross that road when it comes.
What does Sherrod bring to the table? Like most, a good level of athleticism and a willingness to stick his head in there. He is an excellent ceterfielder as well as a safety who gets the balls. (Heh heh heh.) He has good upside. And the tools? They make the scouts drool.
The thing is? He may not have the build to stay as a safety. He's had shoulder problems in the past, and he needs to get stronger if he wants to stay around as a safety, because as a cornerback, he is strictly developmental. But with those tools? Be it at safety or corner, someone will get in the Sherrod Martin business.
5. Chip Vaughn (SS-Wake Forest)
6'1" 221 4.51
He moved from receiver when he got to Wake Forest, and that's not a bad thing when you look at what he's done. He got better on every play in every game. And he has good instincts as well considering his relative inexperience. He has a solid triangle ratio and he will use it for gunning as well as covering.
Inexperience is still a problem. With zone blocking schemes, he can get eaten alive on the cutback. He doesn't have great lateral speed. And for an ex-receiver? His hands are average at best.
This is a flinstone chewable sleeper. He's still growing. If you're patient, and are willing to let him grow with the special teams? You will have awesome in 2012.
Whereas I am awesome now.
Later!