It was a good day of football. My team scored 51 unanswered points to avoid embarrassment in the Bad Day in the Big 10. UCF and Buffalo acquitted themselves well, even if they ultimately fell short. Matt Nichols may be a name you need to know.
And yet? A malaise. I was hyped and amped because I joined Team USA for the World Beard and Mustache Championships. And yet it did not last.
So I checked the scoreboard. And it hit me like a ton of bricks.
Middle Tennessee State 24
Maryland 14
That's right. Murfeesboro's finest took it to Maryland, coming off a game where Delaware went into College Park and nearly broke the Terps. Our favorite college football tigerstyle has a member of the clan on the hot seat.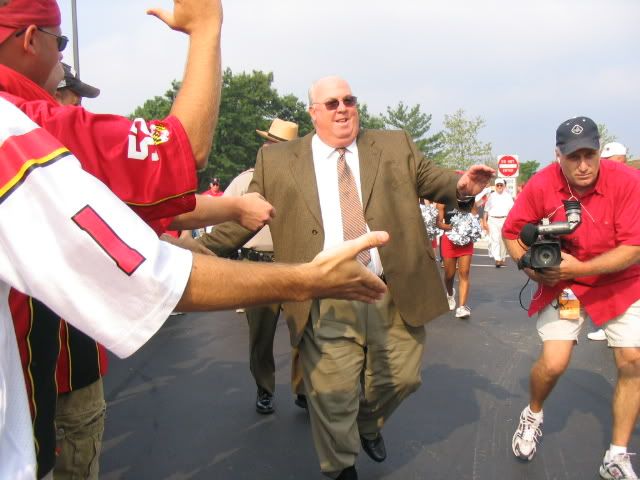 In happier times...
Ralph Fridgen broke out in 2001 winning the Coach of the Year in his debut, and that brought him an awesome bit of goodwill. But coming off a 6-7 2007? The Fridge needed to show some improvement.
He's not going to get there. Look at the schedule. Cal is September Cal. They haven't hit the Combat Rock period. EMU is a win. Then it's at Clemson, at Virginia, and Wake Forest at home. That's 2-5. And that's the easier part of their schedule. His team could very easily go 3-9 this season.
So it looks like the team isn't going to fight to save the Fridge. So you know what? We're going to have to.
You need to contact William E. Mayer and tell him, the world needs Fat Coaches. Save the Fridge.
Save the Fridge? YES WE CAN!