...Even Duke!
Funny story. You know what inspired the football edition of my one love post? Iowa Power Forward Cyrus Tate. It's true! So, when a preseason college hoop magazine rolls out, would you believe I would pass on the most Epic Post of all time?
You're goddamn right I won't!
So, without further adieu? Get ready to feel some college hoop love.
America East
Albany:
It's a difficult thing to be a big combo guard fish in a small pond. You have the world on a string. But you're in Albany. No offense to Albany, but you're not going to be somebody, Mr. Anthony Raffa, until you take down a giant.
Binghamton:
The swagger of Binghamton may develop at the hands of Emanuel "Tiki" Mayben and Sean Watson. Tiki comes from UMass. Watson comes from Montana. There may only be one season where this team can get together. But unless Tiki decides that he's gonna get washerboard abs? This team has got a shot at glory.
Boston University:
The Tyler Morris redemption is the storyline to watch here. The America East rookie of the year in 2006-2007? He missed most of last season. All five starters return. If he's strong? Then Vermont's got a real opponent to worry about.
Hartford:
Michael Turner is a man who's got a versatile game on his 6'5" frame. He can fill up a stat sheet with proverbial second tier of stats. He only averaged 9 points per game last year. But with 5.6 boards, 3.5 assists, and a little over 2 steals per game?
Maine:
They have four returning starters with three big guards who can all put the ball in the hole. That being said? It bores me. I'm intrigued by Svetoslav Chetinov. He's going to use his off time to finally end the life of that meddlesome Jason Bourne. I can feel it.
UMBC:
Darryl Proctor may be built like Terrell Owens, but for the University of Maryland at Baltimore County? He's Charles Barkley with faster hands. Now, admittedly that may be hyperbolic. But that being said? He gives a team 16-8 and almost two steals per game. And along with 5'8" pointman Jay Greene, it's a microcosm for the team. Heart but not height.
New Hampshire:
This team had bad luck with injuries and in general last season. (2-10 in games decided by less than two scores). But with four returning starters and three intriguing talents to fill in the rotation, you don't need Radar Onguetou to tell you that they might be able to vault into the upper tier.
Stony Brook:
Do you believe in the majestry of Oliver Miller sized people? I do. That's why I'm hyped as well as amped for the Seawolves. Their new center? Desmond Adedeji? He's got the Oliver Miller deep down in his soul. And while they may try 40 minutes of hell at Stony Brook? He's a vital last line of defense cog.
Vermont:
Marquis Blakely may be a severely undersized 4. But he's coming off a double-double season with 2.8 BPG, and he was playing hurt for much of the season. And with a steady senior guard Mike Tromboli and a great recruiting class for a low major? Vermont may be a solid choice as a bracket buster.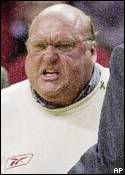 Atlantic 10
Charlotte:
Lamont Mack does not miss Leemire Goldwire. Lamont Mack does not worry about the vicissitudes of leadership. Bobby Lutz only wears the green blazer because Lamont Mack lets him. Why? Because Lamont Mack does not lose the smooth when times are tough.
Dayton:
Chris Wright was the glue that held the team together in 2007-2008. The Freshman sensation was the reason the Flyers, well, flew high. He was also the reason they crashed and burned. If London Warren can be the outside to the talented front court? They may get the NCAA Tournament trip the Flyers were so denied previously.
Duquesne:
The Dukes may be less fashionable after Kojo Mensah and Shawn James declared for the draft. Good looking out on that. Anyway, there's a decent recruiting class to join the retuning Aaron Jackson. Pay attention to Melquan Bolding. He was this close to the big pond. He'll play with a chip on his shoulder.
Fordham:
If you have a recruit who is looking to play a combination guard for your team, what would be a good first name? If you guessed Trey, you're a savvy cat. That being said? What would a good all-purpose last name demarcating a cool calmness as well as an ability to be "Boys." be? If you guessed Blue? Yes! And when Trey Blue went up to Fordham and said, I want to play for you? You know why they could not say no.
George Washington:
Rob Diggs. A super talent. A highly marketable name. "Rob Diggs! Is Rob Diggs! In Diggstown 2! I'm gonna box 20 men!" With Wynton Wtherspoon as Jazzman, and Damian Hollis as Damian Hollis, the Colonials are a back court away from climbing back up the ladder.
La Salle:
Since the final days and nights of the L-Train? La Salle has been a black hole of suck. Well, they suck no longer. Rodney Green is an A-10 version of Gerald Wallace, and Vernon Goodrich? Well, Vernon Goodrich may be something that you could call the V-Chip. Or something like that.
Massachusetts:
They have no front court. Well, in comparison to the quality of last season anyway. That being said? Their guards are still awesome. Ricky Harris, Chris Lowe, the Dribble-Drive Motion, Faith and a .45 is their bailiwick. They may not have a tournament berth in them, but they'll be fun to watch.
Rhode Island:
Jimmy Baron has some of the longest range threes in the conference. He's also a coaches son. If I tell you that he is also developing a reputation for being a gritty gunner, would you be able to guess his race? You would? Well gee whiz.
Richmond:
Francis Cedric Martel has a different future entirely than the bulk of his family. Those of you who watched wrestling in the 1980's know the name. He is related to "Sensational Sherri" Martel and "The Model" Rick Martel. I expect him to blind Dionte Christmas in a fit of pique. ARROGANCE!
Saint Louis:
Last year was a bit of a disaster. We'll admit it. But Rick Majerus has his wacky misadventures, a brand spanking new arena in the Chaifetz Arena, and a half-decent back court. With Tommie Lidell and Kevin Lisch, this team can steal some wins.
St. Bonaventure:
I'm going to tell you this. If Mark Schmidt has any real talent and allowing a team to jell? The Bonnies will be playing postseason March Basketball before 2010. Ray Blackburn, Lewis Leonard, and Chris Matthews have the skills to be full of sound and fury. It's on Schmidt to avoid them signifying nothing.
St. Joseph's:
Ahmad Nivins is a weapon at the four. He's got the potential to roll out with a 20-10 season. If he gets low post help. Tasheed Carr and Darrin Govens are a mighty fan back court duo. Also? If you're wondering if Mike Auriemma's any relation to UConn coach Geno? Yes, yes he is.
Temple:
Dionte Christmas. He's a two-guard of excellence. He's going to get a chance to be something more. Fran Dunphy runs his offense to be run by a point small forward. Christmas will be in more of distributorial role.
Xavier:
Much experience left, but there's a front court duel that the Xavier-St. Joes duel can bring. Obviously, Joes has Ahmad Nivins. But Derrick Brown is the latest standard bearer of the Xavier front court. What Tyrone Hill was in the 80's? What David West was at the end of the 90's? The Naughties could belong to Derrick Brown. It's his team now.
Atlantic Coast
Boston College:
With a combo guard sex machine in Tyrese Rice potentially playing Eric B. to swingman Rakim Sanders, Boston College may still be a year away from glory, but they've got a back court that you have no need to sweat the technique upon.
Clemson:
Catalin Baciu is a Nenad Kristic archetype. If he can find his way in with K.C. Rivers and Trevor Booker? Clemson will feel the massive joy that having the best Balkan ex-pat in College Basketball. Jonathan Hickman cannot hate this team.
Duke:
The fact that Coach K has a small forward in Kyle Singler as his center means that his attempts at a seven seconds or less ripoff will always die in an embarrassing fashion.
Florida State:
The depth and breadth of of Florida States inevitable NCAA run is solely dependent on how much of an Hakeem Olajuwon impression Nigerian post players Uche Echefu and Salomon Alabi can perpetrate.
Georgia Tech:
Paul Hewitt has been struggling to get the sum of its parts into an NCAA caliber whole. But that being said? The parts of Paul Hewitt's sum can coalesce into something tasty. Believe that Iman Shumpert is the truth.
Maryland:
Grievis Vazquez is a multi-skilled combo guard with a real NBA future. He has the look and a swagger of a Joakim Noah. If he had help? More people would mock his old Lesbian face.
Miami-FL:
Jack McClinton may be the frontman, but why you want to show the Hurricanes love is because Dwayne Collins is a low-post force at the four and the five. He's high-flying and an absolute beast on the offensive glass. He gets his boards and Miami goes dancing.
North Carolina:
Blah, blah, blah Tyler Hansborough is a media God, blah blah blah, nobody left early. Blah blah blah a good recruiting class. Face it. They're not Duke. If their main rival was say, Wake Forest? People would hate them for more than their energetic tall white guy.
N.C. State:
Brandon Costner fell off the cliff last season. He was awesome as a three in 2006-2007. And if the and Ben McCauley can regain their spot and their chemistry after J.J. Hickson went pro? Then N.C. State can bounce back with style and aplomb.
Virginia:
Mamadi Diane is a swiss army knife of versatility. He's got a sweet stroke, solid defense, great athleticism, and no help. Sean Singletary is gone and Calvin Baker will only fill half his shoes.
Virginia Tech:
A.D. Vasallo and Jeff Allen are the men who are the front men for the Hokie Hoop Machine. Seth Greenberg is charismatic and quotable. But the fact of the matter is that Malcolm Delaney. He got hot when the Hokies needed him most. And if he can maintain the clutch? Then he becomes a star.
Wake Forest:
The recruiting class is why you love Wake Forest. The recruiting classes frontman is a guy named Al-Farouq Aminu. He is rich with upside. In fact? He may be the spec play for the lottery for next season. Add that to all five starters returning and the top five reserves? They could get their swagger on a roll this season.
Atlantic Sun
Belmont:
The musically inclined school got the rub by pushing the Dukies to the limit. But you know what? They've got 9 players coming back. Shane Dansby is the most talented. But Alex Renfroe is the most fearless. If he can handle Duke? You think USC-Upstate's gonna give him trouble?
Campbell:
Campbell does not have much in returning quantity, but quality is a different matter. Jonathan Rodriguez is a small forward with a slashing game that's almost magical. He draws fouls like a champion, and he just may manage to notch another 20-10 season for the Camels.
East Tennessee State:
They nearly shocked the team that nearly shocked Duke last season. With Courtney Pigram and Kevin Tiggs leading the charge? They just might have a shot get over the hump and get back to back to the dance. Just so long as they can move on from the technical foul, am I right?
Florida Gulf Coast:
If you want a name who may yet prove to be the largest success from the 1989 NCAA Championship, you may need to take a trip to Fort Myers, Florida. Dave Balza was the student assistant on that National Championship team. And with a nascent version of Forty Minutes of Hell bumping up a level, the Eagles may fall off the pace a bit, but by 2010? Some desperate team is going to call him up a level.
Jacksonville:
It's been 23 years since the days of Jacksonville as a tournament entrant. It's still a school whose best days were in the days of Artis Gilmore. But this team was a one-win sucker two years ago. Cliff Warren has this team on the edge of glory again. Artis Gilmore's afro salutes them.
Kennesaw State:
Jay Mitchell is a point forward of junior college descent. With Tony Ingle's system, Mr. Mitchell is a recruit whose skill set is built perfectly for the game. However? This is a team you may have to punt expectations on for this season.
Lipscomb:
All Lipscomb has is an experienced backcourt. No wacky names. No awesome nicknames. The Bison are falling back toward the pack. I'll tell you this much. Adnan Hodzic is completely nonplussed about his scenario.
Mercer:
If you believe in the majestry of running and gunning? Mercer may be the pick to click. Bob "Not James" Hoffman was able to average 133 PPG during his stint in the ABA. And who stands to benefit most of all? 19 PPG combo guard James Florence. He may lead basketball in scoring.
North Florida:
Ospreys are Large Raptors. The legend is that young Ospreys are tested by flying up toward the sun. And fish will surrender in their presence. They are North Florida's nickname. And they are the best part of this season. Sorry.
South Carolina Upstate:
The Spartans are among the most itenerant of teams in College Hoops. Eddie Payne will play anyone, anyplace, anywhere. Bobby Davis is a help. But talentwise? Unless they can keep it under 70? It's 300 versus many sort of situation.
Stetson:
Stetson was able to shock the Atlantic Sun conference last season. They have all five starters back. The question is? Can Garfield Smith help this team take the next step? Yeah. Sometimes love is as simple as that.
Big 12
Baylor:
Curtis Jerrels is made of senior leadership. He's led the team in points, assists, and minutes the past three seasons. Sure, Scott Drew has been a miracle worker for obvious reasons. But with a Jerrels led deep backcourt? They could steal the Big 12 Conference.
Colorado:
The Buffaloes finished last with Richard Roby and Marcus Hall. Now? There's no Marcus Hall. There's no Richard Roby. But there is the vowel-challenged Jeff Bzdelik. He's turned the decrepit into victorious. It's likely not going to happen this year. But The Bz has a way to rally his team.
Iowa State:
Don't expect much Hilton Magic to permeate through Ames this season. It's was a bad 2007-08 with two returning starters. That being said? They may take a step up. Lucca Staiger is positively Hasselhoffian in his Germanic game, and if he and Bryan Peterson can be outside threats? Craig Brackins can do some things.
Kansas:
So you lost all five starters? It means you're going to be as good as you were last year. That being said? You're Kansas. You don't just disappear into the darkness of the NIT. Sherron Collins gets his time to shine. And Markieff and Marcus Morris are the leaders in the clubhouse for becoming the next duo to use the Twins gimmick to get into the first round.
Kansas State:
No Beasley, No Bill Walker. So, for Frank Martin? The degree of difficulty has just climbed exponentially. But that being said? The Backcourt is legitimate. Jacob Pullen is the only returning starter. Denis Clemente is the man with ACC experience. And Buchi Awaji? He's the sharpshooting junior college third guard.
Missouri:
DeMarre Carroll was able to roll up and win the newcomer of the year. On bad ankles. And Leo Lyons made the most of his opportunities last season. There's a frontcourt gap in the Big 12. If they stop fighting amongst themselves? Columbia can be awesome.
Nebraska:
Doc Sadler lost some magic for this season. A collegiate stay of less time than Tommy Lee screwed them out of Robert Sallie. And Aleks Maric is studying up to be a Jamario Moon in 2013. But Ade Dagundro is a lockdown defender and he has elevation holmes.
Oklahoma:
Blake Griffin is arguably the best draft prospect for next years NBA. He went 20-15 in his last seven games. And he did it all with knee problems. If Willie Warren can be even has as good as his hype portends? Than Norman may threaten to pull a reverse Kansas.
Oklahoma State:
Travis Ford's system is spectacular. It's Pitinoriffic! And you know what else? The Cowboys have 27 guards who can make with the pressure and the long distance bomb squaddery. Byron Eaton can suddenly become NBA relevant if he can buy into the system.
Texas:
A.J. Abrams. He's a gamer. He's got a swanktacular shot. Can he be a point guard? Maybe not. J'Covan Brown may be a sensational enough point guard freshman sensation to keep him at the two. That being said? Abrams is going to have to enjoy every moment of this upcoming season.
Texas A&M:
Now DeAndre Jordan is gone, and his potential and upside was unfulfilled. But in this instance? His subtraction may be nothing but upside. Byron Davis is a hoss. Josh Carter is a bomber from beyond the arc. If they improve? Then your Aggies can get four tourney bids in a row.
Texas Tech:
Alan Voskuil is a man who can get crazy from beyond the arc. John Roberson can get crazy from beyond the arc. They may not have much else, but you're gonna see them steal a couple from good teams, and they'll lose to a Cenetary-style team again. Schizotainment!
Big East
Cincinnati:
For a coach who looks, well he quite frankly looks kind of creepy, he's been able to get a lot out of a team that just didn't have enough in past seasons. Well, now Deonta Vaughn finally has help. The Big East has 8 teams that are worthy of dancing every year. This year? Cincy can be one.
Connecticut:
Obvious love may be obvious. But the fact remains is that Hasheem Thabeet is positively Mutomban in his abilitry to swat shots. And if you ask the question "Who wants to sex Thabeet?" A smile will come across peoples faces. This team could go far, on paper.
DePaul:
I have to tell you, when I look at an 11-19 team and see four starters gone, you would think that the Blue Demons are a team that has no hope for 2008-2009, right? Wrong. The youth is higly talented. Dar Tucker and Mac Koshwai have the potential to be an All-conference frontcourt. The backcourt is young, but Wainright has a firable offense if these guys all graduate and have no Big Dance. The talent is there.
Georgetown:
A John Thompson knows how to recruit big men. And after the multiple defections last season, there's an opening for Greg Monroe to be all spectacular in this piece. Add him to DaJaun Summers? And there's no reason to fear rebuilding. The Hoyas have reloaded.
Louisville:
The Louisville has a donut of awesome. Hot recruits with their Fresh jams. Earl Clark's versatility. A swanky backcourt? Yes! And Terrence Williams has a point forward game that's also quite nice. Problem? The lack of interior that they had last season. Those guys are gone.
Marquette:
Marquette still has each and every member of the Tom Crean 27 Guard collection. There's no real frontcourt size, but the fact remains that fourth and fifth guards David Cubillan and Maurice Acker are awesome and can start for at least 300 teams. They are a Trevor Mbakwe playing to his potential away from a deep run in the tournament. Which won't happen. He left.
Notre Dame:
Luke Harangody is Tyler Hansborough without the slavish media slurping of his jock. Kyle McAlarney gets higher now from sinking threes than the gigglin' green. Combine that with the steady point guardery of Tony Jackson, and you have the Big East team that ESPN will make you love to hate.
Pittsburgh:
When Levance Fields is healthy? This team can do anything. DeJuan Blair and Sam Young are a legitimate frontcourt force. But Fields is the man who beat Duke by himself last season. Jaime Dixon's a great coach. If Fields is healthy all year? This team can get scary.
Providence:
Keno Davis. He took over the Drake job from his father and he made them better. He loves to put up threes and defend. He has a full complement of players from Tim Welsh. If Sharaud Curry is at full speed? Then he may get a second twenty win season. I beileve in Weyinmi Efejuku that much.
Rutgers:
Mike Rosario is a man who was a part of the Miracle at St. Anthony's. But let's be honest, the last time the Scarlet Knights went to the tournament was when Guns and Roses still ruled the Earth. Maintaining the dominance in an athlete rich neck of the woods is one thing. Getting Rutgers into the Big Dance? That's something to crow about.
Seton Hall:
They probably are going to be a bubble team who fades as they face the rigors of conference play. And Bobby Gonzalez may not have conbtinued good sex in the Big East. That being said? In a conference best known for its lockdown defense? The Pirates have the best defender. Paul Gause is a Mike Kelley-style defender. His hands are fast.
South Florida:
I miss Kentrell Grantsberry. I do. But like sands through the hourglass, there's new blood in Tampa. Dominique Jones is a very nice two guard who puts it in the basket with regularity. He also wears number zero. There's no real point to that. It just makes me feel better about him.
St. John's:
Insane bllodlines alert! A cursory glance at an Anthony Mason google search shows that you have a man who would enjoy an occasional tabloid talk show if ever he was suspended. Well? There's an Anthony Mason Jr. being all undersized and Fortsonesque for the Red Storm. He has no help, but he'll be good.
Syracuse:
In a world where we've gone from the days of Sherman Douglas to the days of Gerry McNamara, there is no more of a quinessential point guard for the Northeastern College Basketball Scene than Johnny Flynn. The only way he'd be more perfect is if he was shaving points on a 1978 Boston College team.
Villanova:
I know the upper-tier of the Big East is something that could have four teams get into the Top 7 by December. Don't sleep at Villanova. They have all five starters return from a Sweet 16 team. They have balance, and are led by a combo guard superstar in Scottie Reynolds.
West Virginia:
Joe Alexander has left, he's not soming back. But long live Joe Alexander? Well, if you're looking at someone who can go from zero to sixty in 4.5 seconds in terms of hype? Meet John Flowers. He can jump out of the gym and has a pretty good, if unorthodox shot. Or Wellington Smith. He's got the name of Aristocracy!
Big Sky
Eastern Washington:
Another tiny scorer alert. Adris DeLeon can fill it up with a grace and skill. He's like Quicksilver meets Allen Iverson when he gets rolling. They may not have enough for a conference title, but they'll be very entertaining.
Idaho State:
It's morning in Pocatello for the Bengals. Amorrow Morgan may have the most athleticism in the conference. And they have three other starters coming back. Big guards, and Lucas Stejin is a legitimate big man. If he has help? They may go dancing/
Montana:
With Jordan Hasquet and an experienced backcourt, there's a definite shot at contention. However, it's been the same sort of story in Grizzlytown. A flow of talent on paper, but on the floor nothing more than a...tinkle? Shout-out to my Montana homies on that one!
Montana State:
I believe in Divaldo Mbunga. I believe that despite the fact he has no help, he will prove to be a dominant player. I believe Brad Huse has the news that you can use. I also believe .500 is a good goal to set for the team this year.
Northern Arizona:
Zarko Comagic is indeed someone whom the ladies of Heart would call a Magic Man. Tragically, his magic needs a tag team partner to be effective. After Kyle Landry's graduation last season, Josh Wilson has to step up for the Lumberjacks to make wins magically appear.
Northern Colorado:
I cannot get sufficiently hyped for the 2008-2009 version of Northern Colorado. Sure, Jabril Banks is a solid force. But Thanasi Panagiotakopolous has graduated. I have a rule, I cannot feel good about a team after a player with an eight-syllable last name has graduated. Sorry.
Portland State:
Sure, they lost two good players. Sure their star got into a fight at a Tijuana Sex Show. But Jeremiah Dominguez and Andre Murray are an awesome backcourt. Phil Nelson is an awesome transfer recruit. Their coach decided the Pac-10 could go suck eggs. Awesomeness is rolling in the State of Portland.
Sacramento State:
Sacramento State is a commuter school. The word on commuter schools is that they shall traditionally struggle. New coach Barry Katz has a lockdown defender in Loren Leath and a Juco infusion, but you may be looking at a team that has to get hyped for a 10 win season.
Weber State:
Not since the days of Harold Arceneaux have I felt so inspired by the potential magic of a Weber State Wildcat. But Daviin Davis is a grown man. He was coming up grandiose toward the end of the season. And his experience will make this team great. DAVIIN STYLE!
Big South
Charleston Southern:
The Head Coach of the Buccaneers is Barclay Radebaugh. He's got the name of a villanious heir in a romantic comedy, but it's a name that's so awesome, recruits stumble all over themselves to come.
Coastal Carolina:
Marcus Macellari is a versatile threat for the Chanticleers. Good size, with the skills to hit the bomb from long distance. With Omar Carter? They have an energetic and versatile frontcourt. It's like Sarah Chalke in 2003 Scrubs. Good stuff.
Gardner-Webb:
Grayson Flittner is a combination guard who led the Bulldogs to the stunning 84-68 victory in Rupp Arena last season. Along with Aaron Linn, these Atlantic Sun ditchers have a chance to charge right in to the Big South and steal the title, New World Order style.
High Point:
For the longest time, High Point was like an old school Coen Bros comedy. But with the loss of Arizona Reid, and the only real senior someone who can only hit less than 2 PPG? 2008-2009 High Point can have a theme of No Country For Old Men. The season will end abruptly.
Liberty:
We all know about Stephen Curry. Wisconsin fans still recoil at that name. But did you know that Stephen has a brother? It's true! Seth Curry is now a freshman at Liberty, and the ghost of Jerry Falwell now has its best player on campus since the days of Peter Alima.
N.C. Asheville:
You may think their identity died when Kenny George's injuries forced him to miss the season. And in a way? You're right. But Reid Augst has legitimate skills. That being said? No George and 4 missing starters equal a shot at celler dwellardom.
Presbyterian:
Say it with me. Blue Socks. Not Blue Hose. Blue Socks. I know you're a school entrenched with religious faith and you have to be gay for gravitas? But you will never even get a three-star recruit until you decide to join up with real Americans and name your hose socks.
Radford:
What's so rad about Radford? Actually quite a lot. All five starters return. All three guards have the sheen of preseason hype behind them. Amir Johnson is an ace distributor. And with three excellent guards, Joey Lynch-Flohr will have all the space he needs. Forget last seasons 10-20 team. This may be a team who can see March Madness dance time.
Virginia Military:
If you want to talk about entertainment? VMI is your Bailiwick. They love to run and they love to gun. They had to deal with bits of bad circumstance. Reggie Williams has graduated, and the line has moved back a foot. But they'll still rise. Those Holmes Boys can fill it up.
Winthrop:
This is Craig Peele's team, for better or worse. The Mantoris is a man with previous starting experience, but like many in the comic book superhero's rogues gallery, Mantoris Robinson is not iconic. He is the filler issues in-between the elegance and the prestige.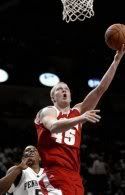 Big Ten
Illinois:
It's a guard logjam in Champaign. Trent Meacham is an excellent scorer. But he's just not as skilled as Alex Legion. Demitri McCamey is a developing point guard. And Chester Frazier is a defensive stopper. In fact? Their fifth guard is a solid roleplayer.
Indiana:
Brett Finklemeier is living the dream that many people have had languishing on the bench. They're going to start for a traditional power in a major conference. Not to say that Indiana's barely a shell of their former selves. But the Finklemeier clan's going to have fun with this. I guarantee it.
Iowa:
Cyrus Tate. He's the Robber Baron of high-energy fours. And his game may have finally caught up with his name.
Michigan:
Manny Harris had to do a lot as an 18 year old. And there were games where he had to try and do everything. The team should be better, and all Manny has to do is be a combo guard and have some decent rebounding and they just might make it into the NIT.
Michigan State:
Raymar Morgan is a man with some solid frontcourt skills to pay the bills. The Neitzel of Cydonia may be gone, but the frontcourt's going to be fierce. The lyrically named Goran Suton and the powerful Marquise Gray are going to have the dullest wars with B.J. Mullens. Gregg Doyel's jokewriter must be salivating.
Minnesota:
Blake Hoffarber, a.k.a. Big Shot Blake, a.k.a. The Clutch Hoff, a.k.a. Germany's least favorite baller. He comes up big in the biggest games, and if you need a big shot with the game on line? You turn to him. But before we go, let's look at the bloodine alert. There's a Ralph Sampson here. And he is expected to peak at 25.
Northwestern:
Can the Wildcats sneak into the NIT. Maybe. They actually have a starting five which on paper can be a middle of the pack, and Bill Carmody needs that. Kevin Coble is a white gunner. But John Shurna? He's an athletic white gunner! Yay!
Ohio State:
Thad Matta is a good in-game coach, but you know where he shines? At the recruiting. B.J. Mullins looks like he could add to the Oden-Koufos line of first round centers. And as long as Jeremie Simmons is patient? Ohio State will be the 4th team in the Big 10.
Penn State:
Geary Claxton is gone? And yet, Jamelle Cornley has returned. He's undersized with power. And he has gritty point guard on name alone. I believe in Talor Battle because he has the reincarnated spirit of a warrior, named for a fight that the Ukraine had against the Rampaging Mongols.
Purdue:
I'm a sucker for versatility. And if I may make the obvious joke? Robbie Hummel is a veritable figurine of versatility. Steals, rebounds, sharpshooting, he does it all. Point of fact? If you're a non-Purdue fan, you're going to start hating him in 5...4...3...
Wisconsin:
The Wisconsin Badgers are now going to frustrate millions of would-be bracketologists with their recent inability to play teams of a lower talent level in the second and third round of the NCAA Tournaments. How can you avoid properly gameplanning for Davidson?
Sorry. I'm a Badger fan who had his heart broken once too many times. All honesty, Joe Krabbenhoft is an outside shot away from being Dan Majerle.
Big West
Cal Poly:
There have been expectations that the mercurial Titus Shelton was going to grow up to be Danny Fortson. He's shown flashes every year he was a Matador. But you know what? It's his last chance. He needs to adapt into a consistent force and he can play beyond this season.
CSU Fullerton:
The senior-laden team that came to the tournament and gave the Badgers a scare? Pretty well gone. In fact? The transfer who managed to score 20 a game while not wrecking the chemistry and impressed in some pre-draft camps? Josh Akognon's got his own team now. He'll be a star. Even if the rest of the team has to gell around him.
CSU Northridge:
One of the most productive University Sixth Men in America is back for his senior season. Deon Tresvant is a man withb long range skills that can amp his average into double figures. The coach is a master with transfers, and if the backup is the reason to show love? They've got a shot at the big dance.
UC Riverside:
There can be only one reason to love UC-Riverside. And for those of you that know, yes. Obvious Higlander reference is Obvious. The Fightin' Christopher Lambert's are on the air!
UC Davis:
Intriguing transfer swingman is eligible. Joe Harden went Midwest from Stockton. He got run at Notre Dame. Now? He's going back to Cali, and he's got a shot at some real playing time. Everybody loves 6'8" dudes who are listed at guard, right?
Long Beach State:
There was so much trouble in the LBC last season. A .200 winning percentage is prone to do that to people. But you know what? Dan Monson built Gonzaga. He has five returning starters. And Donovan Morris is a pure scorer. On paper? It's time to get on the bandwagon. It is time to ride that pony.
Pacific:
The controversial release of a couple of players from their scholarships hangs over the Tigers like a dark cloud. But why we're here is for the ray of light in the sunshine. And there is one. Chad Troyer. Troyer, who if he was not called to do hoops work in the Mini Me-Rodman movie had a missed opportunity, is a man who scores his threes in bunches.
UC Irvine:
Kevin Bland came in as a JUCO with high expectations. But last year? Well, his game was kind of matching his last name. However? It's not an uncommon experience for Junior Collegians to need two shots before they get it right. Bland may see his scoring soar.
UCSB:
Chris Devine has been a low-post threat who's been at once beneficiary and bete noire of Alex Harris' awesome. Now? It's Devine at the forefront, and he may not be without low post help in Jesse Byrd. And he does have two-guard magic in James Powell.
Colonial Athletic
Delaware:
A trio of guards are what make the Blue Hens downright adorable. Marc Egerson's the leader of the scorers. Alphonso Dawson is a worthy second option. And as for Brian Johnson, he is the distributor. They lost Herb Courtney, but the cupboard isn't bare.
Drexel:
For the fact that the Dragons lead the league in dudes named Tramayne, and with that exact spelling, I say the Dragons will not miss Frank Elegar. And yes. One Tramayne is worthy of league leadership. And he will keep this team locked down tight.
George Mason:
Jim Larranaga signed himself two four-star recruits. My favorite? Andre Cornelius. He's blood related to the former host of Soul Train Don Cornelius. Really. Okay, not really. But he's allowing me to let my creativity soar. And for that? He's awesome.
Georgia State:
SEC-level recruits have finally become eligible. Trey Hampton and Xavier Hansbro have infused the front court with that je nais se quoi that's pure Oxford. Add in Joe Dukes from Wake Forest and Bernard Rimmer from Mississippi State? You have a team that could climb rapidly up the ladder. If the four returning starters don't eat them first.
Hofstra:
Hoftra always comes correct with a star guard who can go out and get you twenty a game. Two years ago? It was Loren Stokes. Last year? Antoine Agudio was the man who got twenty. This year? Charles Jenkins starts a three year window to glory in the Tom Pecora system.
James Madison:
You wouldn't think that a team in Virginia would generate their strength from Denver, but James Madison shows us that the basketball world is flattening. Pierre Curtis has a penchant for the driving and the slashing. And he also kicks out the passes to Abdulliah Jalloh. Who's not from Denver. But Dazzmond Thornton is!
UNC-Wilmington:
While many of us can coalesce a belly laugh or two from the name Jason Aycock. And that's okay. After all...Ay cock. But the experience and the elegance belongs at the one. Chad Tomko is the distributor. And he may be the lone piece of the puzzle on paper, but for a running team, experience on the point is awesome.
Northeastern:
On paper, this is your CAA sleeper. Five returning starters, of which your studliest man is Matt Janning, two-guard. The rotation on the bench is filled with dudes named Spates and Baptiste Bataille. If they get better shots? They may overthrow the Commonwealth.
Old Dominion:
If I was Lou Dobbs, I would feel a certain sort of threat from Old Dominon's hot recruit. There has been an influx of basketball talent from Australia. And they are taking Division I scholarship jobs. But I'm not. I like sharpshooters. Trian Illadis is a masterpiece two from the Aussie Junior Nationals.
Towson:
The hope that comes from Towson State is based on a Freshman who left Georgetown. The hope is Josh Thornton. He's a two guard who has eletrified Towson ever since he arrived last December. If Rocky Coleman and Vernon Carr can voltron into a point guard? He's got a shot at the first division. Baby steps.
VCU:
It does feel like Eric Maynor has been around the game since the days and nights of Villanova shocking the world. But if you ask me, and if you're reading this, you're asking me. If I had to have a college point guard lead my team in a game for my life? I would take Eric Maynor.
William & Mary:
The literary set will be excited for William and Mary in 2008. The enigmatic star player of The Miracle of St. Anthony's, Sean McCurdy, has transferred from Arkansas and is now looking to get some run with the Tribe at Jon Stewart's alma mater.
Conference USA
East Carolina:
Sam Hinnant is a gunner. Sam Hinnant is a better shooter than Robert Vaden, and I don't even have any empirical proof. It just is. He's awesome. He's kind of alone. But he's got a way of getting the ball in the hole. A microchasm for ECU if you will.
Houston:
Everybody calls Dwayne Wade Flash. Everybody best be stopping that noise. Dwayne Wade is slow and busted. The speedy Wade you want? Houston Freshman Desmond Wade. He's tiny, and skinny, and his legs are faster than Funkmaster Flex on the Wheels of Steel.
Marshall:
The spec play for a team that can take a shot at C-USA glory as Memphis' Main Rival. Not this year, but the recruiting class has excitement. Three transfers with big school cachet in Brandon Powell, Chris Lutz, and Octavious Spann. Wing scoring from Shaquille Johnson and Kore White. And a man who can get to Desmond Wade in a footrace in potential instant starter Damier Pitts.
Memphis:
Can Memphis go back to back? With a dominant recruiting class led by Tyreke Evans, a CDR replacement in Antonio Anderson. This team has a chance to make the final four. So long as they can find a way to do one thing. They need to find a way to replace the powermoxie of Joey Dorsey.
Rice:
Ben Braun has an ability to turn the decrepit into contenders. He did it at Eastern Michigan. He did it at Cal. Now comes his greatest challenge. Rice won three games last season. Can Ben Braun make this team a contender? Not this season. But don't give up on this team yet.
SMU:
Bamba Fall and Papa Dia. An inside-inside tag team of nomenclature awesomeness. Bamba is the sebsitive one. He's the shotblocker of the tag team. Papa is the enigmatic one. He can rebound like a professional. But his shot is inconsistent. Can they come together in time to save SMU from abject failure?
Southern Miss:
It would be easy to make a mocking commendation for Larry Eustachy for his ability to avoid being drunk in public. But that's not why the Golden Eagles have a shot at being good this year. The Stache has built a program that may be playing some post-season basketball for the first time in a while behind the excellent point guardery of Jeremy Wise.
Tulane:
Kevin Sims was steady for a decent Tulane team last season. But three starters are gone, and the mans shot has been wildly inconsistent. This year is make it or break it. If he runs the show and starts sinking the J with style and aplomb, Dave Dickerson gets 3 straight winning seasons.
Tulsa:
From the department of backhanded compliments, we come along to Tulsa Center Jerome Jordan. Lindy's says he reminds people of Patrick O' Bryant. POB. Fact is? Jerome's game is above nascent. And if he hits a big game as a so called 11 seed? He won't make an ass of himself in the NBA.
UAB:
Robert Vaden gets out of bed hitting threes. His pro future may be defined by the fact that he's all sorts of tweener. His senior year may be defined by the fact that whatever inside game the Blazers have is nascent at best. But Vaden doesn't care. His stroke is sweet, and it should get the Blazers to the dance.
UCF:
There's a real live giant in Orlando! Jakub Kusmierek is seven feet, four inches and two hundred and ninety-five pounds of twisted steel and gawky foriegn appeal. He may never make it to the starting line-up, but he's a giant! We'll see him again!
UTEP:
If Stefon Jackson has spent his Summer working on his outside shot, he has a chance to wrest top two-guard honors from Robert Vaden. His game inside the arc is silky smooth and he can slash with the best of them. All he does is score baskets.
Horizon League
Butler:
Do you want a reason as to why Butler is merely consolidating and not rebuilding? Get hyped for Matt Howard. Sure, what help he had is pretty much gone. But that being said, this team will be talented enough to be in the middle of the pack on skill alone.
Cleveland State:
J'Nathan Bullock is built like a tight end. But that's not why he's awesome. Cleveland State hired Gary Waters, and in Year 3. He's got a chance to exorcise some long held demons. J'Nathan is the player of the year candidate-frontman for the rebirth.
Detroit:
There hasn't been much good occuring for Detroit Mercy in the past couple of seasons. That being said? Rebuiliding with expereince isn't a disaster scenario. The Titans are going to be well off in the low post whith Chris Hayes and the giganicism of Jason Bennett
Wisconsin-Green Bay:
The Phoenix have been consitently pretty good in their recent seasons under Tod Kowalczyk. But this year? They have five starters returning. But you have to love the recruit they brought in. Chop Tang. Seriously. Chop Tang.
Loyola Chicago:
Sure, this team could end up as an 8th place sucker. But they have four starters returning, and Justin Cerasoli is finally showing the skills that made Ole Miss salivate over him. Composure in this league can be worth five wins.
Wisconsin-Milwaukee:
There's a certain freakshow element to the Panthers this season. There's the adorably tiny dude from Pulaski, Tennessee in Zach Holt (5'6" 150). There's the Oliver Milleresque Juco in James Eayrs (6'7" 340). And there's Kaylan Anderson. He's Canadian. They may not be good presently, but they've got a fat dude.
Illinois-Chicago:
Josh Mayo. He's a scorers scorer. And he's going to be the frontman for another winning season for Jimmy Collins. And Scott Vander Meer won't stop growing! He got to 7'0" in his senior season! Big ups for creativity at the Sports Information Desk.
Valparaiso:
Urule Igabova is a name that sounds like drunken gibberish, but his game is one of those solid 15-7 skills to pay the bills and be the best Horizon prospect for the next level. It may be Olympiakakos, but Valpo has a window of opportunity to steal the Horizon crown from Butler town.
Wright State:
Vaughn Duggins is scrappy. Vaughn Duggins is a combo guard who can come around and distribute and sharpshoot. Vaughn Duggins is a player of the year candidate. Vaughn Duggins has a way that makes the men want to be him and the women want him. Vaughn Duggins is Vaughn Duggins.
Youngstown State:
Three reasons why it's Vytas Sulksis. 1. His name is Vytas. And Lithuianian names are all awesome. 2. He went to American High School at The Rock. And 3. He will combine with Tom Parks for winged magic. Heart of the Eagle wings of a bat and whatnot.
Independents
Bryant:
If you're in a transition to Division I? It helps to have a coach with experience. Tim O'Shea, of the Little Giants O'Sheas, has a career winning record in Division One hoops. He'll have a scrappy, well-meaning team that may struggle to count wins on the second hand.
CSU Bakersfield:
Athlons may not have the space available, but I do. One, the Roadrunners are an awesome nickname. Meep meep and all that rot. Two, Terrence Johns comes from Chicago as an honors Candidate ready to make a drive for .500. Three, they have a player from Jamaica. The Name? Rick Robinson. It amuses me.
Chicago State:
Now there is a seeming condesension in calling someone "the best ______ you've never heard of!" Because obivously, somebody has heard of them. But David Holston may prove to be an exception to the rule. Independents in college hoop get no love from the unwashed masses of the mainstream media. And David Holston is a mighty mite who can put the ball in the hole. In fact, I can say he is the best basketball player under six feet tall...you've never heard of.
/ducks.
Houston Baptist:
Purdue had no room for him, but Gordon Watt is, dare I say it...electrifying? This team struggled last season, and with no ETA to join the Division I fraternity, the expectations are that they will struggle again. But Gordon Watt can break suckas down. Believe in him.
Longwood:
Do you like a man with a versatile game playing out in a place you may not have heard of? Kirk Williams is your man. He improved his rebounding, steals, and threes by a sound margin. It's his team this year. Can they build on winning five of their last seven games?
New Haven:
There is money to be made in Independent Basketball. You know what? I'm sorry. I was going to make a pun on Cassius Cheney, who is completely awesome and not evil. Though? If ever they play Yale, I want the lead-up to be a wacky Meatballsian series of misadsventures. I know Chris Makepeace is available.
NJIT:
It's hard out there for a team coming off a winless season with no conference affiliation. But with a new coach and four of their five top scorers back, the proverbial dead cat bounce is in play. And leading scorer Nesho Milosevic has a last name that's allowable for many inappropriate jokes, so that's fun!
N.C. Central:
NC Central bottomed out last season. They had four wins. (But they did steal one from Coppin State). The rebuilding starts behind a three pronged backccourt attack. Luis Ayala is the the leader. If he, Phillip Sauls and Ashton Branch can be all senior and leadery, they could bounce back by 8-10 wins.
North Dakota:
The Fighting Sioux may have to punt. You were .500 in Division II, and you lost your top two players. That's shaky right there. But add in no honors candidates, and no ability to take a shot at some real Division I basketball? O.J. Harrison is going to have to start a LiveJournal because of all the pain that he may feel.
Savannah State:
Their redemption is slow, but its steady. Savannah State was among the dregs of college hoops in the earlier parts of the Naughties, but last season? They were mediocre. If Raye Bailey and the Broadnax
Seattle:
There's opportunity for the college Seattle hoops team to stake at least a partial claim to the love of King County in the future. But that's for the future. Right now? It's a gutsy backcourt of Chris Gweth and Ricky Berry. They have heart, but as of now. They need an Adam Baldwin type to be all My Bodyguard.
SIU-Edwardsville:
Punt. Sure, they won 17 games last season, but they lost five of their top six scorers. And they're moving up to a provisional status. But you know what? If you want to play Division 1 basketball? If you hurry, they may let you play for them. (If I get this posted in time).
South Dakota:
Another reason to love the fact that your local Chris Berman is taking up space with hyperbole on the NFL programming? The South Dakota head coaches name? Dave Boots. Seriously. Half of America would kill themselves if they had to hear a Nancy Sinatra reference in the terms of South Dakota Basketball.
Texas Pan American:
Memories of last season's 18 wins may have to keep UTPA warm at night. Not to say that as a slieght, but let's be honest, there are reasons why November Basketball is much like an old episode of the Wrestling Challenge. Nathan Hawkins is going to be fed to teams like an "Iron" Mike Sharpe.
Utah Valley State:
I know that provisional D-1 teams are expected to struggle. But that being said? There are two reasons why the Wolverines aren't your average independent bear. One, Dick Hunsacker was the winner of the Moutnain West Coach of the Year when Rick Majerus had to take a personal leave of abscence. Two, they have a sharpshooting guard who can fill it up in Ryan Toolson. Don't sleep on these guys for stealing a game or two.
Ivy League
Brown:
Matt Mullery averaged about a block a game in 20 minutes. He's high energy on the low post. And the new Brown coach is Jesse Agel. You know who he developed? Taylor Coppenrath. That's right. Mullery's gonna get right good right quick.
Columbia:
We all know about the baseball Matsui's. The anal fissures and Godzillas of baseball. But that's not all. The Columbia Lions have a Matsui of their very own. K.J. Matsui. He's got wheels and an amazing game from beyond the arc. Also, he's not made of wacky injury.
Cornell:
The odds of Cornell being the first team to get into the big dance? Even Money. 4 returning starters who are likely to hit all-league. Ryan Wittman is the 3 who could find his way into an NBA camp with his smart white guy sharpshooting. Louis Dale's playmaking is an underrated second reason to love them.
Dartmouth:
This is Alex Barnett's team. And Alex Barnett is a stat sheet filler, as well as a lesser extent thriller. He has a nascent ability to distribute and swat, but his game is your solid version of a high-energy undersized power forward.
Harvard:
There's reason to hope at Harvard. 25% of Tommy Amaker wins last season were teams deemed out of their league. Five starters return. Jeremy Lin's an all league candidate. And the recruiting class? Don't get me started. This may be a second place team when all is said and done.
Pennsylvania:
Glenn Miller has himself a deep rotation. Darren Smith and Tommy McMahon missed last season. Zach Rosen leads the recruiting class that's pretty awesome. Harrison Gaines has an awesome rich man name. And the Quakers have four returning starters. Flat out.
Princeton:
Because this is a season that is simply built for the redemption of Lincoln Gunn. One, because that's the name of an action hero. Two, because he's got that combo guard magic. And three? He lost his job last season. I want him to succeed. America needs a starting Lincoln Gunn.
Yale:
A business school name is what is going to make the Simpsons writers quake during that big rivalry game. Porter Braswell has big shoes to fill. Eric Flato was awesome. But if Porter Braswell can distribute at about 90% of previous levels? They've got a shot at a winning season.
Metro Atlantic Athletic
Canisius:
One, their coach is the same name as famous author Tom Perotta. Maybe they're one in the same. After all? Tom Parrotta? What kind of an alias is that? He's too busy writing his next masterwork to help develop Bob Bevilacqua and Tomas Vazquez-Simmons.
Fairfield:
Five starters are back. The reputation of Fairfield is much like the reputation of Campbell's Soup right now. Conservative style. But the fundamentals? They are strong. Great defense, solid playmaking. Jonathan Han is the all-conference candidate.
Iona:
It's a hard road to come from off the deck. Iona had two wins two years ago. They got to tweleve wins last season. But with six scolarship players gone? It's obviously a transistion year. But as potential goes? If Ex-Louisville Seven Footer Jonathan Huffman can come out fast? Then this team might take another great leap forward.
Loyola-MD:
Jimmy Patsos believes in the magic of the three guard attack. And in Brett Harvey, Brian Rudolph, and Marquis Sullivan? The Greyhounds have a trio that can run the show at an excellent core competency. Harvey and Rudolph are a dual distributorship, and Sullivan can drain the threes.
Manhattan:
A lot can happen in the space of a weekend. A team in seeming disarray can get all sorts of hope for the new season. And we all know the Jaspers are the traditional MAAC power. Chris Smith and Antoine Pearson are a great backcourt. Devon Austin was scary come the conference tournament. If they can keep this up?
Marist:
The alma mater of Rik Smits doesn't have any returning dutchman. They don't even have a Spongy Benjamin in their back pocket. But they do have Alex Vouyoukas. Davidson decided to be all liberal elitists, and Marist just picked them out a winner.
Niagara:
If you believe in transfer magic, the Purple Eagles have a tale to tell you. Bilal Benn has the neo-soul that Villanova was unable to let take to the hole. Rob Garrison has the villainous lackey-soul that UConn wouldn't even allow him to tell people to put other people in bodybags for. Sorry. They'll be good, maybe.
Rider:
Jason Thompson inexplicably made the lottery after he graduated from Rider. And perhaps that does mean that Rider falls off the pace a bit. But his younger brother Ryan leads a team that returns four starters, and a 6'8" lefty named Jermaine Jackson just might have the chops to help patch the grown-ass man hole in the middle.
Siena:
Siena shocked Vanderbilt in round one last year. And you know what? All five starters return from last year. And Kenny Hansbrouck and Edwin Ubiles will be neck in neck for conference player of the year. Siena Nation is excited for this season. Bracket Buster fans should be as well.
St. Peter's:
The Saint Peters Peacocks are rolling up on you with seven sopomores in the Yanitelli Arena. Wesley Jenkins is a two-guard with skills. He's not going to get shook by the new three point line. You've got three seasons to enjoy him.
Mid-American
East
Akron:
They signed a man named Humpty Hitchens. Why is this awesome? One, tiny point guard. Two, his first name reminds us of the great Digital Underground hit. And three? His last name reminds us of insane drunken English Journalist Christopher Hitchens. Three great tastes that taste great together.
Bowling Green:
Louis Orr managed to coalesce something interesting at Bowling Green. There are five returning starters, four who have the potential to be honors candidates. Antonio Gates-sized power forward Nate Miller is the power forward who's the frontman for this teams potential rebirth. They're one piece away from glory.
Buffalo:
There's balance. There's experience. The six top scorers return. Andy Robinson is the leader, and his range is something special. And his defense is a step below awesome. He is, after all, no Greg Gamble, am I right?
Kent State:
Al Fisher. It's nowhere near as cool of a name as Bilal Benn. But his game? Filled to the brim with playmaking and comination guardery. He is the face of consistent winning. And while his awesome was simply too much for Jim Christian? Geno Ford will be able to do it right.
Miami-OH:
Charlie Coles was three days away from retirement, but he found the end of last season much to his dislike. So, you know what? Charlie Coles isn't going out like that. And with Michael Bramos and Julian Mavunga, he may retire as a tournament participant. Cue "You're the Best Around."
Ohio:
So Tim O'Shea ditched you. So what? He's going to go 3-28. You have John Groce. He's the guy who got two Top 5 picks to go to Columbus. And you know what else you have? The man voted most likely to be compared to Rik Smits. He is Kenneth van Kempen. He will out hype Gary Trent. Bank on it. Or not.
West
Ball State:
The polite term for last season was a total mess. But you know what? It's over. Dunzo. Finito. They may not be able to make high climb up the ladder. But you know what? They have Malik Allen. And Malik Allen is a badass.
Central Michigan:
While I am morose about the departure of Nate Minnoy. He was a portly swingman! Jordan Bitzer and Jeremy Allen have the control of this season's storyline. If one, or both of them can step up? Then the Chips have a shot to climb the ladder.
Eastern Michigan:
While the most immature among us will enjoy a titter or two about the mere existence of Zane Gay, I have someone else you need to discuss. Carlos Medlock. He managed 14.8 PPG last season while still healing from a broken foot. If he is fully healthy? They may not need much of a second option.
Northern Illinois:
Some may call me crazy for saying that Ricardo Patton was a great pick-up for the Huskies. After all, wasn't he a coach that fell off badly at CU? And they are right. But that being said? He did have a quick turnaround at Colorado. And it's tough sledding at Colorado. Don't sleep on him.
Toledo:
The Rockets are like the Mid-Major Marquette. They have literally 41 guards that could contribute for any mid-major. Tyrone Kent is a pure scorer. Jonathan Kent has the hands of a cat burglar. Ridley Johnson has the swagger and gunslingers mentality to make with the greatness. Anthony Byrd is an experienced, steady hand. AND and, Stephen Albrecht is a two-guard who's a Freshman that if given the opportunity, can be sensational.
Western Michigan:
I know what you're thinking, right? I'm going to talk about David Kool because he is the superstar Bronco. No. He allows sportswriters to ne lazy. "Kool and the Gang allows the Broncos to celebrate good times." Actually, yes. Only for this quote from Head Coach Steve Hawkins in the Athlon's preview. "When [Kool] has the ball, the world feels okay."
Mid-Eastern
Bethune-Cookman:
The best player has a hilarious same name. He's the leading scorer, and a frontman for a very dangerous defense. He has good length on the wing. He is John Holmes. And should he step up and score more often? He's got a good chance at scoring with the lady pizza woman.
Coppin State:
Two words. Tywain McKee. He put a 20-loss team on his back and said, here. We're going to the Tournament. Now, the fact that they only got to play in Dayton is a discussion for another time and place entirely, but Tywain McKee has proven himself to have an ability to work miracles. Work miracles and make Todd Bozeman cry.
Delaware State:
Delaware State always brings a tough game. The play defense with style and aplomb. They have big guards and a solid small forward. They have no shot at degeneration. Donald Johnson and Marcus Neal will not let it happen.
Florida A&M:
There's a dynamic duo in Rattler nation. Joe Ballard gets the ball to Lamar Twitty and good things happen. If something else can coalesce? This team has an ability to shock the HBCU world.
Hampton:
You know what time it is? Vinny Simpson time. He's going to step up and replace Rashad West. And he was there for the epic Conference championship fail. He will put his heart and soul into making certain that does not happen again. They're ready for war.
Howard:
I say to you tonight. Change is coming. Washington D.C. is going to see a new Howard basketball team. Calvin Thompson is coming. He has skills to pay the bills. He is absolutely change you can believe in. Eugene Myatt is feeling good about this turn of events.
Maryland-Eastern Shore:
There may be a struggle at Maryland Eastern-Shore. They got Franklin'd three times in a 28 loss season last year. 20 point per game scorer Ed Tyson? Gone. But amongst the UMES literati? Denzel Jackson is expected to step up and face the adversity. I'm inclined to believe them.
Morgan State:
Some would call this purgatory, but you know what? Todd Bozeman in a low major is a good thing for him and his career. Marqiuse Kately is a good bridge between now and when his players have to step up and play. They can be consistent contenders.
Norfolk State:
I've told you before how I like fat basketball players. And Joesph Dorsett-Jeffreys? He's three bills of fun for your low post. He gets an opportunity to show that he's more than a fathlete this season. If he and Michael Deloach can do it? They'll be a threat.
North Carolina A&T:
No man is an island, but Thomas Coleman may have to play like there is. He is the best low post threat in the conference, but the three perimeter scorers from last season? All gone. He needs a freshman point guard to be sensational.
South Carolina State:
There's an inside-outside combination that can bring the Bulldogs into contention. Jason Flagler is among the sharpest of sharpshooters. And if he bricks it? Jason Johnson is a great low-post threat. They can voltron the Dogs into contention.
Winston Salem State:
Now this is a Division II version of Indiana Basketball with a twist. They bottomed out at five wins in 2006-07. They got to 12 last season. Now they climb up a level. There's talent, there's athleticism, but they got their ass kicked in the CIAA. They barely beat a team of All-Stars from the Bahamas people!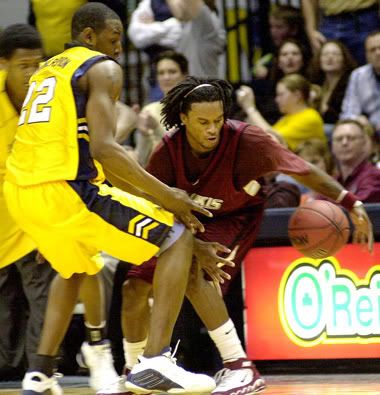 Missouri Valley
Bradley:
There's going to be a running theme in the MVC. Talented guardplay is available in spades. And the Braves got some. Sam Maniscalco is the penetrator, and he's going to kick it out to Andrew Warren and Theron (really a forward but built like a 2 guard) Wilson. There's no Patrick O' Bryant, but there is fun times for Jim Les!
Creighton:
Oh hi, you know what the Blue Jays have? Three stud guards with problems! Josh Dotzler is the hard luck distributor. Can he overcome his injuries? P'Allen Stinnett is the enigmatic and mercurial two guard. His athleticism is explosive, but can he control his inner fire? Justin Carter is the new guy. Can he be a taller Jamaal Tatum? And can Dana Altman keep them consistent?
Drake:
Sure, Keno Davis is gone. Adam Emenecker is gone. Entirely too handsome Korver brother is gone. But the folks of Des Moines should not fret. The Bulldogs are not without their skills. Josh Young is a sharpshooter of the highest order. And Jonathan Cox is a one-man dual threat. It went perfect last year, but Drake's not gonna fade gently to black.
Evansville:
There are holes, but on the wing? There's real talent. The awesomely named Shy Ely broke through as the Purple Aces struggled to get to ten wins. And if Jason Holsinger can be a better distributorial decision-maker? There's a start. Also? Denver Holmes just may be the most famous Denver in pop culture since TV's Uncle Jessie. Dukes of Hazzard.
Illinois State:
Osiris Eldrige is an All-league candidate who became big as the season ended. With an exodus of backcourt talent, he gets a chance to be all seeing and the leader of the offense. Other than that? They love the drive and kick-out game. And they have the shooters to make another run at the top.
Indiana State:
Now, the most famous Stinson of all time is SNL one off gimmick Connie. But the Sycamores have a contender. Marico Syinson has an ability to go unconcious and sew the mouths of fat hogs closed by just shooting the lights out. He's like Walken. You never know where he's gonna go. You just know that there's gonna be a dance sequence.
Missouri State:
Now, this one may just be for me. But Cuonzo Martin's a man who brings back excellent memories of the classic Wisconsin-Purdue Michael Finley-Glenn Robinson duel. If he's awesome by association? Missouri State has found themselves a pretty good hire.
Northern Iowa:
If it stands that playing with the opposite strengths of the rest of the conference can bring you luck? Then the Panthers could get very interesting. The Missouri Valley is a very guard heavy conference, but the Panthers love is in the low post. Adam Koch got swole so he can play a more effective four. And Jordan Eglseder is 7'1" and can do a pretty good impression of a Luke Schenscherr.
Southern Illinois:
With Randal Falker and Matt Shaw graduated, the Salukis have a wide open window of opportunity in their frontcourt. Luckily, they've got a blue-chipper coming in. Anthony Booker is the most-hyped Saluki to ever come into the program. However? The question is, can the backcourt be more consistent? If it can? Last year was just a blip.
Wichita State:
Listen, let's be honest. The Shockers have been one in the stink since their Sweet 16 Run. But is there hope? Absolutely. Gregg Marshall made Winthrop Winthrop. And last year was a whole hell of a lot more about bad luck than bad play. And Ramon Clemente is a man who can be the high-energy glass cleaner. They'll be back.
Mountain West
Air Force:
The Real Christian High Fliers look to have a return to recent prominence behind two-time ace sixth man Andrew Henke. And in three solid starters with a fresh batch of experience, and you have a team that will sucker people into thinking they're for real come March.
BYU:
Lee Cummard has a very odd skill set. Amazing from beyond the arc, yet he leads the team in blocks. 2nd in rebounds. 3.5 assists per game. If you love stat sheet verstility? Get hype for the Cummard.
Colorado State:
You would think that on a major conference team that did not manage a regular season conference win, a player would not be a reason to love a team. In this instance? You would be mistaken. Marcus Walker can fill it up with anybody. And on a team with little help? He's gonna have to put the team on his back to get some headway in conference play.
New Mexico:
The Lobos fell just short in getting to the tournament. And do you want to know the key to them coming across the line? Tony Dandridge. The redshirt was awesome two years ago. If he can generate 80% of J.R. Giddens? The Lobos can overtake the Beas and win the day.
San Diego State:
A mercurial team, but then again. It's the watchword of a Steve Fisher program. Lorenzo Wade, Kyle Spain, and Ryan Amoroso are a frontcourt that can win games by themselves. They'll win 20, if issues and concerns don't sink the Aztecs.
TCU:
Jim Christian had a good thing going at Kent State. A yearly conference championship contender. A team that could win 20 games in its sleep. So why would leave all that for a team with three returning starters? Money. Money and Balls. His balls are massive.
UNLV:
Beas Hamga spurned traditional Midwestern powers Indiana and Kentucky for the bright lights of Vegas. All jokes about his inability to academically qualify aside? You have a seven-footer with a disruptive defensive presence. And his name elicits massive toughness. You want to mess with Beas Arthur? Bees in general? No you don't.
Utah:
Can you believe that the Utes have an Aussie center who HAS NEVER BEEN COMPARED TO ANDREW BOGUT?!?! I know, right? But if my sarcasm has truth to it? It's because Nelville is less of a Brad Miller type and more of a rich man's Dave Feitl. Keith Glass is going to represent him come April. Bank on it.
Wyoming:
It's the Brandon Ewing retirement tour. After 93 career starts, and so many thrilling moments, Bandon Ewing can't Van Wilder his way into further seasons of eligibility. This season is his last. There may not be as much of sendoff.
Northeast
Central Connecticut State:
The Blue Devils have a window of opportunity with their youth energy. Ken Horton is a high energy center with the build of a two guard. Shemik Thompson is a fabulous point guard. These two? They have three years to crash the big dance.
Fairleigh Dickinson:
The backcourt of Fairleigh Dicksonson has been put here on this earth to put points on the board. Yeah, Manny Ubilla is gone. But Sean Baptiste is an explosive scorer who can pick up whatever slack is gone. Also? Cameron Tyler is back. If he keeps his head right? The Knights backcourt has it going on.
Long Island:
The Blackbirds are a team with a good backcourt mix. David Hicks is a point guard with a good ability to defend. Jaytornah Wisseh is the scoring two who was at his best at the end of last season. And Michael Culpo is your future distributor.
Monmouth:
Yaniv Simpson. He's the soft jazz of jump shooters. He can sink it from the Acropolis. His hair is soft and wispy, just like the parabolic arc of his jumper. He's been a tad injury prone. But that being said? You cannot hate his game.
Mount St. Mary's:
Jeremy Goode is a stout playmaker, and behind him? Mount St. Mary's made the big dance. He leads four returning starters and two others who came up massive in last years magical tournament run. But as Jeremy Goode goes, so goes the fighting Jim Phelans.
Quinnipiac:
A university best known for its Northeastern political polling can appreciate this question. Is Evann Baker awesome from beyond the arc? A. Yes. It's a young team, but him and Justin Rutty are a tag team that can bring some future results.
Robert Morris:
It may be difficult for a team that won 26 games and took down a Tyreke Evans-led Boston College to pull off an encore. But Jeremy Chappell is a man who has skills that can pay bills. And in such a guard-heavy league? A backcourt as deep as Robert Morris means instant favoritism.
Sacred Heart:
Joey Henley has spilled his blood and guts. The rare sixth-year guard with good skills to pay the bills. Join him up with Chauncey Hardy, and you've got yourself a backcourt with decent scoring ability and the heart of a Lion.
St. Francis-NY:
Not to belabor the point? But if I told you that Jamaal Womack was a guard? Why would I say he was lovable? Height? Combo-guardery? Good ability to score? Little from column A. Little from column C. Mr. Womack is 5'8" but he is not a point man. He's pure scorer. Ask the Maine Black Bears.
St. Francis PA:
Mike Izzuolino cannot recognize where this team has fallen to. A new coach off the bus from Division III. Transfers going in weird directions (Texas Wesleyan and Georgia Tech?). But if anyone can respond with their backs to the wall? It sure as hell is Grant Surprenant.
Wagner:
Mike Deane is a crustier, less drunk version of Eddie Sutton. He nearly tied Eddie's record for the most different teams coached to the NCAA Tournament. This season? He has to do it with a lesser amount of talent. Three great starters are gone. But if a Canadian and Llewchean Radmord can step up? Then any fall won't be too bloody.
Ohio Valley
Austin Peay:
Kyle Duncan is the best around from beyond the arc. Not in the league. Not in the land of the low mid-major. In basketball. He's the governor of that old Eastbay Shirt. You know, when a dunk is worth three points, I'll start doing it? Well he is.
Eastern Illinois:
The face of this franchise? You might think it's Ousmane Cisse, who is their lone returning starter, as well as a possible doppleganger to the Malian 2001 second round pick of the same name. You would be wrong. You need to take a look at Tyler Laser. Laser, from Hillsdale, is a scorer with what the Flint Journal calls a demeanor that's "cocky to the point of being unsportsmanlike." But remember this isn't Duke. On paper cellar threateners need swagger too.
Eastern Kentucky:
The straw that stirs Eastern Kentucky's drink? Mike Rose. He is a lockdown swingman good for 15 points per game. And if Papa Oppong can be an instant influx of talent? He may not have to do this work all by himself.
Jacksonville State:
It's an inexperienced team. An inexperienced team with seven wins. But if you have read this far, you know that I'm a man who loves his tiny point guard. And the distributor amongst the tiny? DeAndre Levy, five feet six inches of 6 dimes per game.
Morehead State:
The salacious amongst us would roll out a joke that this is the university that Kobe Tai graduated summa cum loudly! Folks! But you know what? Since I already wen't there. I'll give you the real reason. Maze Stallworth. He is the wingman who is keeping Pioneer Pete from finding the gold!
Murray State:
Isacc Miles just may be the key for the Racers to return to the days of Popeye Jones as the dominant team in the OVC. They have four other returning starters, and Is--Miles has come down from the MVC to shoot the Racers past Peay.
SE Missouri State:
An unlucky break busted their season last year, but there are a couple of pieces returning. Jaycen Herring is the scoring leader. And not by default either. If Bijon Jones junior college point guardery is worth anything? They'll be a lot closer to the beginning of the year than the end.
Tennessee State:
Bruce Price is a very threatening player. Good for 5 boards and 5 assists. He can slash. He can go from deep. Gerald Robinson is the wingman. But Mr. Price is the reason the Tigers have a shot at the upper division. Because he's better.
Tennessee Tech:
Some would call Daniel Northern Mr. Glass. But you know what? That's a positive connotation. He's going to be a double double guy with three blocks. And Elijah Cunningham Muhammad? Someone has to tell the Nation of Islam Sportsblog that he exists.
Tenn-Martin:
The ultimate in high-scoring combo guardery lives here. Lester Hudson is a man who puts the biscuit in the basket with style and aplomb. After a year where he rolled up on everybody quadruple double style, what does he do for an encore? Well, with tag team partner Marqis Weddle, the Skyhawks look to be magic in March.
Pacific-10
Arizona:
Famous collegiate white guy alert! The frontcourt is the only thing that is keeping the Arizona Wildcats away from irrelevance. And because it's all on Budinger for them to achieve success? Jordan Hill is like super underrated. Garland Judkins has the beginning of an excellent storyline. But can he emerge?
Arizona State:
James Harden rolled up on a morbiund Arizona State team like Boo Motherfucker! He changed their viewpoint and had them on the cusp of glory last season. With Jeff Pendergraph? Harden will have an excellent adventure for his sequel.
California:
Mike Montgomery is excellent for two reasons. One, his coaching bonafides are pure. He's an awesome college coach. Two, his return as a Cal Golden Bear only supercharges the Cal-Stanford rivalry. College hoop rivalry's are awesome.
Oregon:
As combo guards go? Tajuan Porter is wallet-sized. But that being said, when he was a secondary option in previous seasons, he navigated with style and aplomb. Now it's time for the baby man to see if he cannot prove himself to be Grown Ass.
Oregon State:
There is hope for a team that was hopeless in 2008. Coach Craig Robinson was able to turn a ridiculously bad Brown program into a Top 100 program within two years. Sure, the trick may prove more difficult in a better conference, but Daniel Deane and the Tarver brothers are worthy conference players. Ten wins is attainable, and it is a step in the right direction.
Stanford:
There is no Lopez up in here. But there is veterans. Veterans is good. Lawrence Hill is good. Standford full of smart people. Home court is advantage. Da'Veed Dildy has silly name. It makes me smile. Was he taunted by schoolyard chums as Davee Dildo? I hope so.
UCLA:
UCLA's backcourt may be young? But its skills are mad. Darren Collison is the veteran influence. Jrue Holiday is the starting two-guard. Jerime Holiday and Malcolm Lee are young bucks with talent. And if necessary? Josh Shipp can be the veteran wingman.
USC:
Sure, O.J. Mayo was equal parts illmatic and problematic, but I am excited for this DeMar DeRozan character. He's going to be a spectacular three and arguably the #1 freshamn coming in to the NCAA. But you know who his wingman is? Lil' Romeo. Am I excited for the era of Master P: Corrupt Booster? You're goddamn right I am.
Washington:
Obvious references to the double-double skills of Jon Brockman aside, the name that could vault the Huskies back to prominence is Isiah...Isaiah Thomas. This 5'8" guard has a scorers mentality and a fearless swagger about him. If he can translate his prep school magic into Pac-10 gold, the Huskies become instant contenders.
Washington State:
The superveteran dance party that was the last two seasons in the Paloose? Gone. But the cupboard isn't bare. Taylor Rochestie is a reminder of Tony Bennett's halcyon days at UWGB. Aron Baynes provides power. Klay Thompson provides hype. Falloff? Sure. But not for long.
Patriot League
American:
American finally tasted NCAA tournament glory last season, and they're looking strong to go back. Why? Mr. Garrison Carr. He can fill it in from three with a style and aplomb. He absolutely destroyed conference records for shooting from behind the arc.
Army:
Josh Miller has a job to do. Last year's combo guard stat sheet filler has to step up his scoring average after the graduation of all-leaguer Jarell Brown. If he can add scorer to thief, dime dropper, and occasional rebounder, then Army stays at the level they were accustomed to.
Bucknell:
This is not your older sister's Bucknell team of awesome. But you know what? This isn't a team that's off the cliff. 6'3" swingman Stephen Tyree leads a new style for the Bison. They're running. They're gunning. And you know what? They could get on a run before the league catches on.
Colgate:
Yaw Gwayu. His name is sensational. His game is freshman sensational. Colgate is a team that's boiled down into a simple definition of Alex Woodhouse gets all the rebounds that the rest of the team chucks up from beyond the arc. Yaw, if I may put my Gene Shalit hat on, will make the fans go wow, when he takes it to the rack.
Holy Cross:
Can there be a worst to first? If you're Holy Cross. Yes. Their frontcourt depth was disappeared by back and hand issues. If Alex Vander Baan's versatile Dutchery and Eric Meister's rebounding come back strong? Last years time in the cellar may be a mere blip.
Lafayette:
Andrew Brown's moral dilemma intrigues me. Before last season, Mr. Brown had taken serious consideration to transferring. But he won the starting job last year. They were a middle of the pack team. This season? Expectations are lowered. He's big fish now. But at what cost?
Lehigh:
Zahir Carrington. His first name means Bright. His last name means Dynasty. He is the face of the Lehigh Mountain Hawks. A little undersized? Sure. But he's a high-energy four who can score with both hands. He can lead them down from the Poconos and overthrow the Beltway elite.
Navy:
Don't sleep on Navy. I mean it. Don't. Navy was a point guard away from being something scary last season, and they think they've got a winner in the rarest breed of all these days. A transfer to a service academy. O.J. Avworo was a freshman starter for Idaho in his one season there. And considering his ability to break down a defense? Chirs Harris and Kaleo Kina are going to find many open looks.
Southeastern
East
Florida:
Billy Donovan is running a three guard attack to a finely honed system. Jai Lucas is a fine playmaker. Walter Hodge is a fine defender who can get on a roll if you let him. But that's not it. Nick Calathes? He combines both elements into a 6'6" package. A big year from Calathes and he's going to be someone that a pro scout is going to salivate over. Even if he looks like a d-bag.
Georgia:
Georgia had a great story going. In three days Dennis Felton was going from fired, to getting a tournament berth. But Xavier struck the Bulldogs back into a pumpkin. This is a team who lost most of its frontcourt power, and its leading scorer in Sundiata Gaines. I'm not saying there's no hope. Zac Swansey and Terrance Woodbury are potentially a very explosive backcourt.
Kentucky:
It's Patrick Patterson's show. Joe Crawford and Ramel Bradley are gone. So in order for Kentucky to have to have a big season, Patterson is going to have to go 20-10. If DeAndre Liggins and Darius Miller come through? The Wildcats have a Final Four Contender. Next season.
South Carolina:
The Gamecocks are standing essentially pat despite a new coach and staff. It's an interesting concept for a 14-18 team to try and pull off. But that's not to say that the cupboard isn't bare. Devan Downey is looking downright professional. And with some consistency, Zam Fredrick and Dominique Archie have skills that can pay bills. Darrin Horn will let them run and gun. Can they get him to the tournament?
Tennessee:
Chris Lofton and two-thirds of the Smith Triumverate are gone. But you know what? They have a lot of 6'7" athletes who are going to be great. One is Tyler Smith. He's a point forward with good rebounding skills. One is Mac Hopson. He's Dennis Hopson's kid and he has the same sort of game. One is J.P. Prince, he's healthy this season. This means he'll be a better scorer.
Vanderbilt:
A.J. Ogilvy is the reason you have to love Vanderbilt. His game is very much in the key of Andrew Bogut. If some freshman prove sensational, he might not have to do it all by himself. Me? I'm rooting for Festus Ezeli to form some sort of a Twin Tower with Ogilvy. Nigeria and Australia! Together Again for the First Time!
West
Alabama:
Injuries forced Ronald Steele to redshirt last season. If his knees are healthy, this team gains a certain power that they just didn't have last season. Also, if they don't play "What's the scenario?" After every thunderous Senario Hillman nasty dunk, then the Crimson Tide are just missing a golden marketing opportunity.
Arkansas:
Six seniors and another starter is gone. John Pelphery is saying that this season is essentially going to be a punt. But you know what? For a team whose most famous moments have come from behind the arc? What they are saying about Rontel Clarke is something impressive. Best three-point shooter of all time? Todd Day and Scotty Thurman are stunned by this turn of events.
Auburn:
This is a team that's readying itself for next season. They've got a new arena and perhaps a new coach rolling up on the Auburn prarie. But there are three senior starters who still have one more chance to put a stamp on this season. Quantez Robertson is a guard who snagged five boards and has hands like Alvin Robertson. He's definitely intriguing.
LSU:
Now last season, with Anthony Randolph and his magical mix of skills and weaknesses? The team fell unto misery. Tasmin Mitchell returns, and he could be a good man. But that being said? Trent Johnson's run may not get rolling until next season. Marcus Thornton has to share, and Storm Warren has to be more than a name.
Mississippi:
In Oxford? It's all about the guards. Chris Warren is the youth energy who can take on the scoring load if necessary. David Huertas is a two guard daredevil. He will gun without fear. And Eniel Polynice? He has scoring and bloodines. And Bloggers have to love Terrico "Suave" White. Next season? They'll be scary.
Mississippi State:
Jarvis Vanardo is a name that you have to love. Say it like a game show announcer, and you'll see why. But you know what? Jarvis Vanardo is positively Mutomban on the pivot? Don't believe me? How's 7.8 boards per game? That's not enough? 4.6 Blocks per game! He makes certain your weak stuff gets blocked out of here. Wag the finger Jarvis!
Southern
North
Samford:
Can Samford sneak up on people as they switch conferences? Maybe. They're able to win games if the opponent doesn't have time to prepare for them. Also? They run that patient, fundamentally sound Princeton offense. Sleep on them, and they will backcourt cut you...to death!
Appalachian State:
Their starting center is named Issac Butts. Hehehehehe...:) BUTTS IN THE LOW POST PUTS BUTTS IN THE SEATS! APPALACHIAN IS HOT! HOT! HOT!
Chattanooga:
Qavotstaraj Wadell. I know Nicchaeaus Doaks is the name that the SOCON literati knoes all too well. But the Qavot Star? It's his time to shine as a high energy glass cleaner that allows Nicchaeaus to further work on the outside aspects of his nascent Rodney Rogers game.
Elon:
The big part of the Fighting Phoenix's game is based on their inside play. Adam Constantine is a long 6'8" with a good motor for defense and rebounding. He also takes good shots. Basically? He's Ola Atoyebi without anywhere near of an awesome name.
UNC-Greensboro:
It's a new era in Greensboro. Your threats from the inside have disappeared from the graduation of Kyle Hines. It's time for some long distance action. You know who it's time for? Mikko Koivisto. He is your Spartan Salvation.
Western Carolina:
Brandon Giles is a man who is a microchasm for the state of the Catamounts. Athletic, with a high-energy game. The problem? His shot selection is shaky at best. If he improves his shot selection? The team can make a sharp move upwards.
South
Charleston:
It was way back during the dark days after Grunge ruled the earth that we found ourselves with the COC as the best mid-major in America. But they were usurped in power by Gonzaga, and everybody forgot about them. But this season? This season comes redemption. Bobby Cremins has all five starters returning. And if Tony White can make better decisions with the ball? Davidson's going to have somebody breathing down their necks.
Citadel:
A Military Academy is usually a safe bet to struggle in athletics. And if you have a team that was overloaded with Freshman with no starter over 6'5"? Expectations are low. But Ed Conroy's going to try and have a team that's built for contending every two seasons. It's an interesting tact, and Cameron Wells looks like he can do something with it.
Davidson:
Stephen Curry officially becomes a combo guard this season, and it's obvious that to love him is to love Davidson, but I'm taking a different tack. Frank Ben-Eze decided to pass up playing at Marquette, Virginia and Virginia Tech for a school named after former Hollywood Squares Host John Davidson. He has cache. He has athleticism. And Bob McKillop will make him a star.
Furman:
Now, you can call what Furman had some negative form of a Fab Five. They had five freshman who lost 24 games be their starters. However? This does not mean that they're going to be that bad again. If Alex Opacic and Noah States can stand tall in the low posts? The defense improves. And if the defense improves? .500 this year. Incremental change Furman fan. Next year is when the window opens.
Georgia Southern:
The Eagles are looking for a fast junior college fix as they make yet another attempt to vault into the Big Dance. Julian Allen and Willie Powers are a stout guard combination. They just need the juco's to get the low post on lockdown.
Wofford:
If you like the high-energy guy who lives in the low post? You have to like Noah Dahlman. He played about half the games last season, and he managed 7.8 points and 6.3 rebounds per game. This season? He'll get more playing time. Could there be a season double double in his future? I say yes.
Southland
East
Central Arkansas:
There's an interesting theme in the Southland conference. The lesser teams all have a player or two with good skills. Central Arkansas is on a transition to Division I, so expectations are low. But their center Brian Marks can handle many rebounds. Also? Their other returning starters are Yourk Sims and Marcus Pillow. Marcus Pillow is a name I want to have a Don Lafontaine soundalike call out in a movie trailer.
McNeese State:
You best come correct when you roll up on the McNeez-e's. They may not have much experience returning, but their pivot has a black hole where weak stuff disappears. Burly Kleon Penn swatted 4 shots per game last year. And he joins John Pinchon in being savvy with the rebounds. Team Kleon Penn to Jarvis Vanardo and magic happens!
Nicholls State:
I know I may have cracked wise on the Vanderbilt Aussie invasion, but point of fact, there's a group of five here who look upon a vegemite sandwich with something other than disdain. Anatoly Bose and Dominic Friend are the most famous of the Nicholls State Austrailian contingent.
Northwestern State:
The Demons have always been a traditional power in the Southland conference. They were unable to get over the hump and get themselves to the big dance for the second consecutive season, but with a deep rotation and a coach's son (Mike McConathy-Coach, Michael McConathy-point guard) returning as a starter? They will be a team that's going to make noise throughout the season.
Stephen F. Austin:
Plenty of reasons to like Stephen F. Austin. Four starters are coming back from a team that beat San Diego and Oklahoma. Josh Alexander has an opportunity to be player of the year. But Eric Bell's the best reason to love your Lumberjacks. Why? Because at 5'3" and 150 pounds, he's a hobbit-sized point guard with a real set of skills.
Southeast Louisiana:
Considering that the Southland is a very guard-heavy league, a good low-post newcomer is something to behold. The Lions have always been a traditionally good defensive team. And Desmond King? He just might be a newcomer force that can move them from decent to good.
West
Lamar:
The school that I once inexplicably believed founded by Tennessee Senator Lamar Alexander has a shot to make some noise this season behind delightfully tiny all-league guard Kenny Dawkins. Dawkins is the front man for a rotation that includes six seniors.
Sam Houston State:
If you believe in a solid team that features excellent defense and an ability to break out a 20-win season almost at will? Check out the Bearkats. This year? The fundamentals are strong, even if the frontcourt's experience is gone. Ashton Mitchell has a smooth playmakers game, and there are four good guards who are playing on a three guard attack.
Texas A&M-Corpus Christi:
If you believe that coaching skills never die? If you believe that someone who took a dead program to the level of a perennial Sweet 16 contender? Then after Chris Daniels graduating from a 9-20 team, you can find hope for Corpus Christi. Perry Clark is a good coach.
Texas State:
Doug Davalos means your team can score, almost at will. Brandon Bush is the face of the Davalos scoring machine, and if Luc Richard Mbah a Moute can prove to be a good defender, the transitive property of twin powers are going to allow Emmanuel Bidas a Moute to be a mighty powerful defender.
Texas-Arlington:
Small sample size may be one thing. But when your opposing point guard is on a #1 seed and the #1 pick in the draft, and your back-up point guard was able to go and get 8 assists against no turnovers while going toe to toe with Derrick Rose, what does it say about Rog'er Guignard? It says his skills are mad.
UTSA:
There's a perfect fit for San Antonio. Devin Gibson is a Roadrunner. Devin Gibson has the fastest hands in the Southland conference. This team may not have much in the Cupboard. But Devin Gibson will lead this team to glory before he's gone. Or he'll steal it.
Southwestern Athletic
Alabama A&M:
Trant Simpson may be a highly spindly guard. But the man is absolutely fearless. He's 160 pounds and he's got no fear of going up against the tall trees of Division I. He will be the man whose play decides how far these Hornets can go.
Alabama State:
In another place and another time? Andrew Hayle's 2-guardery would be the way to love your Hornets. He's good. But Chief Kickingstallionsims is the badass I want watching my back if ever I should find myself cornered by the veteran intangibles of a Mark Lemke.
Alcorn State:
You have two returners who are going to carry the bulk of the scoring load. Yawn. They're both 6'3"? Nope. Not interested. The reason why I like Alcorn State is because they were able to recruit a man named Alex Savannah. With a name like that, you know he's got his game on lockdown. You just know it.
Arkansas Pine Bluff:
Terrence Calvin is the lone man with experience facing down a non-conference schedule that can be murderous. He's great at the isolation game, but unless Antonio Ootsey can roll up on the world with style and aplomb? This may not be the year to invest in the Golden Lions.
Grambling State:
Rick Duckett is a man with an assistant coach pedigree of some renown, but if he's the man who developed Devan Downey? Then this could get interesting. Why? The frontcourt is absolutely stacked. Andrew Prestley is an honors candidate. Jarrod Riley is an intriguing sophomore. And Jamal Breaux? He is, as they say, a Windex man.
Jackson State:
The spectacularly named Tevester Anderson has Jackson State knocking on the door of the NCAA tournament. And it's for one simple reason. Balance. Grant Maxey is the teams leading scorer and rebounder. Jeremy Caldwell has first team all league expectations. And Darion Griffin? He's the most versatile SWACster. This team can run. This team can play half-court.
Mississippi Valley State:
Now for the Historically Black Colleges and Universities? A winning Non-Conference record is something to behold. Sad? Yes. But it's a fact of life. The Delta Devils had that glory last year. But alas, Stanford Speech's graduation leaves the cupboard pretty bare.
Prairie View A&M:
Unlike the football team, the historical badness of being at Prairie View A&M has continued unabated. But they have got a lockdown defender. A man named Derek Johnson. He is a point guard who can make sure a man like Trant Johnson doesn't score easy.
Southern:
Sadly, there is no Will Smith at the former home of Ben Jobe. Because that would just be awesome. Why? Because their third guard is named Jeff "Jazz" Williams. They do have Barry Honore' and yes, he can get them to what has turned out to be a racially charged play-in game.
Texas Southern:
Onyekautukwu Abikam. He may be the 6th man. He may be the 6th senior on the team. But look at the facts. He holds more awesome in his first syllable than the rest of the team does combined.
Summit
Centenary:
Mediocre Bloodlines Watch! Freshman recruit Gary Redus II is the son of a famous 1980's baseball speedster. If you think I am joking? I am not. It's going to be a long year with the renovation of the Gold Dome. But Gary Redus II will at least put on a show at road game batting practice.
IPFW:
Dane Fife is a precocious coach with a tempo that is an excellent opportunity for advancement when the cupboard gets filled. But that's not why you need to love Indiana-Purdue Fort Wayne. You must love them on nickname alone. They are the Mastodons. The motherfucking Mastodons. You know that shit's awesome.
IUPUI:
Gary Patterson has a challenge that comes with a high degree of difficulty. George Hill was skilled enough to score a 1st round pick with the Spurs. (I now hate him.) But who's going to have to step up? Patterson. Well, him and Robert Glenn.
North Dakota State:
Can a team make the dance in their first year as a full-fledged member of divsion one? If you're the Bison? You have to think it's a possibility, as they now have something to play for. Five returning starters. Four senior starters. Ben Woodside and Brett Winkleman combined for 40 PPG last season.
Oakland:
This is a team that has a window of opportunity to get into the Tournament. Derrick Nelson is built like a young Antonio Gates, and if they don't get themselves into the dance this year? Blake Cushingberry and Matt Samuels could play at larger schools.
Oral Roberts:
The cupboard may not be bare. Robert Jarvis and Marcus Lewis have bills-paying skills. That being said? Four starters are gone. But you know what, scratch that. Oral Roberts recruited a man named Beloved Rogers to be a guard. That, that I can appreciate.
South Dakota State:
What the heck is a dude named Kai doing rolling up in the desolate state? He is the face of Jackrabbit basketball. This assumes a frenetic pace for a team, right? Wrong. But that being said? He's their Josh Smith. He's leader in points, rebounds, blocks, and three-point shooting. However? 15 blocks as team leader is indicitave of an interior issue.
Southern Utah:
If Tyler Quinney can avoid disappearing in spurts? It's his time to shine! Southern Utah lost all-everything Geoff Payne, and Quinney is the man tabbed to pick up the slack. His stroke is sweet, and if he can handle the workload? They'll maintain their spot.
UMKC:
Latreze Mushatt was Josh Smithian in Michigans largest high school classication. Now, can he be the next Tony Dumas? It's possible. But this is a young team. On paper? Good things can happen this season. But this really is a team for the next couple of seasons.
Western Illinois:
While awesome nickname alert does allow the Leathernecks entry into the exclusive club, it's their backcourt that has the skills to pay the bills. Both their returning starters are guards. James Washinton is an intriguing guard coming back from injury. Their major recruits? Guards. If James Washington can avoid major time at the 4 spot? They'll be okay.
Sun Belt
East
Florida Atlantic:
Mike Jarvis seeks salvation in the place that allowed Howard Schnellenberger to crumudgeon for a 4th team. Jarvis was able to make three teams tournament tested and ready for war. That being said? His is a very Lefty Drisell career path. This equals a future dance for these Owls.
Florida International:
Alex Galindo has been around college basketball for six seasons. He was a well-hyped Kansas recruit from Bill Self's first class. And after injuries and transers? He ends up being the face of Florida International Basketball. A long road for Galindo.
Middle Tennesee State:
The single deepest backcourt in the Sun Belt. There are two returning starters in Kevin Kanaskie and Demetrius Green, a talented injury Redshirt in Calvin O'Neil, and Freshman sensation Demario Williams. Scratch that. The Blue Devils are the best mid-major backcourt.
South Alabama:
It's Juco Love in South Alabama. Brian Sherrer and DaShun Watson are here to infuse the team a shot at maintence of last years tournament glory. Especially Watson. He's got a shot to steal Newcomer of the Year from Richard Delk. Seriously.
Troy:
The Fab Five was a rare event. Five newcomers. Dominating the game. You will never see that on the National Stage for a long time. That being said? The Sun Belt could get a mid-major dash of cinco fabuloso. There may be no Juwan Howard? But Richard Delk's got billpaying skills.
Western Kentucky:
Stephon Pettigrew. He has shoes to fill, and the last name of an art film starring Amy Adams and Frances McDormand. That being said? Kentucky is a hoops hotbed. And who was a former Mr. Bsketball? This guy was. yes he was.
West
Arkansas State:
Now the question is? Did LSU get to the Final Four because of John Brady's coaching eliteness or despite his coaching lame. Arkansas State was bad at basketball last season. But Brady does bring cachet. JeJuan Brown's the top talent.
Arkansas Little Rock:
If you all like balance? You have to like UALR. All five starters return. All five starters averaged between six and ten points. All five starters are between 6'4" and 6'8." Okay, Steven Moore's only 6'0", but the point is. An experienced team with good balance? They have a chance to usurp the dominance in the Sun Belt back to the West.
Denver:
Joe Scott was able to be a part of an Air Force renaissance. And Denver's a team that's struggled ever since the transition up to Division I hoop. They've improved seven games since last season. It'll be another year before Denver can start to hear whispers of postseason glory, but unless somebody snaps Joe up? There's hope in Denver.

LA Lafayette:
Why are the Cajuns Ragin'? They're coming off a division title out of nowhere. They had nobody get above a season avaerage of 10 PPG. The Chris Gradnigo is a solid-sized wingman, and the Gradnigo may find a way to lead this team back to the top.

LA Monroe:
This was the team that was supposed to take down the Western Division last year. They finished last. But in the breakneck world of the mid-majors? Redemption is only three fights away. With Reggie Lassiter knocking on your door? You just might get there.
New Orleans:
The Privateers may have lost a lot from the cupboard. But this season? They have a key piece of their team spirit back. Lakefront Arena, which has been empty since Katrina, will finally be ready to host games. This may lead to a home court advantage. Because I mailed this one in. Sorry.
North Texas:
North Texas is in its best era of modern basketball. I know, two straight seasons of 20 win hoops is sad history. But with a solid backcourt of Collin Dennis and Josh White, not to mention Denton's answer to Pete Maxiel in Eric Tramiel. They can get to 3 easily.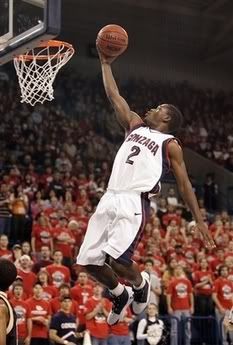 West Coast
Gonzaga:
Seriously, Gonzaga is hack. I hate to tell you this. But the Zags are hack. OMG NO WAY THEY LOST IN THE FIRST ROUND AGAIN?
Sorry. Personal opinions aside? Jeremy Pargo is going to be the greatest Non-Stockton Point Guard in Gonzaga history. If Austin Daye's spindly ass comes back with the same style and aplomb? They'll get first round bounced again.
Loyola Marymount:
Punt. Bill Bayno's got cachet, but he came in with a nigh bare cupboard. There's a chance for them to have good frontcourt this year with LaRon Armstead and Tim Diedrichs. But LMU fan has to be in survival mode. 2010 is when you'll start climbing.
Pepperdine:
Marty! It's time to go back! Back to the future! When the Waves were a tasty bit of mid-major? They were lead by Tom Asbury as their head coach. And since the inventor of the dribble-drive motion was an Epic Fail in Malibu. It's up to Asbury to lead MyChal Thompson and friends out of the wilderness.
Portland:
John Hegarty. At St. Mary's they had a dude named Brad Millard. He was called Big Continent. Listed at 7'1" and 345 pounds, he was a West Coast Conference folk hero. John Hegarty? Just a touch more massive. Support your local fat man Portland. He will not steer you wrong.
St. Mary's:
There is an Aussie Invasion in College Basketball. Your Aussie high schools think it's gonna last. But until the worm turns, players like Patrick Mills who are gonna be the studs from Brisbane all the way to Perth. And if that's a geographically small distance? Then sic your A.J. Ogilvy on me. I'm not hard to find.
San Diego:
If you want the sleeper to steal the West Coast Conference title? It's time to look at the Toreros. Brandon Johnson is a man who's nearly impossible to defend. Gyno Pomare and Rob Jones are a tough, if undersized low post presence. They have all five starters back. They all took down UConn? Are the Zags gonna be a problem?
San Francisco:
Dior Lowhorn is a man who's about to find himself in the West Coast Conference house of legends. His scoring pace is at a level that is positively Bo Kimblesque. If Dontae Bryant can slide in to being a solid playmaker? They'll be able to outscore teams.

Santa Clara:
Jon Braynt is positively brawny (6'10" 305). And his defensive skills are high powered as well. He is your league leader in blocks, field goal percentage, and rebounds. If he doesn't eat Decensae White? They can manage to find themselves on the bubble.
Western Athletic
Boise State:
Boise State had one of the most classic shootouts of last year's Championship Week and a Half. They took down New Mexico State after a triple overtime shootout. But there's not much left in the cupboard. Anthony Thomas is a good backcourt scorer. And Paul Noonan is a bomber on the wing. That being said? Ike Okoye is the key to if the Broncos can find their way back to March.
Fresno State:
Are you asking for a bloodline challenge? I can get you one. You remember pure shooter Eddie Johnson? Well, if you wanted a money guy with the game on the line? You went to Eddie Johnson. And the Eddie Johnson at Fresno State is technically a junior. If bloodlines mean anything? Fresno has a bomber.
Hawaii:
This may not be a situation that will generate a lot of wins for the Rainbow Warriors, that being said? Roderick Flemings is going to get to have a lot of the scoring fall on his shoulders. And if you're going to spurn an interesting Oklahoma State concept? You're gonna need a lot more than beaches and a bad local economy to do it.
Idaho:
It may be another time down the hill for Idaho. But Don Verlin is an offensive genius and in a world where 5 of 6 scorers are gone from a 6th place team? Scheme may be an important starting point. But believe in Erekele Jgernaia. Call him Steve.
Louisiana Tech:
If you believe that transfers come with boldness and genius power? Ruston will be making some noise. Magnum Rolle (LSU), Kenny Cooper (Oklahoma State), Shawn Oliverson (Cornell), David Jackson (Idaho) and Jamel White (Nebraska) are the five horsemen who could voltron with Kyle Gibson and pull a Western Athletic worst to first.
Nevada:
As a man whose dealt with Brian Butch for the past five seasons? I have some advice for Nevada. Your self-professed greatest recruit ever? May not be what lights your way to Tournament glory. Bank on Armon Johnson and Brandon Fields before putting your hope in Luke Babbitt.
New Mexico State:
The Pontiff of the Pit, Herb Pope returns, and he's not alone. Jon Gibson provides backcourt scoring, and Troy Gillenwater provides a little bit of that Boston moxie that will make him the most hated man of the Western Athletic Conference.
San Jose State:
Like Boise State proved last year, experience in the WAC can lead to March glory and a Louisville beatdown. The Spartans return all five starters who all scored in double figures. But the stars of the team are lockdown defender Justin Graham and low post threat Tim Webster. If Adrian Oliver can mesh with the nucleus? Then they can overthrow the stars of the league.
Utah State:
The Utah State Aggies know what Craig Kilborn taught us in the mid-1990's. We love Pooh. Pooh Williams is an undersized wingman with upside as a shooter and a lockdown defender. With Jaycee Caroll gone? Pooh has the slack to pick up.
Yes, truths, analysis, and pop-culutre rerefences for the two percenters. This is an Epic Undertaking, and thank you for reading it.
Oh and speaking of epic undertakings, I have also recently discovered our namesake, the Grand National horse race in Aintree, UK. This is by far the most epic race out there. You see, the horses have to jump over 16 massive fences over a gruelling 4 mile course. The effort these beautiful creatures expend mean that I am delighted that it shares our name.
The race takes place in early April, and literally millions of people the world over take part in some
grand national betting
, with millions more watching it on television. If you have the opportunity to watch the next race, then i'm sure you won't be disappointed.
Last years winner was 7-1 favorite Comply Or Die and he is set to run again this time round. For hot tips though you'll have to wait until a little bit.
Closer to time, kids. I won't let you down.